Maggie Smith: 'If there's an old bat to play, it'll be me' |

reviews, news & interviews
Maggie Smith: 'If there's an old bat to play, it'll be me'
Maggie Smith: 'If there's an old bat to play, it'll be me'
As 'Downton Abbey' draws to a close, revisit a rare interview its biggest star gave on set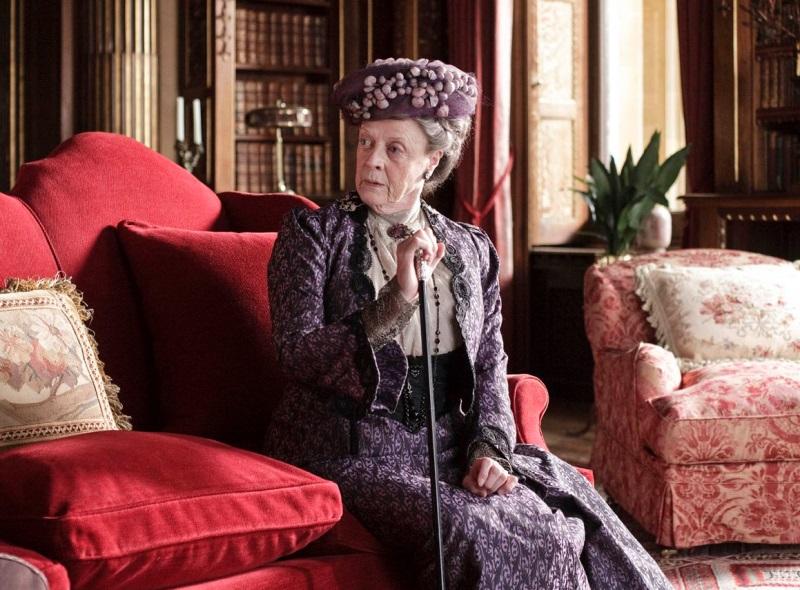 Maggie Smith as the Dowager Countess Violet: 'I've actually worn that before'
Maggie Smith rarely gives interviews. In the week that Downton Abbey's last-ever series episode is broadcast, and she reprises on screen her role in Alan Bennett's The Lady in the Van (pictured below with Alex Jennings), theartsdesk revisits an encounter that took place in Highclere Castle in 2010.
It was the only interview Dame Maggie gave that summer apart from one – which took place just before – to Julian Fellowes. Back then global conquest was only a glint in his Lordship's eye and, talking in a chintzy side sitting-room just around the corner from the cameras and the milling crew, the show's biggest star was by no means happy about the clothes she was being asked to wear.
Who on these occasions is more racked with nerves? One approaches Dame Maggie Smith with trepidation, knowing that few are vouchsafed the honour and that she'd rather sew up her own famously expressive eyelids. You can only guess at the special pleading behind closed doors that works away at her defences.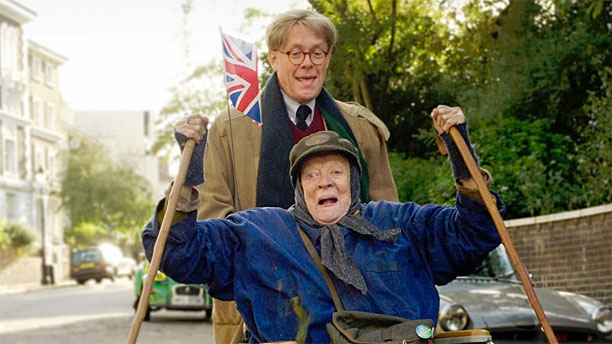 "There's no reason why one should put into words what you do," she complains. The voice – adenoidal, estuarine, slightly chortly – sounds as baffled as you would expect. "People say, 'What are you going to do? How do you see the part?' You think, I'm in the middle of it – I don't know! It used to make me so distressed to think that I was meant to tell the world or whoever should be interested how I was going to actually do something which to me wanted to be a secret until it was done."
Only this time there's no need to press her about the role in question. At least in her own mind she's done this one all before. In Downton Abbey Dame Maggie has been cast as a dowager countess, the materfamilias of an old English dynasty on its uppers. It is the most spectacularly posh romp ITV have attempted since Granada's overspending Eighties heyday which yielded Brideshead Revisited, The Jewel in the Crown and, last and certainly least, JB Priestley's Lost Empires.
The difference is that this is not an adaptation. The world of the Edwardian country house, and the power games played meddlesomely by inmates both upstairs and down, has been conjured up anew. There's been nothing this pernickety about dukes and footmen, cufflinks and sculleries since Gosford Park. No coincidence there: the writer is Julian Fellowes, the aristophile author of Snobs who won an Oscar for his collaboration with Robert Altman. Dame Maggie is fully appreciative of his efforts.
Alan Rickman and I ran out of reaction shots. We couldn't think what sort of faces we would pull
"We've been there before, the two of us, and I must say it's terrific to come up with a fresh thing like that. And seven bits of it, you know." She means seven episodes – another scheduling rarity. The first begins with the sinking of the Titanic and the death of not one but two heirs to the Downton estate. (You can hear Lady Bracknell, one of Dame Maggie's great roles: to lose one heir to an iceberg may be regarded as a misfortune...) Unless his Lordship can marry off his oldest daughter, fiancée of one of the deceased, to a moneybags, the estate and his American wife's vast wealth will fetch up in the hands of a Mancunian third cousin. In the bid to avert dynastic cataclysm, Violet, the Dowager Countess of Grantham is plotter-in-chief. Which means much wry scheming and arch eyebrow work for Dame Maggie.
Does she ever wonder how someone who had the loamy East Oxford accent elocuted out of her has been promoted so far up England's class ladder?
"I think it's just sort of antiquity," she drawls. "And, you know, that's the way they see me. What can I do? I'm always in period costume and I'm always in these wigs and hats and things. So you know, I think it's typecasting now. I really feel if there's an old bat to play then it'll be me. God forbid one's in modern dress. But there we are. You find you're in Cos/Props and you say, 'I've actually worn that before. There is a green kind of blouse that I know I have worn in about three different things.' And that's sort of sad, isn't it?"
Do we find Maggie Smith in a melancholy frame of mind? Up to a point. She is ever ready to guffaw at things, to enthuse about books she's read – Leonard Woolf's letters written "after Virginia had gone wading into the Ouse", or Michael Holroyd's book on Ellen Terry and Henry Irving. But time's winged chariot is doing its thing. She is 75, and has not long recovered from breast cancer. "I'm absolutely fine," she insists. "I'm fiiine. I'm just so glad my hair grew back." She likes to think it was only illness which stopped the BBC offering her a role in Cranford. "I saw some of it. It was like, there they all are. A big party that you weren't asked to."
We meet on set. Dame Maggie is squeezed into the corner of a huge flowery sofa in Highclere Castle, the Georgian pile with added castellations in Berkshire which is doubling as Downton Abbey. (Jordan had one of her weddings here.) She is dressed against the cold that mysteriously invades film sets even in the balmy months. I have been deputed by a friend who once saw her sashaying across Kensington in something Japanese to ask her where she shops. "I'm very flattered," she says, and means it. "It might have been Issey and it might have been Iskanda. This is Barbour, I'm afraid." The punchline is delivered with matchless timing.
Downton Abbey is her first drama series in years – she's not sure how long. (The BBC's two-part David Copperfield was in 1999, pictured: Smith as Betsy Trotwood.) "Television has sort of eluded me. I don't know why that is. There is sort of like a repertory company, isn't there, that does television. And I don't think I'm in that group." Well she is now, alongside Hugh Bonneville and Elizabeth McGovern as her saintly son and daughter-in-law, Michelle Dockery as her snooty granddaughter, Jim Carter as the stiff-spined butler and Dan Stevens and Penelope Wilton as the interloping heir and his mother.
The work comes at a time when, with Potter finished, she fears she will tread no more upon the stage. "It is sad. But I think it happens. Joan Plowright said you start off doing what you do and then you'll end up playing grotesques." Her last time in the theatre was three years ago in Edward Albee's painfully nihilistic The Lady from Dubuque, which yielded the odd sight of a national treasure and box-office royalty playing to an empty circle. Why ever did she sign up for a play which had crashed so badly on Broadway? "It was probably because I'd done [Albee's] Three Tall Women. And his writing is so bloody good. It was a kind of... you know... habit. I mean it was a deeply depressing piece. But even that is more interesting that a lot of things that you get. And I suppose there probably wasn't anything else to do either." Did it suggest to her that people don't want to come and see her any more? "Well, it is hard to not assume that if nobody's been to see it."
She doesn't think she could face eight shows a week now. Perhaps the National might offer her some rep. Or Alan Bennett write her another part like The Lady in the Van. "I don't think so," she says. "I think he's into boys."
Are there regrets about roles she would have wanted to play? "No, I've never actually wanted to play anything. I've always hoped that somebody would take a risk and just cast. But I've never thought I've longed to play this or that." Even Lady Bracknell? "No, because one knew perfectly well that Dame Edith [Evans] had been at it and that whatever you do that bloody line is going to be in everybody's mind."
You somehow don't expect such a very fine actress to be wracked by doubt. I ask her, for example, about the lively contours of her bony, bonny Scottish face (inherited from her mother; her father was the redhead, which she passed on to her actor sons Chris and Toby Stephens). "I hate it," she says. "I'm not even going to begin on that one, but the difference is in the theatre you can create an illusion, and you can't avoid the camera. And I'm never comfortable filming. Never." This from the winner of two Oscars. Did she also have these feelings as a young actress? "I think I felt inadequate, yeah, and very visually wrong. I think there is an accepted way that a face should be and I'm not like that." She nominates her friend and frequent co-star Judi Dench's face as acceptable. "It's just the right proportion. Everything is right about it."
Her anxieties stretch to performance too. For years she thinks she paid for jumping more or less directly from performing skits with Kenneth Williams to playing Desdemona to Olivier's Othello. "Going from one extreme to another was very, very weird." The result is that she never quite believed in herself as a tragedienne or, more accurately, believed that others would. After the break-up of her marriage to Robert Stephens she took her two young sons to Toronto for five years in the 1970s, where she played Lady Macbeth and Cleopatra. "I wouldn't even have dared play them here. I don't think anybody would have accepted it. I would never have been cast. I think it goes back to the fact that I was meant to be the comedian."
And yet nothing, she concedes, gives her greater pleasure than making audiences laugh. The gift is alive as ever. She's relieved the Potter franchise is finally at an end because "Alan Rickman and I ran out of reaction shots. We couldn't think what sort of faces we would pull. I remember him saying he'd got up to about three hundred and sixty something and there weren't any left." She sniggers conspiratorially.
McGonagall, she suspects, is simply "Jean Brodie with a funny hat on". She feels terribly Scottish despite barely ever visiting it as a child. "I always feel terrific there. There is a funny feeling if you feel you belong somewhere and I certainly feel I belong there more than I do here." By here she principally means Petworth, the West Sussex town which is home to Dame Maggie and innumerable antique shops.
Unlike other antiques of Olivier's National, she has not entered her anecdotage and probably never will. The quip being her metier, she's not a natural raconteur. It also explains her discomfort in interview, where she is expected to produce an unequal share of the conversation. My favourite story of hers is a memory of a collision when she was an Oxford schoolgirl. "I remember I was getting off a bus backwards. You know one used to with a hockey stick? And I remember telling my brothers that I'd knocked this person over and they were enraged. And I said, 'But he did look odd. He had a purple suit on.' And they said, 'It was Kenneth Tynan.' I always remember that. I knocked over Tynan. I had no idea."
I can't resist asking: how were her hockey skills? "I didn't like it very much," she says. There follows a weary, expertly weighted pause. "I was left wing." For the seven bits of Downton Abbey, she will just have to imagine a nation purring with pleasure at her newest old bat.
Read all theartsdesk's reviews of Downton Abbey
I think there is an accepted way that a face should be and I'm not like that
Share this article