Manic Street Preachers, O2 Arena |

reviews, news & interviews
Manic Street Preachers, O2 Arena
Manic Street Preachers, O2 Arena
All killer no filler, and lots of it, from the pride of Wales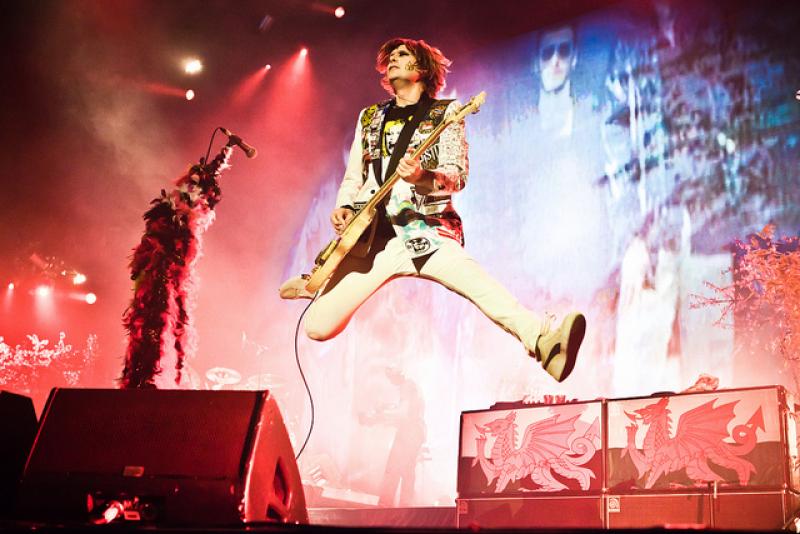 Wired up. Bassist Nicky Wire in full flight at the O2 Arena
Call it an absurdly grand gesture if you like, but Manic Street Preachers' decision to bow out of live performance for a while with a gig in which they would play every one of their 38 singles had to be admired. It certainly had an all-or-nothing rigour that Richey Edwards would have endorsed. But would James Dean Bradfield recall all the words? Would Nicky Wire's knees survive all of that sustained bouncing around. Would piledriving drummer Sean Moore wear a hole in his skins?
These and more questions were answered during last night's frequently stunning gig.
The canny step was taken not to do the singles in chronological order. That might have meant that early devotees of the "You Love Us"-era DIY Preachers could knock off early, while fans of their Cuba-visiting stadium-chic personae could arrive fashionably late. Instead, the tracks were mixed and matched, with namechecks for the likes of Picasso, Malcolm X, Francis Bacon and Derek Jarman reminding the audience of the band's artistic/bookish/dissident credentials. The decision to do absolutely everything meant that there were a few misses, but only a few.
Proceedings started on a high and stayed there for the next three hours
When the sailor-suited Bradfield strode on and kicked off with "You Stole the Sun From My Heart" proceedings started on a high and took up residence there for the next three hours. Powerhouse emotional renditions of the glam-metal "Motorcycle Emptiness" and a scorched-earth, turbo-charged "Everything Must Go" early in the set made it look as if the band was playing safe and frontloading the gig with favourites, but it soon became apparent that there were plenty of unforgettable classics to spread around.
If the mood was celebratory, there was an inevitable poignant undertow as old videos provided a visual backdrop for each song and Richey Edwards appeared for pre-disappearance tracks such as "From Despair to Where". No other band is as self-consciously acutely aware of their own mythology, and while the remaining members are now in their forties, these glimpses were a reminder that Edwards will forever be the kohl-eyed twentysomething with a love of situationism and faded glamour.
Former Super Furry Animal Gruff Rhys pitched up to provide main vocals on "Let Robeson Sing" and The Cardigans' Nina Persson flew in from America just to sing "Your Love Alone is not Enough". But this was not a night for star cameos, it was about the original members of the band, childhood chums who came out of South Wales with a sub-Clash manifesto and far exceeded expectations, at least in musical terms. I'm no fan of arena gigs but the Manics were in commanding form, with Bradfield's vocals on the closing track of the first half, "If You Tolerate This Your Children Will Be Next" reaching the very back of the O2.
The band was as gloriously frenetic as they were when they first punched their way into the pop consciousness
In fact, it was hard to find fault with this gig. The acoustics were in surprisingly fine fettle, the audience was in good humour – thank you to whoever passed down some much-needed biscuits in the second half – and the banter between Bradfield and Wire varied from the touching and the political to the positively comedic. Wire donned a skirt in the second half and tried to persuade Bradfield to do the same with little success. On "Revol" the lanky bassist threw himself around the stage so much he injured his shoulder: "I should be doing yoga and pilates like Coldplay," he said with a dry smirk. Looking back on the band's career, Wire conceded that maybe they hadn't changed the world as they'd hoped: "The first song we wrote was about the miners' strike... There's still a lot of cunts in power."
Maybe there was a little too much guitar-hero noodling from Bradfield on "Roses in the Hospital" and maybe some of their recent singles were not their best, but the band was as gloriously frenetic last night as they were when they first punched their way into the pop consciousness with "Motown Junk". As the gig reached its climax and confetti shot out of cannons they piled into "A Design for Life" and went out in grand symphonic style. There is clearly life in the old Welsh dragons yet. Everything must go, perhaps, but this was no closing-down sale.
Follow Bruce Dessau on Twitter
Watch Manic Street Preachers perform "Everything Must Go"
No other band is as acutely aware of their own mythology
rating
Share this article