Die Antwoord, O2 Academy Brixton |

reviews, news & interviews
Die Antwoord, O2 Academy Brixton
Die Antwoord, O2 Academy Brixton
Ninja and Yo-Landi Vi$$er bring Zef-side to South London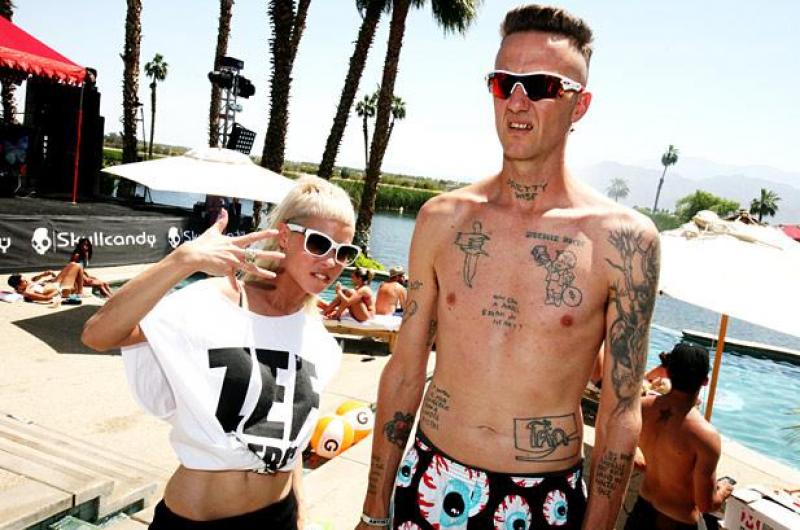 Die Antwoord: memorably exhilarting
After three albums the question remains: is Die Antwoord more than a just a clever joke or is the act simply a caricature of South Africa's trashy "Zef"-side? The guys and gal behind "Ninja and Yo-landi Vi$$er" are in no doubt – they claim to be "conceptual artists". And many fans agree, saying that besides the posturing lie some real cultural truths. Last night three or so thousand descended on Brixton to make up their own minds.
As I arrive the crowd is evenly split between hipsters, ravers and students. Fragments of conversation reveal the thought they have given to the band. The lad next to me seems particularly expert. When I ask him what he makes of the Cape Town collective, he replies that he thinks they're no mere novelty act. They remind him, he says, of the experimental Californian outfit Death Grips. I tell him I'm intrigued.
The inflatable penis is still on stage and the scene is utterly ridiculous
The rest our conversation, though, will have to wait. The band is finally about to arrive. The crowd erupts and the lights rise to reveal a stage covered in stylised, child-like black and white graffiti. Slogans like "Fuk da World" and "Demon" jostle with pictures of rats and faces. In the middle of several risers the bulky figure of DJ Hi-Tek stands in what looks like an orange prison-issue hoodie. The music starts: "DJ Hi-Tek is going to fuck you in the ass".
Death Grips? It sounds more like Goldie Looking Chain. But, with the next track (and despite being called "Fok Julle Naaiers") a more compelling side of Die Antwoord is revealed. The sight of Ninja and Yo-landi Vi$$er running up and down and round and round over tribal and electro beats is dizzying. This circus feel is soon amplified when the pair are joined by two dancers variously clad in Ku Klux Klan-style hoods, grafitti-daubed cat suits and gold spandex. Ninja struts his tattooed bare chest and tiny Vi$$er jumps about like a hyperactive 12-year-old missing her Ritalin. It's pretty mental and seriously affecting: "Rat Trap 666" is sinister and "Ugly Boy" has a dark melodic feel.
But for all this appeal, the density of the sound rarely lets up; and instead of light and shade Die Antwoord simply offer shades of satire. Often it jars. One such moment occurs just after the superbly hypnotic "Fatty Boom Boom". As the song segues to "Raging Zef Boner," a huge inflatable penis is brought on stage. The huge member is not the only problem – as the mood turns back from comedy to serious, the relentless rave beats of "Pitbull Terrier" make the room feel claustrophobic again. Or so I think...but maybe it's just me. As I look around, Vi$$er's helium vocals and Ninja's cursing seem to have got everyone else dancing. By "Never Le Nkemise 2" they're even singing. The room chants "fuck your rules" in unison. I join them too, my hands punching the air.
The inflatable penis is still on stage and the scene is utterly ridiculous. Maybe that's why I feel won over. I'm still not quite sure what I am watching, but I realise labels don't matter. The evening may have been uneven but it has also proven memorably exhilarating.
Overleaf: Watch Die Antwoord's video for "Pitbull Terrier"