Limp Bizkit and Friends, 02 Academy, Brixton |

reviews, news & interviews
Limp Bizkit and Friends, 02 Academy, Brixton
Limp Bizkit and Friends, 02 Academy, Brixton
The indefatigable Kerrang! tour lumbers into town
Saturday, 22 February 2014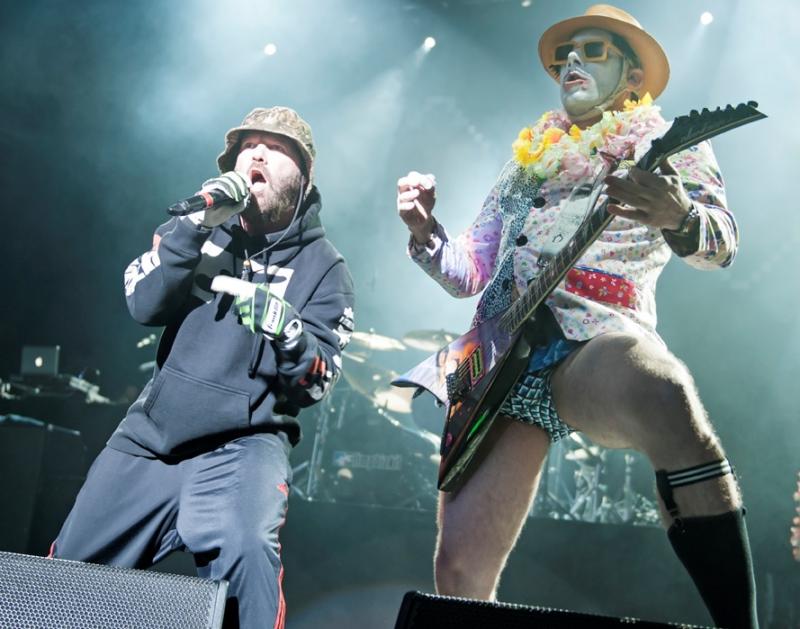 Bizkit: Durst wears the trousers
Other than for die-hard fans, expectations for this Limp Bizkit tour have been, well, pretty limp. Nu-metal has been on the wane for years, and Limp Bizkit have aged the worst. Small wonder: surely even hardened metal fans must raise their eyebrows at a 43-year-old in a red baseball cap telling us to go fuck ourselves, whilst he takes our bitches (as Fred Durst does on the new single). So, if Limp Bizkit are a spent force, who goes to their concerts these days; and what exactly goes on?
As I arrive, first appearances indicate the band now actually attracts a more conventional metal audience. This, however, proves to be deceptive. Tonight is, in fact, not just an evening with Limp Bizkit. Rather it is the Kerrang! tour, with three support acts. Inside, Nekrogoblikon – a jolly kind of American death-metal goblin act – are finishing their set. On stage a man is wandering around in a sort of Yoda costume whilst the band play music that sounds like a jackhammer interspersed with classical guitar motifs.
the eclectic influences are all brought together by the natural fluency of BorlandNext to me two likeable geeks are discussing the finer points of the LA metal scene, and say they rate these guys. They don't, however, like the Japanese metalcore/dubstep crossover act Crossfire, next up. I disagree. To me they seem hilarious, with their white painted faces and comically extreme sound – vocals straight out of the exorcist, and a rhythm section like a record being played too fast and too slow at the same time.
Half an hour later, after a few gallons of weak lager have been thrown across the moshpit Crossfire end their set, and it is time for the main course. There's a nice mood in the room, and girls now make up a good portion. Guitarist Wes Borland (pictured below) comes on stage in a "Tiki Bar" outfit and sings his "Cowboy Song" on the ukulele. And then we're in: "9 Teen 90 Nine", "Rollin'", "Welcome to the Jungle", "Faith" (yes, the George Michael song). Sometimes it sounds like the "redneck fucker from Jacksonville" might have grown up surrounded by random LP's from a charity shop.
The eclectic influences, however, are all brought together by the natural fluency of Borland who makes it seem quite like a jam party (impromptu covers of Metallica, and Nirvana pepper the night).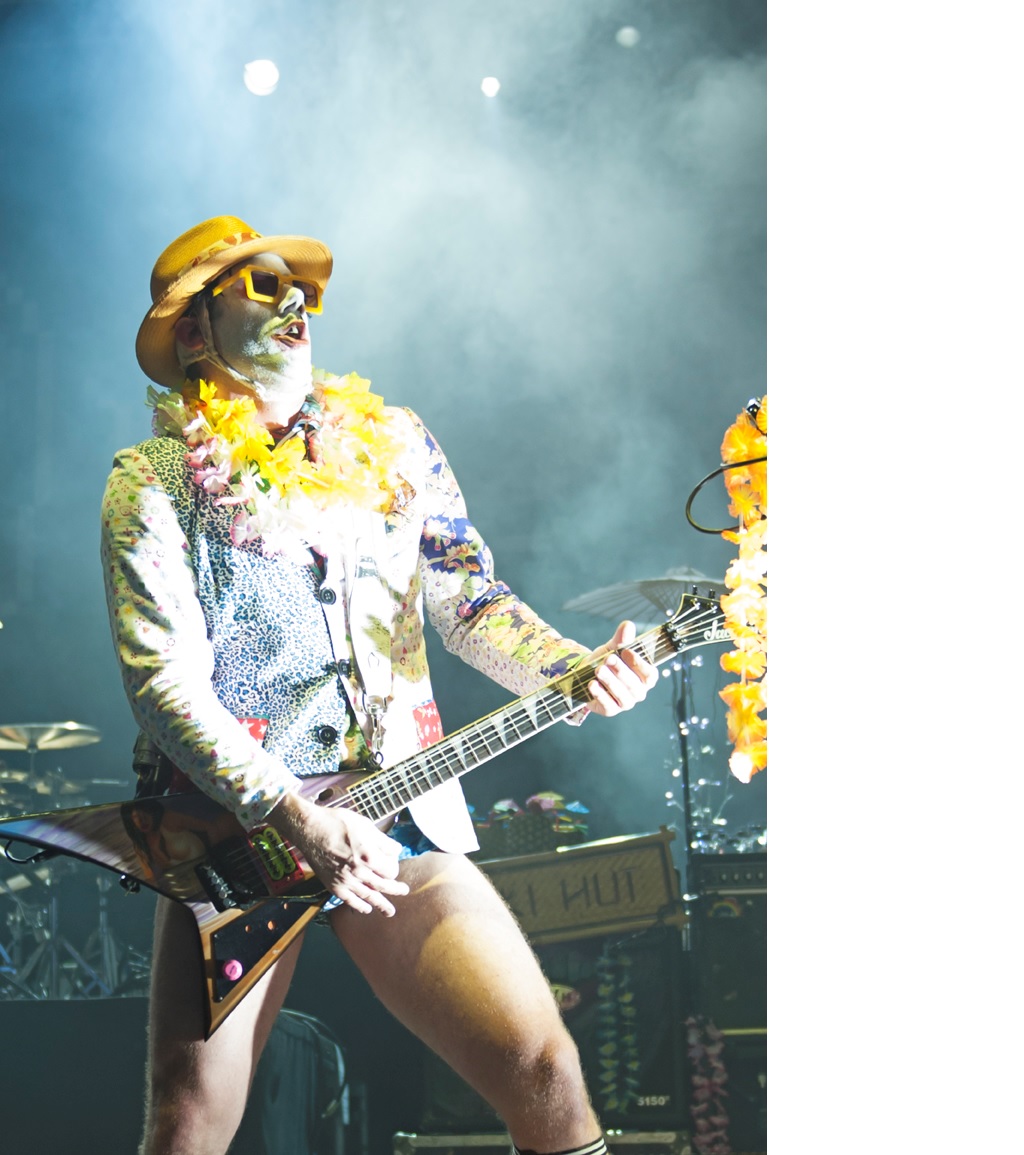 And for someone who would never pretend to really be much of a singer Durst's performances don't particularly disappoint either. More improbably, he also almost comes over as pretty likeable. It was suggested to me recently that Fred Durst was the musical equivalent of the neknomination drinking craze, yet despite all his cod-rap posturing, there is nothing really loutish about the man on stage tonight. He may sing the word "fuck" an awful lot, but most of the more crass couplets are lost in the air, leaving just the (relatively) pithy sides to his rage. Nor does he really actually sound that angry any more. In fact, after the crowd's reception of "My Way", when he says "I'm fucking overwhelmed" he truly sounds rather moved.
The same may not be true of his audience but still they have certainly been well entertained. As "Smells Like Teen Spirit" gives way to "Nookie" and then to "Take a Look Around" several thousand people of varying alliances to heavy metal are banging their heads with massive smiles on their faces. Indeed, after all that, it seems that, despite all expectations, the guys at Kerrang! have done a surprisingly effective job of keeping the spirit of the metal genre alive.
Overleaf: watch Limp Bizkit and Lil' Wayne perform "Ready to Go"
Most of the more crass couplets are lost in the air, leaving just the (relatively) pithy sides to his rage
rating
Share this article