Iron Maiden, O2 Arena |

reviews, news & interviews
Iron Maiden, O2 Arena
Iron Maiden, O2 Arena
Metal survivors' big-budget occultist panto is actually rather sweet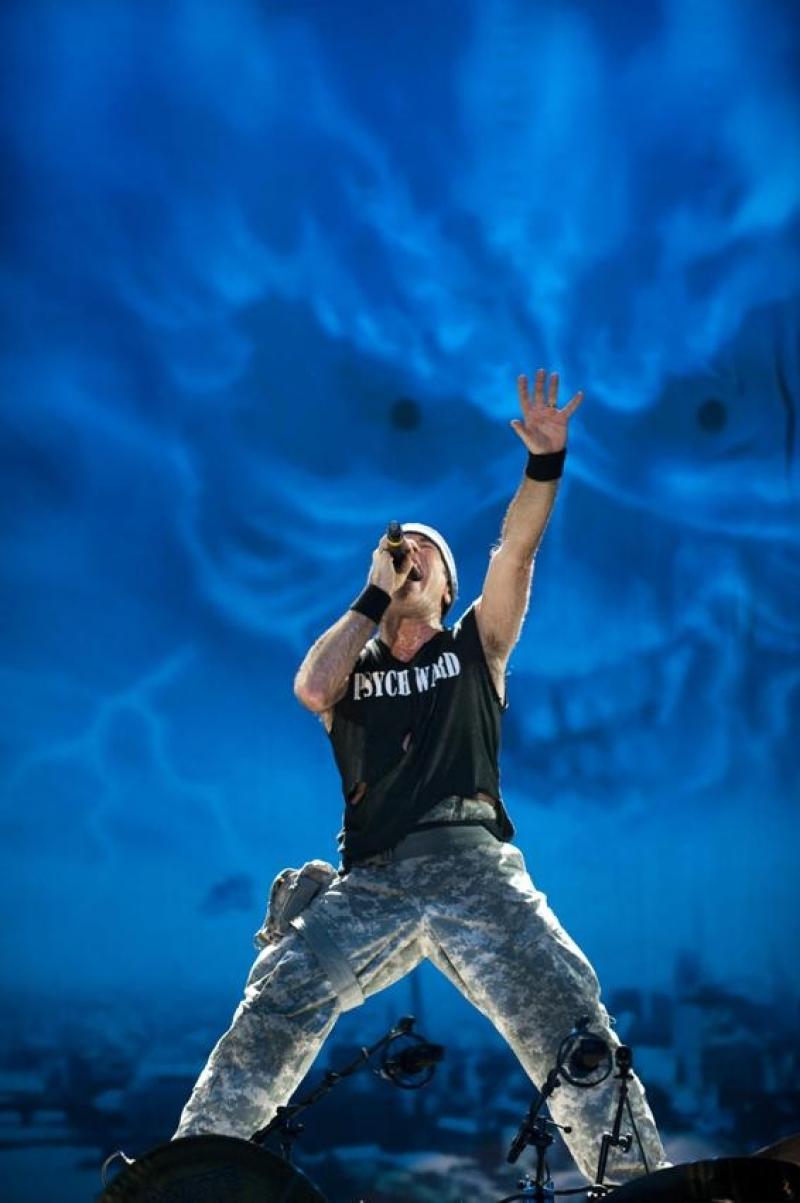 Bruce Dickinson: 'We are from Britain. Or, rather unfashionably, Great Britain. And in the words of William Blake…'
Some bloke called Jack mailed to say that he did indeed have two tickets to Iron Maiden (baby), and for the Friday 'n'all. So I called shotgun, threw on my cleanest "I ♥ Justin Bieber" T-shirt,* and pitched along to Docklands to hang out with the other teenage dirtbags – only to discover that they are, on average, actually about 40 years old. A lot of them in chinos.
We were gathered there to witness Iron Maiden, seemingly at the top of their 36-year game, finish yet another epic tour, in London, in front of a Martian space-trailer set (yeah, who knew the boundary marker for manifest rock destiny was set at North Greenwich?), and it was a whole host of curious pleasures to hear the six-man mega-band churn through the better part of a score of songs from their backlist of 15 full-scale albums, including last year's The Final Frontier, which hit Number One in some 40 countries and picked up a Grammy in the process.
Heavy metal was once defined as "too much", and the live act did not disappoint. If the classical world is currently (always?) trying to emulate the more saleable aspects of rock'n'roll, then Maiden exhibit a tendency towards the operatic, falling somewhere off the extreme end, out beyond Wagner. As the tremolo guitars and vibrato vox vie endlessly to out-wail one another, all bar a few of the songs imply that someone is about to drive a monster truck through the wall.
And that's just the sound. "The Trooper" – a kind of 1812 Overture, gone electric – comes with singer Bruce Dickinson in redcoat and Union flag, as standard; an animatronic Eddie the 'Ead mascot takes a turn round the stage, air-guitaring "The Evil That Men Do"; and at all times, and in all places, all four (FOUR!) guitarists appear to be wearing the collected hair of the other, lesser guitarists they've defeated at Rockband® – and then eaten. (Is it any surprise that Lady Gaga cites them as an influence?)
Age-wise, laid end to end, the six members of Maiden stretch back to the monarchs of the Restoration ("the sands of time, for them, are running low"ish), and Dickinson, in urban camo trous and a "PSYCH WARD" tank top, is the only one not to look like the cartoon of an ageing rocker. Nicko "looks like that bloke from the bad purple insurance ads" McBrain (drums) looks like that bloke from the bad purple insurance ads. Dave Murray (guitar), by far the most louche, I could have sworn was wearing a lamé cardigan, and, at points, doing the Lambeth Walk (NB when he rocked out in the guitar solos, he went "ooh-ee-ooh" to his own licks). Janick Gers (guitar) looks like Noel Fielding taking the piss (if you'd ever wondered where Garth from Wayne's World got to…) and appeared, in general, to be dancercising while trying to shake an errant Malteser out of his instrument. Steve Harris (guitar) and Adrian Smith (guitar) are slightly more normal – but by this stage it's all very relative.
It's also all very entertaining, and very harmless. (No actual animals were sacrificed – rather disappointingly – in the making of this rock event.) Forget all the Satan-worshipping hoo-ha, and the supposed pagan references, and the ghoulish album covers. This is a band who took their name from The Man in the Iron Mask; who reference Coleridge and Huxley in the same breath as Michael Douglas movies and the Crimean War; whose lead singer was expelled from public school after micturating in the headmaster's food; whose guitarist's middle name is Percy; who play Monty Python at the curtain.
"We are from Britain," Dickinson avers, loudly. "Or, rather unfashionably, Great Britain. And in the words of William Blake…" When Dickinson ceded the stage – rather graciously, I thought – during the instrumental solos (putting the "mental" into…), I imagined him out back, having a crack at some Earl Grey and doing a few lines of the cryptic.
All of which is by way of saying that, despite their chronicled origin in a Leytonstone pub, Iron Maiden are, frankly, a little bemusingly, kind of charmingly, middle class as Hell. And the same goes for the fans. (Dickinson has a lovely anecdote about "30,000 Islamic heavy metal fans" in Jakarta. Turns out they're pretty middle class there, too.)
In front of me, a man used his Blackberry to upload his Facebook photos of diffidently flourished rock fists and comfy seats with beverage holders. A few "independently minded" young men were going for the Stroppy-sons-of-Thingfrith (who-do-part-time-at-the-Games-Workshop) look – the look of young men who can manage 4ft of hair each, but couldn't summon a moustache between them – but they tended to be the chaps with the least "body art", and were outnumbered by people with their shirts tucked in. A couple of lighters came out during "When the Wild Wind Blows"; but mostly it was iPhones.
'It's a big-budget occultist panto, a metal musical without the agony of the storyline, the end result of asking the G&S Society to put on a rock gig'
In the seating areas, people were largely… seated. When, occasionally, they got up and obstructed the view, we just waited for them to get tired and sit down again, or to need the loo. Down in the seething mass, a half-dozen guys sporadically attempted to mosh. But mostly people were more interested in the bouncers handing out bottled water.
It was all rather sweet, actually. "How the hell are you tonight?" yelled Dickinson, like he was talking to an old [sic] mate. "Y'alright?" He asked about the sound, too, and it was only afterwards I realised he might have meant "Is it too loud?" Several folks had indeed followed Maiden's injunction to bring their daughter(s) ("to the slaughter"). But a few had brought their nans. One of whom was a dead ringer for Brian Sewell.
Musically speaking, a band who've been touring since before I was born don't need me to say that they are immaculately drilled. Iron Maiden are super-professionals in that regard. But what really kept me going – somewhat to my surprise – was their sense of humour.
Cos it's a joke, right? (Er, right?) Pure spectacle, plus/minus Gers's pure comedy. Deadpan Tenacious D. When Dickinson calls out "Fear of the dark – YOUR TURN! – mwahahahahahaaaah!" we know he's just messing about. It's a big-budget occultist panto, a metal musical without the agony of the storyline, the end result of asking the G&S Society to put on a rock gig. When Bruce besought "London" to scream for him, I couldn't help wondering if we shouldn't save it for when there really was a wolf behind him.
The only low point was when, in a spot of inter-rock-godding banter, Dickinson suffered something of a politics FAIL while trying to Bono it up with a skit about world peace – which wasn't improved by the realisation that it was actually just a build-up to "Blood Brothers". They closed with "Running Free". Just for laughs - and a bit of cardio – Dickinson did some star jumps, squeezed the sweat from his wristbands and invited everyone back again for the morrow. McBrain took a baroque bow, in his cycling shorts. And that just left Gers, swinging a guitar round and round his head.
* Rumours that I did this to raise £666 – the bank balance of the Beast – for charity were, alas, based on mistranslated humour.
Explore topics
Share this article