Big School, BBC One |

reviews, news & interviews
Big School, BBC One
Big School, BBC One
David Walliams's classroom comedy is rooted in the pre-Govian era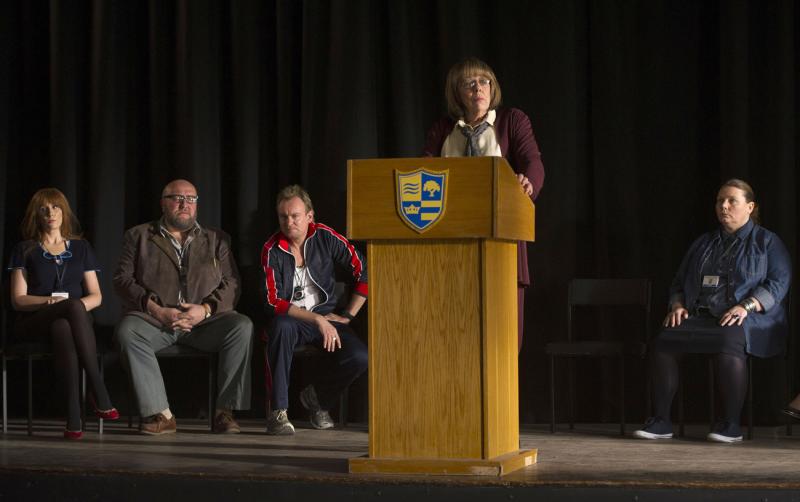 Calamitous assembly, as Ms Baron (Frances de la Tour) addresses Greybridge School
Boldly not going anywhere near things like Grange Hill or Teachers, Big School is more like a throwback to the St Trinian's of the 1950s. Co-writer and star David Walliams plays a man known only as Mr Church, Deputy Head of Chemistry at Greybridge School (the nod to Billy Bunter's Greyfriars presumably being the whole point).
He's repressed, uptight and sexually inept, and more than a tiny bit reminiscent of Rowan Atkinson playing the title role in Simon Gray's
Quartermaine's Terms
.
A few grudging scraps have been thrown to the prevailing -isms of 21st century education, like a pupil named Beyoncé or another pupil called Manyou (Joivan Wade), who sits in detention talking incessant Jafaican down his mobile when not offering Mr Church tips on how to get his leg over the new French teacher. Reverting to historical type, her name is Miss Postern, so you might expect her to be played by Joyce Grenfell's niece. In fact it's Catherine Tate, and her character is stepping in to replace the late Miss Kent who has died of an allergy while eating Nutella on a school trip across the Channel (below, David Walliams as the ninnyish Mr Church).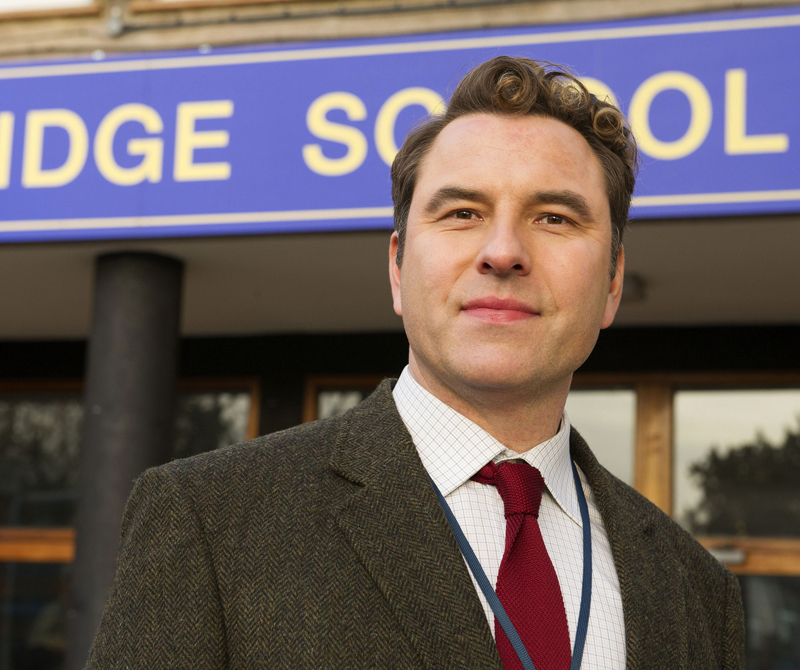 All that's missing is Alastair Sim, though we have the next best thing, which is Frances de la Tour playing the Head (Ms Baron). Colossally jaded, she lounges behind her desk hosing down all supplicants with withering fusillades of cynicism. When she thinks nobody's looking, she'll whip out a bottle for a reviving nip.
Big School is able to get away with its almost outrageous retro-ism thanks to the all-round excellence of the cast, especially the females (Joanna Scanlan's Mrs Klebb will surely seize more of the limelight than she did in this opener). De la Tour is majestic, an unrepentant repository of antediluvian attitudes worn with utter scorn ("dirty people, dirty country," she scoffs when the subject of France is raised).
Tate excels as Miss Postern, missing no opportunity to lay on a lavishly affected French accent and trying to promote her pet teaching gimmicks like "vocab tennis". Meanwhile her luxuriant mane of red hair and ladette-ish aura is triggering havoc among Greybridge's pitiful male specimens, not least the reekingly unsavoury PE teacher Mr Gunn (Phil Glenister), a track-suited yob with mother issues.
Walliams is comfortably unstretched as Church, though the fact that he tries to seduce La Postern by giving her a lift in his sludge-coloured Austin Maxi renders further character exposition largely unnecessary. Among other staff members, Daniel Rigby plays Mr Martin the music teacher, trying to curry favour with the yoot' by slagging off Mozart and instead promoting - with sadistically calibrated uncoolness - the Kaiser Chiefs. As the old saying goes, it's crazy but it just might work.