The Turn of the Screw, Opera North |

reviews, news & interviews
The Turn of the Screw, Opera North
The Turn of the Screw, Opera North
Chilly but compelling: Britten's take on James's ghost story is revived in Leeds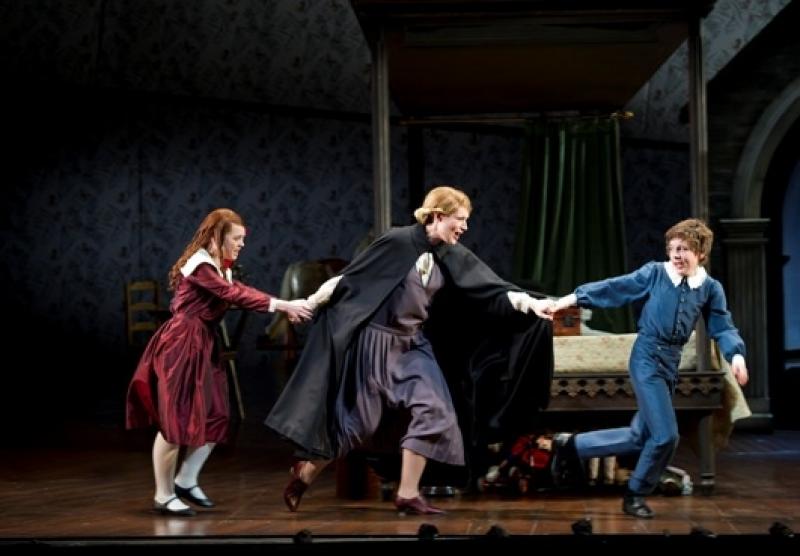 Not fun, but compelling: Fflur Wyn, Elizabeth Atherton and James Micklethwaite in 'The Turn of the Screw'
To paraphrase a cliché, it's rare to leave a theatre humming the lighting. But here, Matthew Haskins' lighting designs help make this production so powerful and evocative, whether projecting grotesque, distorted shadows on the back wall of Madeleine Boyd's claustrophobic set, or illuminating characters' subtle facial expressions.
Dawn and dusk are both beautifully realised, and when we're finally shown a brightly lit stage at the opera's shocking close, you almost have to shield your eyes.
Watching an opera about the corruption of childhood innocence is an uncomfortable sensation, and this discomfort is made physically real by Britten's extraordinary, exquisitely uneasy music, miraculously scored for a 13-piece ensemble. Henry James's source novella has a Governess taking up employment in a remote country house where she is to look after two children, Miles and Flora. She discovers that Miles has been expelled from school for reasons unknown, and begins to suspect that both children are under the control of the ghosts of the house's previous valet and governess.
Director Alessandro Talevi has updated the opera to the 1920s, confining us to an Expressionist single-room set making imaginative use of windows and a distant tower. A four-poster bed lies centre stage throughout, evoking the ambiguity of Henry James's original novella, and the problem of whether the ghosts seen are real or a projection of the Governess's imagination.
Britten and his librettist Myfanwy Piper chose to let us watch the Governess and her charges see and interact with the ghosts of Peter Quint and Miss Jessel, avoiding the doubts raised by the original story. Britten's genius is in making his ghosts deliver such seductive, insidious music, most notably in his writing for the malevolent Quint – his vocal lines accompanied by bright celeste chimings which somehow manage to sound appealing but ultimately repellent. Benjamin Hulett, making his hammy but shocking first appearance through a misty window, is appropriately unsettling. Miss Jessel's music is characterised by tolling bell sounds in low percussion and harp. You marvel too at the way Britten mirrors the childrens' bowing and curtseying, or the Governess's carriage ride. The music played during Miles's piano lesson would be highly entertaining and witty in a different context.
The score never fails to surprise and beguile, but despite its brilliance the chilliness always keeps me at arm's length. That said, musically this production is superb: Richard Farnes's acute ear ensures that every orchestral playing is vividly projected. The bird calls heard in Act One are wonderful, and the all-important harp, keyboard and percussion writing sounds superb.
The vocal casting is strong – Elizabeth Atherton physically confident and credible as the Governess, and Yvonne Howard's Mrs Grose an ideal foil. Talevi makes good use of his confined set, his characters moving fluidly around the limited space, and the anarchy and exuberance of childhood is vividly depicted.
It's with the two children that this production really shines. Fflur Wyn, also playing the role of the Blue Fairy in this season's Pinocchio, is entirely credible as Flora, while 13-year-old James Micklethwaite is astonishing as her brother Miles - a consummate actor as well as a superb singer. Not a fun evening, but a compelling one.
The Turn of the Screw at the Grand Theatre, Leeds until 21 October then touring to Manchester, Newcastle and Nottingham
Find The Turn of the Screw on Amazon

The score never fails to surprise and beguile, but despite its brilliance the chilliness always keeps me at arm's length
Share this article