Bolshoi full casting up as box office opens |

reviews, news & interviews
Bolshoi full casting up as box office opens
Bolshoi full casting up as box office opens
Tsiskaridze and Hallberg omitted from London tour, but new names rise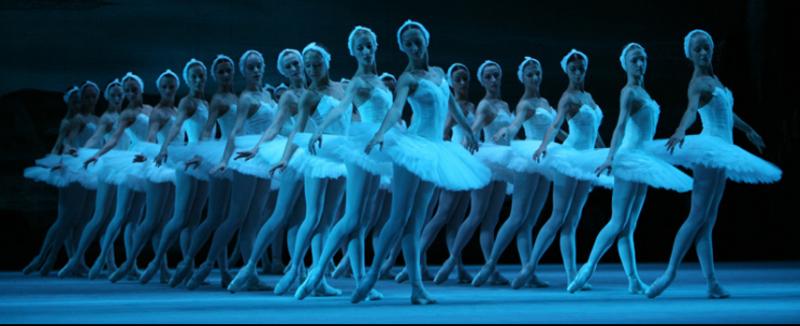 Lake of tears: the Bolshoi's corps de ballet, beautiful as ever
General booking for the Bolshoi Ballet's Covent Garden season this summer opens on Tuesday (9 April), and the company has at last announced its intended casting. However, it should always be borne in mind that, as Les Ballets Trockadero de Monte Carlo habitually announce before every performance, "in accordance with strict Russian tradition, there may be changes". The notable news is the absence of two male names from the roster - Nikolai Tsiskaridze, who is currently taking the Bolshoi Theatre to court over disciplinary action in the wake of the acid attack on Bolshoi director Sergei Filin, and the American star whom Filin recruited to the Bolshoi, David Hallberg.
Both omissions will cause comment, especially that of Tsiskaridze, who had been listed when the Bolshoi first put out its press release days after the Filin attack on 17 January. Since then, however, a leading Bolshoi soloist has been arrested on suspicion of the crime, Pavel Dmitrichenko, who is a close associate of Tsiskaridze. While no accusation is being made of Tsiskaridze being involved in the assault, his public pronouncements since then - that Filin was not really attacked with sulphuric acid, that the crime was a fabrication to target Tsiskaridze himself, and that he himself should replace the Bolshoi Theatre's general director - have not helped his chances of being selected for the prestigious London tour at the age of 39, despite his celebrity.
One known result of the ghastly event was the cancellation of a new Rite of Spring by the Royal Ballet's Wayne McGregor, which had been intended as a centrepiece of the Bolshoi's celebration of the centenary of Nijinsky and Stravinsky's legendary work, and was to be performed in London. But without Filin to oversee it, McGregor faced a fair amount of non-cooperation and was "postponed". Balanchine's Jewels has been substituted.
The tour from 29 July to 17 August is considered the most prestigious of the Moscow company's global outings, and the cost of bringing them, their orchestra and the sets is reflected in ticket prices. These range from stalls and circle £120 (Swan Lake, Sleeping Beauty) or £110 (Bayadère, Jewels, Flames of Paris), and amphitheatre from £70 or £66, down to the cheapest slips at £10.
Other dancers originally announced for London included the lyrical ballerina Svetlana Lunkina, who has revealed that she had suffered threats in Russia due to her husband's falling-out with a business partner, and she was remaining at her second home in Canada. Nothing is certain about Bolshoi casts even till the last minute, judging from their last visit in 2010 when Zakharova pulled out with just days to go. At the time it was said she had a recurring hip injury, but it turned out that she was pregnant by the violinist Vadim Repin, now her husband. She has since borne a daughter.
Now the chief casting news awaited is whether Sergei Filin himself will be able to come to London with his company. He has spent the best part of the past two months in a specialist clinic in Germany where he has had some 12 operations on his eyes and skin. So far it is unclear that he will ever have normal sight again, though Russian reports indicate that advanced skin renewal techniques should ensure that his face is much less scarred than would have been the case even 10 years ago.
The events have cast a pall of horror over what should have been a celebratory return to London
Dmitrichenko and two alleged accomplices - all of whom had reportedly confessed to the attack, either on public camera or in police interrogation - remain in custody while trial papers are prepared and further investigations go on. Many Bolshoi dancers, including Tsiskaridze, regard Dmitrichenko's public confession with scepticism, attacking both police methods and what they see as a determination by authorities to leave certain stones unturned.
The events have cast a pall of horror over what should have been a celebratory return to London, especially for the veteran Hochhausers, now octogenarians, who have been the persistent champions of top Russian arts for more than 60 years through thick and thin. The Bolshoi Ballet's first tour in 1956 was a government initiative - from 1961 onwards both they and the Kirov Ballet were brought to London by the London impresarios.
The Bolshoi productions of classics are currently dominated by the versions of Yuri Grigorovich, its longtime director through the Soviet era, though, in his eighties, he has revisited all three classics being shown here. Balanchine's Jewels is relatively new to the Bolshoi - its St Petersburg rival, the Mariinsky Ballet, has long been acclaimed in the ballet, and the Royal Ballet is also a regular performer of the sumptuous three-act abstract ballet.
Glamorous prima ballerina Svetlana Zakharova, having missed the last Bolshoi tour, has pole position throughout this summer's visit, doing first nights of Swan Lake, La Bayadère, Diamonds (in Jewels) and two of the five Sleeping Beauties.
Rising star Olga Smirnova shadows Zakharova, like her a St Petersburg-trained girl, in the first three ballets, and the explosive young couple who quit the Bolshoi and have just been tearing the London Coliseum roof down with their shows with the Mikhailovsky Ballet this week, Natalia Osipova and Ivan Vasiliev, give one performance of a ballet created for them by former Bolshoi director Alexei Ratmansky, The Flames of Paris (pictured right, by Damir Yusupov/Bolshoi Theatre).
The name of Kristina Kretova in the Swan Lake and Rubies casts announces a Filin recruit to the Bolshoi from his previous company, the Stanislavsky Ballet. Her name endorses that the casts announced are Filin's choices, made from his hospital bed in Germany.

Behind these newsmakers is promised a line of top Bolshoi talent, classy ballerinas Maria Alexandrova and Ekaterina Krysanova, and rising young men like Vladislav Lantratov and Semyon Chudin, as well as the eternally beautiful Bolshoi corps de ballet.
The casts
29-31 July, 1, 10, 14 & 15 Aug, Swan Lake (production 2001 by Yuri Grigorovich) - 29 Jul, Svetlana Zakharova/ Alexander Volchkov; 30 Jul, 10 (eve) & 14 Aug, Maria Alexandrova/ Ruslan Skvortsov; 31 Jul, Ekaterina Shipulina/ Semyon Chudin; 1 Aug, Ekaterina Krysanova/ Artem Ovcharenko; 10 Aug (mat), Kristina Kretova/ Dmitri Gudanov; 15 Aug Olga Smirnova/ Semyon Chudin
2 & 3 Aug, La Bayadère (production 2013 by Yuri Grigorovich) - 2 Aug, Svetlana Zakharova (Nikiya)/ Vladislav Lantratov (Solor)/ Maria Alexandrova (Gamzatti); 3 Aug (mat), Evgenia Obraztsova/ Alexander Volchkov/ Anna Tikhomirova; 3 Aug (eve) Olga Smirnova/ Ekaterina Krysanova/ Semyon Chudin
5-9 Aug, The Sleeping Beauty (production 2011 by Yuri Grigorovich) - 5 Aug Nina Kaptsova (Aurora)/ Ekaterina Shipulina (Lilac Fairy)/ Artem Ovcharenko; 6 & 9 Aug, Svetlana Zakharova/ Olga Smirnova/ Ruslan Skvortsov; 7 Aug, Evgenia Obraztsova/ Ekaterina Shipulina/ Dmitri Gudanov; 8 Aug, Ekaterina Krysanova/ Olga Smirnova/ Semyon Chudin
12 & 13 Aug, Jewels (1967, George Balanchine) - Emeralds: 12 Aug, Evgenia Obraztsova/ Vladislav Lantratov; 13 Aug, Nina Kaptsova/ Dmitri Gudanov Rubies: 12 Aug, Ekaterina Krysanova/ Dmitri Gudanov; 13 Aug, Kristina Kretova/ Andrei Merkuriev Diamonds: 12 Aug, Svetlana Zakharova/ Alexander Volchkov; 13 Aug, Olga Smirnova/ Semyon Chudin

16 & 17 Aug, The Flames of Paris (production 2003 by Alexei Ratmansky) - 16 Aug, Natalia Osipova /Ivan Vasiliev; 17 Aug (mat), Ekaterina Shipulina/ Alexander Volchkov; 17 Aug (eve), Maria Alexandrova/ Vladislav Lantratov
Watch film taken by audience member at Olga Smirnova's debut at the Bolshoi in La Bayadère in 2012: In an Indian palace the temple dancer Nikiya dances in agony in front of her two-timing warrior lover as he takes a princess for his wife - and murder is about to occur (YouTube via tuteetuteetu)

The chief casting news awaited is whether Sergei Filin himself will come to London
Explore topics
Share this article
Subscribe to theartsdesk.com
Thank you for continuing to read our work on theartsdesk.com. For unlimited access to every article in its entirety, including our archive of more than 10,000 pieces, we're asking for £3.95 per month or £30 per year. We feel it's a very good deal, and hope you do too.
To take an annual subscription now simply click here.
And if you're looking for that extra gift for a friend or family member, why not treat them to a theartsdesk.com gift subscription?