As You Like It, Shakespeare's Globe review - vibrant, ebullient fun in a forest where anything goes |

reviews, news & interviews
As You Like It, Shakespeare's Globe review - vibrant, ebullient fun in a forest where anything goes
As You Like It, Shakespeare's Globe review - vibrant, ebullient fun in a forest where anything goes
A production that feels as if it could erupt into cabaret at any moment
Tuesday, 05 September 2023
Playing it ruff: Isabel Adomakoh Young, Nina Bowers and Macy-Jacob Seelochan
To proclaim that you're playing gender games with Shakespeare's As You Like It seems a little like announcing that you have a bicycle with two wheels, or indeed that you're doing something interesting with rhythms in Stravinsky's Rite of Spring.
Let's face it, this is a plot in which the female love interest doesn't just disguise herself as a man but names herself after Ganymede, famed in mythology as Zeus's gay lover. The idea that this might be heteronormative in any way sounds like a spurious idea on some emotionally constipated academic's bookshelf. There's not just sauce for the goose here but plenty of sauciness for the gander.
Still, it's undeniable that Ellen McDougall's vibrant, glittering, funny, cheesy-song-studded production takes Shakespeare's initial plot and – after adding some more cross-gender casting flourishes – sends it spinning like a Catherine Wheel. The sense of irreverence is clear from the moment we begin with Travis Alabanza's cheekily tweaked prologue, "the bit before the play. A bit like the starter in a fancy restaurant."
Quickly the production sweeps into the intrigue surrounding the wrestling match between Isabel Adomakoh Young's fiery, dignified Orlando and Jessica Alade's bone-snapping court-wrestler Charles, which Orlando's corrupt brother, Oliver (brilliantly played by understudy Nadi Kemp-Sayfi on the evening that I went), is keen to ensure that his sibling loses. The staging of this is one of the production's first great flourishes; while Orlando and Charles come down into the crowd to square off, everyone can see the fight because the gawping courtiers on stage mimic each swipe like obsessive sports spectators.
This is famously the point at which Rosalind falls in love with Orlando, and Canadian actor Nina Bowers seizes the moment with the gutsy comedic relish that distinguishes her performance throughout the evening. "You have wrestled well – and overthrown more than thy enemy," she declares with a glint in the eye which suggests that far from being conquered, she's thoroughly looking forward to the battle.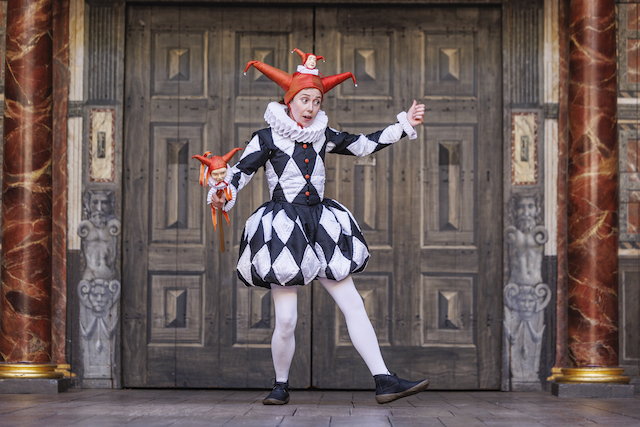 Bowers – who along with Adomakoh Young will be doing a drag king act in the Sam Wanamaker Playhouse this October – is a striking theatrical presence, combining clarity of diction and deft physical timing to be as commanding as she is coquettish. It's not just the burgeoning relationship between her and Orlando that dominates the action, but also the friendship between herself and her passive aggressive cousin Celia, played by Macy-Jacob Seelochan with hilariously waspish resentment. At one point Bowers declares effusively, "Do you not know I am a woman? When I think, I must speak." Seelochan's responding silence underscored by the tart expression on their face is worth a thousand put-downs.
This is famously the Shakespeare comedy in which the virtues of a pastoral existence are extolled over those of the court. As Duke Senior (Tonderai Munyevu), exiled by the dastardly Duke Frederick notoriously declares, "This our life, exempt from public haunt, Finds tongues in trees, books in the running brooks, Sermons in stones, and good in everything." Yet while nature is celebrated, natural blood ties and traditional concepts of family are repeatedly subverted. In the anarchic space that remains, a whole host of connections is allowed to flourish; as Emmanuel Akwafo's gold-lipsticked Amiens says with sultry suggestiveness in the alternative prologue, in the forest "We are a bit more entangled".
Among Duke Senior's courtiers, Alex Austin's charismatic Jaques puts in a scene-stealing turn, wringing the full comedy out of such lines as, "I can suck melancholy out of a song as a weasel sucks eggs." Tessa Parr's Touchstone (pictured above) – in pursuit of Hannah Ringham's pragmatically flirtatious Audrey – combines sardonic down-to-earth wit with a resonant singing voice.
It's a huge part of the chemistry of McDougall's production that it feels that at any moment it could erupt into full cabaret. While at Duke Frederick's court the look tends towards monochrome and Elizabethan, in the woods the abundant mix of colours and styles is more suggestive of a music festival. This is helped in no small way by Michael Henry's assured musical direction. The ensemble of double bass, accordion, guitar and percussion almost becomes a character in itself, at one point bringing sonic zip to the wrestling match at others providing a spirited accompaniment to songs ranging from Tegan and Sara's "Closer" to Elton John's "Chapel of Love".
It's not a perfect production – some actors struggle a little to make themselves heard, and though all the songs are nothing less than enthusiastic, a couple start off slightly ragged. Nothing, though, that can't be sorted as the run continues. Overall this is an evening of joyous exuberance, a wonderful way of celebrating the last gasp of this year's summer. Whether or not you choose to wear sequins is up to you – for in this forest, as another writer might have put it, anything goes.
As Rosalind, Nina Bowers asserts herself with gutsy comedic relish
rating
Explore topics
Share this article