The Sleeping Beauty, English National Ballet, Milton Keynes Theatre |

reviews, news & interviews
The Sleeping Beauty, English National Ballet, Milton Keynes Theatre
The Sleeping Beauty, English National Ballet, Milton Keynes Theatre
Tamara Rojo's first performance as player-manager takes ENB into unknown territory
Thursday, 18 October 2012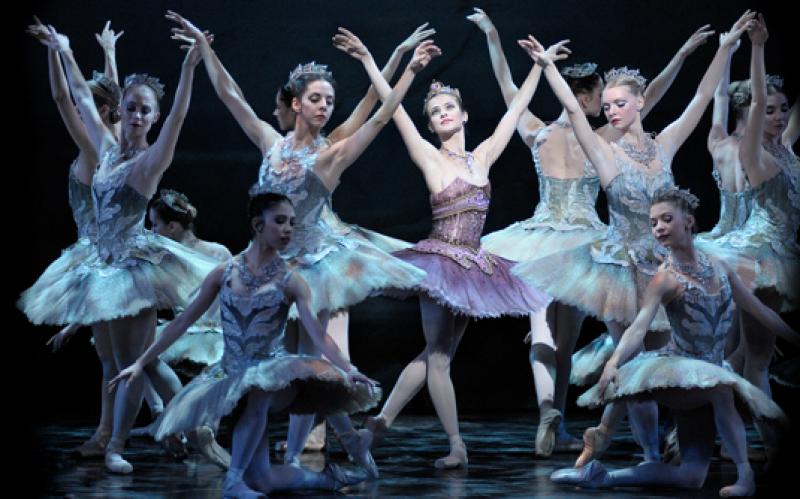 The most succulent tutus: Lilac Fairy Elena Glurdjidze and her attendants in ENB's Sleeping Beauty
Has the great ballerina Tamara Rojo ever done a more nerveracking performance than she did last night in Milton Keynes?
On her first night as player-manager of English National Ballet, both its new artistic director and its chief ballerina, she had to inhabit the skin of a dewy 16-year-old discovering the world - all the while watching the stage with the steel gaze of a boss to see if her employees were doing their job to standard.
This is a model that is essentially unknown to British ballet for more than half a century since Alicia Markova and the Festival Ballet back in the 1950s - elsewhere the role model must be Alicia Alonso, the deathless tyrant and icon of Cuban ballet, whom Rojo is known to admire enormously. Reliant as ENB's box office is going to be on Rojo's drawing power as a ballerina, it is a working model likely to force normal expectations into unknown territory.
Even Rojo, with her superb technique, showed shaking legs as she took on the Rose Adagio's exultant, girl-power balances. No doubt among the men too there were quaking legs as they waited to see when their boss wanted a helping hand. Perhaps for no one more than the young lion Vadim Muntagirov, who for the past two years has been building a swiftly rising respect worldwide in partnership with the company's leading ballerina until now, Daria Klimentová. And here was Klimentová, cast as the secondary Lilac Fairy, handing him over to a new leading lady.
And what of the central couple? Remarkable, exhilarating, in the final act, after a degree of nervy introduction
But these are perhaps subplots to be winked at backstage. The innocent public was watching a richly resonant performance of The Sleeping Beauty, with - for once - a first-class trio of artists in these roles, and a fourth equally remarkable player completing the story, in the person of the wicked Carabosse as played by James Streeter.
The Sleeping Beauty is, in dramatic terms, a chess game, in which the good Lilac Fairy and the evil Carabosse square up, manipulating the two youngsters, Aurora and her Prince, in a cosmic moral combat. You don't always feel this when you have a camp male dragging up as Carabosse and (too often) a weak Lilac Fairy. Here we had Klimentová's sweet and irresistibly poignant Lilac Fairy up against an alabaster demon of a Carabosse: Streeter, who is very tall, wore the fine Tudor dress and ruff designed by the great Nicholas Georgiadis for this production with the contemptuous arrogance of a mythic god of destruction in expedient disguise. How he twisted his lip and curled his eyebrow as he cursed the baby Aurora - how chillingly inevitable eternal death seemed for all of the opulent court. Sic transit gloria mundi. Streeter is a massive asset to ENB.
The MacMillan production, originally made for American Ballet Theatre 25 years ago, faithful to the Royal Ballet's authentic text with a very pretty Garland Dance substituted by MacMillan, has the best costumes of any Sleeping Beauty to be seen. Wonderfully luxurious Georgiadis kit leaps the time zones in an ecstatic relish: the early Stuart-era christening hops forward a generous 16 years into Aurora's critical teens, with three eyecatchingly Puritan knitting women among the florid brocades hinting at political turmoil ahead; 100 years on the Prince is hunting in Gainsborough period, and he wakens Aurora for an elegant 18th-century court wedding and masked ball (pictured above, Puss in Boots and the White Cat). The costumes just keep coming, the silks figured and draped, the hats furled, curled and feathered. The tutus of the fairies are of utmost succulence, each one separately shaded and designed.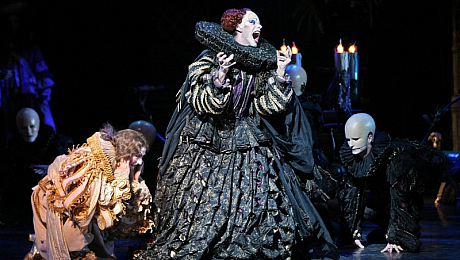 That the sets don't come near matching the dress was surely for lack of money when Peter Farmer was commissioned, but their basic Royal Horticultural Society trelliswork could look much more atmospheric with less workaday lighting than last night's.
These visual blessings will make every outing of this production a pleasure to the eye as ENB trot it extensively about the country - what will vary more is the performing, for, as Rojo showed last night, for even one of the world's great ballerinas this is is a fiendish piece to dance as if it were effortless. The solo fairies had all their deficiencies in stamina and expertise exposed in their short, diabolically difficult solos written in 1890 by the choreographer Petipa, though they were also dragged backwards by the leaden conducting of Gavin Sutherland, who seemed bent on sabotage for the first two acts.
And what of the central couple? After a slightly stiff mutual introduction in the Act 2 Vision Scene there were flashes of something remarkable, exhilarating, in the final act. The proud opening section of the great pas de deux showed that Rojo will challenge Muntagirov technically in every way, and he can answer it. They were rewardingly careful in synchronising arm shapes and angles of inclination, and at small moments they both smiled unconsciously as if pleased with each other. Young Muntagirov still looks green in moments of his solos, overstretching an angle or overrevving a jump, and he needs to add a heroic aspect to his repertoire of princely bearings, but he has an uncommon natural lyricism, musical intelligence and innate grace.
As for Rojo's Princess, I felt more conscious of her last night giving a demonstration of exquisitely formed poses and feats rather than flowing instinctively through them as usual, and I hope this isn't going to be a price paid for her hours behind the director's desk. It was a bit grand, a bit static. But this was only the first of many more performances to come and she will no doubt unbend as she relaxes into her testing new position.
Elsewhere bouquets to the deliciously teasing Shiori Kase as Princess Florine, an Aurora to come surely, and I wish redheaded Ksenia Ovsyanick (Fairy of the Golden Vine) could be given special refining to help fulfil that naturally generous spirit and stage presence.
English National Ballet perform The Sleeping Beauty at Milton Keynes Theatre till Saturday; then at the Liverpool Empire 30 Oct-3 Nov, Manchester Opera House 28 Nov-1 Dec, London Coliseum 9-19 Jan 2013, Oxford New Theatre 19-23 Feb 2013 and Southampton Mayflower 26 Feb-2 March 2013

Watch Rojo performing the wedding pas de deux from The Sleeping Beauty with Birmingham Royal Ballet's Iain Mackay at a Spanish gala
Even Rojo, with her superb technique, showed shaking legs as she took on the Rose Adagio's exultant, girl-power balances
rating
Explore topics
Share this article