EO review - lyrical tale of a donkey's odyssey |

reviews, news & interviews
EO review - lyrical tale of a donkey's odyssey
EO review - lyrical tale of a donkey's odyssey
Jerzy Skolimowski takes the audience on an incredible journey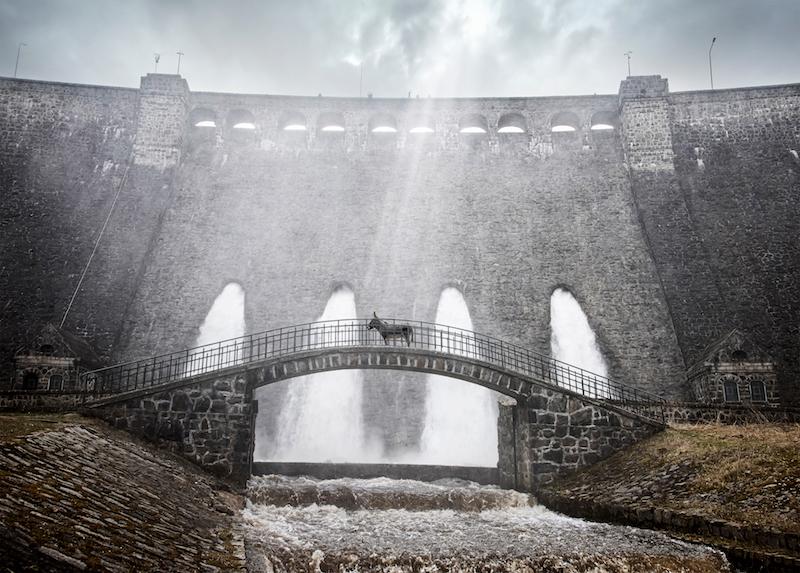 A born hoofer: Eo the donkey contemplates a bridge too far
It's been a good year for donkeys at the cinema. Not only did Martin McDonagh make a surprise star out of Jenny the miniature donkey in The Banshees of Inisherin, but she'll be competing at the Oscars with the title character of EO, Jerzy Skolimowski's paean to beautiful Sardinian donkeys. The veteran Polish director has crafted a film like no other, weaving together extraordinary images with a devastating score by Pawel Mykietyn.
We first meet Eo performing with a travelling circus. He's led through his tricks in the ring by his devoted trainer Kasandra (Sandra Dryzymalska pictured below) and in the red glow of the lights, his life seems pretty good. But the circus is struggling financially and a noisy picket by animal rights protesters is the final straw in his manger. The circus shuts down and Eo begins a long, arduous journey from Poland to Italy. Along the way he experiences human beings at their cruellest – animal trappers only interested in harvesting furs, a hooligan swathe of vindictive football fans. At one point, Eo narrowly escapes being turned into salami.
Eo meets good people along the way, too, and there are moments of wonderful comedy, but overall you wouldn't watch EO and vote to come back in your next life as a donkey. Skolimowski and his brilliant cinematographer Michal Dymek deploy every camera technique available to convey the world experienced by the animal. There are mesmerising drone shots, incandescent colour saturated images, and dizzying angles. At one point a mechanical dog races through the undergrowth, both terrifying and ludicrous.
The filmmaking is so inventive and artful that it's hard to believe the director isn't some whizz-kid whose skill was honed on high-end advertising, rather than the 84-year-old Skolimowski. When he was invited to show the film in competition at Cannes, he described it as a bittersweet experience to be at the festival again when so many fellow filmmakers were no longer of this world. Winning the Jury Prize and Soundtrack Award must have helped ease the pain. It had been seven years since he made his last film, Eleven Minutes, and Skolimowski had even returned to acting, taking a villainous part in Avengers Assemble in 2012.
The script for EO, co-written with his wife Ewa Piaskowska, isn't heavy on dialogue. There are long mesmerising stretches when we meet other animals threatened by human activities. Fox lovers will find the movie very gruelling. The world is mainly seen from Eo's wordless perspective. The camera drowns in his luminescent brown eyes. We project our own thoughts about what might be going through Eo's head. Mainly we stick with Eo although there are some scenes that don't involve the donkey (who was played by six different donkeys to conform to welfare rules about working with animals).
I struggled with the final section when the French superstar Isabelle Huppert appears as a haughty countess in a ramshackle Italian palazzo. Was it necessary for funding or press coverage to get a big-name actor into the cast? The talky scenes with the countess and her young lover Vito (Lorenzo Surzolo), training to be a priest, take us away from Eo's odyssey and feel like they belong in a different film. But EO is still a wonderful homage to Robert Bresson's Au Hasard Balthazar and definitely the best movie about a donkey you'll see this year. Fingers crossed Skolimowski's troupe of Sardinian donkeys will beat Irish Jenny at the Oscars. If it doesn't, the high profile of EO should at least inspire cinemagoers to check out the Polish director's career retrospective at London's BFI cinema next month.
It's hard to believe the director isn't some whizz-kid
rating
Explore topics
Share this article