The Tempest, Shakespeare's Globe review - occasional gales of laughter drown out subtlety |

reviews, news & interviews
The Tempest, Shakespeare's Globe review - occasional gales of laughter drown out subtlety
The Tempest, Shakespeare's Globe review - occasional gales of laughter drown out subtlety
If you think a fat man wearing yellow swimming trunks is funny, you're on the right island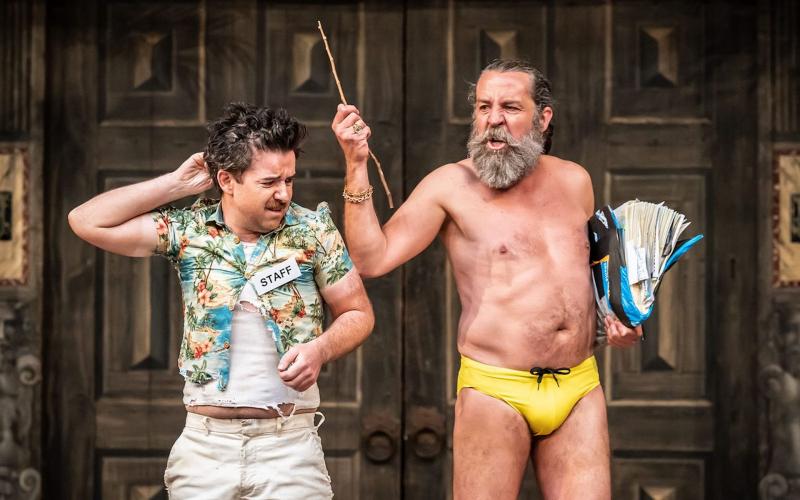 Is that a stick in your hand or are you just pleased to see me? Ciarán O'Brien and Ferdy Roberts in 'The Tempest'
Alexei Sayle, in his angry young man phase, once said that you can always tell when you're watching a Shakespeare comedy, because NOBODY'S LAUGHING. That's not entirely true, of course, but sometimes a director has to go looking for the LOLs and make a few sacrifices along the way in their pursuit. And, boy, oh boy, does Sean Holmes go looking for the laughs in this production of The Tempest – and don't we suffer a few sacrifices as a consequence.
The storm itself is a bit of water sprayed on The Globe's famous groundlings, with our aristocrats boozing and partying like superannuated Club 18-30 revellers while the ship, well, perspex cube, goes down.
We cut to Prospero and Miranda for an update, Shakespeare's somewhat convoluted backstory of the magician who is a usurped Duke out for revenge over his brother, living in a self-imposed exile with his daughter, who has never seen a man, and for whom he has plans. But it's all delivered at such a pace that, even as we later discover when Ferdy Roberts slows down for an excellent, if truncated, closing monologue, it's rather lost. That's a consequence of some of the matinee audience still finding their places and Prospero's yellow speedos about to embark on two hours of distraction in service of two seconds of laughter.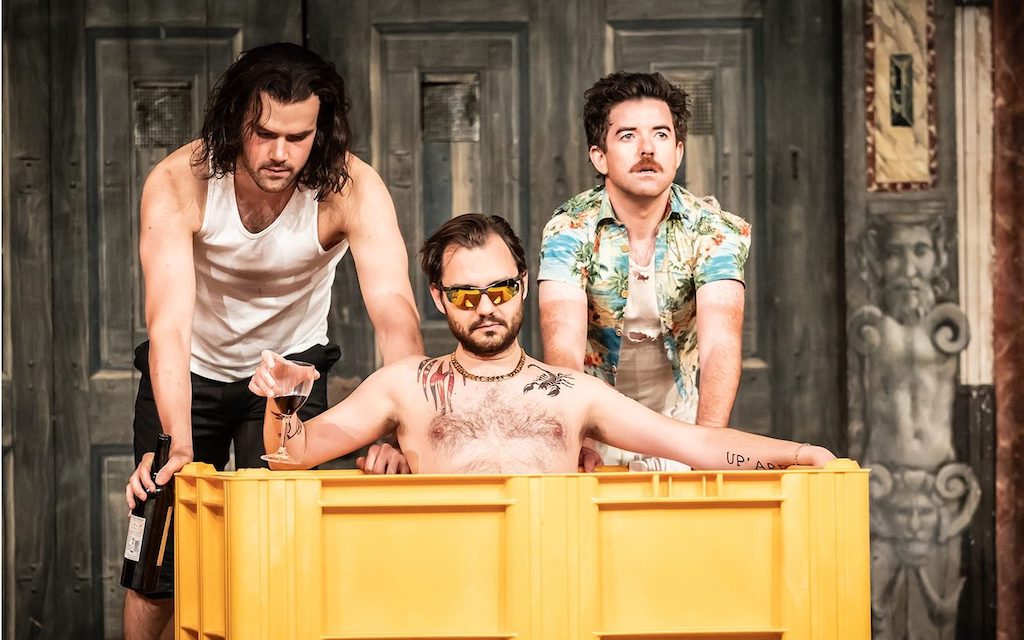 The refuge is soon populated by three shipwrecked groups, all initially unaware of each other's existence, and style eventually overwhelms substance as the desert island dicks behave ever more outrageously. Inflatables and hideous yellow crates litter the stage (there's a lot of yellow everywhere), so there's always something to look at and it's never pleasant. Scenes borrow from Ken Russell's aesthetic for a fast-food flinging masque, from Carry On for a bit of physical farce, and from Harry Potter because (I suppose) he's a magician, too?
It's so forced, so try-hard, that we're swiftly tired out just by observing all this effort, but that curdles to irritation because Shakespeare's words, his insights into the human condition, his perceptive analysis of power in the emerging colonial world, cannot break through the relentless pursuit of the next batch of shits and giggles. It's a bold creative decision to concentrate so fully on the slapstick potential of the plot in The Tempest and treat the poetry as so much flotsam and jetsam.
It isn't entirely annoying. Peter Bourke is amusing as the garrulous Gonzalo, the old retainer unperturbed by anything the island can throw at him. George Fouracres and Ralph Davies (pictured above with Ciarán O'Brien) have a lot of fun with Stefano and Trinculo, the boozy pair hooking up with Caliban, less monstrous, more oppressed and understandably resentful skivvy for Prospero, who exults in a bit of tyranny. Ciarán O'Brien gets the more out his slave character than any other member of the cast do theirs by the simple expedient of downplaying the role within the furious whirlwind of over-the-top performances that surround him.
The planned murders of the King of Naples by Sebastian (a creepy Lucy Phelps), and Prospero by Stefano and Trinculo come and go so quickly that the jeopardy barely has time to build before it dissipates. Golf clubs make for somewhat feeble and bourgeois swords amongst these nobles, as undercooked as Prospero's library being a scrapbook and his ferocious staff being rendered as little more than a twig. Surely that only works if his magic is diminished, but it's not.
Rachel Hannah Clarke has plenty of fun with Ariel's ever-more outrageous costumes, but it wasn't always easy to hear her lines, this venue, with its open roof and tricky sightlines brutal on any marginally underpowered vocal work. Nadi Kemp-Sayfi makes for a girlish Miranda, but even a teenager who has never seen a boy before might get a bit bored with Olivier Huband's dull Ferdinand, who appears more interested in tidying up than he is in her.
This production will delight those who enjoy their comedy broad, their sets garish and their Shakespeare light, and one admires the company for its wholehearted commitment to the interpretation. But that glimpse at the end, when Prospero hides the eye-bleeding budgie-smugglers at last, dons a suit to reclaim his dukedom and speaks the words with the weight they demand, only serves to alert us to what we have missed over the previous two hours.
It's so forced, so try-hard, that we're swiftly tired out just by observing all this effort
rating
Share this article