The Tempest, Shakespeare's Globe |

reviews, news & interviews
The Tempest, Shakespeare's Globe
The Tempest, Shakespeare's Globe
An ambiguous but magical production of Shakespeare's problem play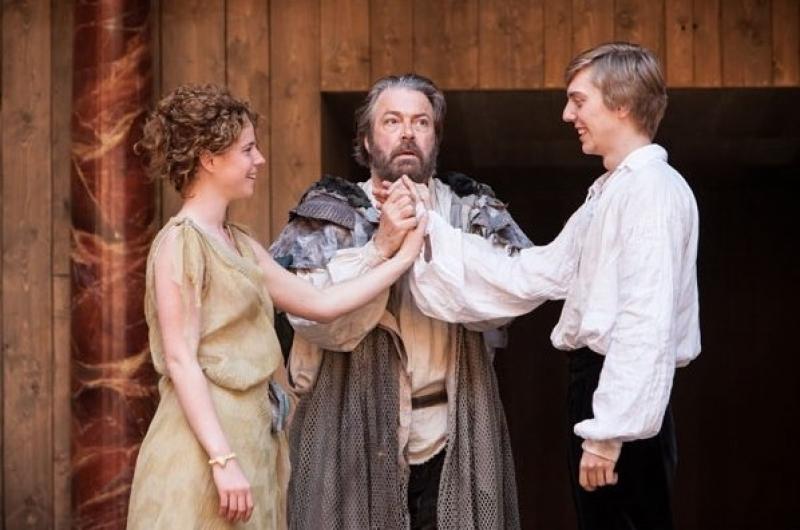 Let me not to the marriage of true minds: Prospero (Allam) blesses the union of Miranda (Buckley) and Ferdinand (James)
A thunder sheet booms, a didgeridoo hums distantly, a model ship rears and pitches its way forward through the waves of groundlings and suddenly we find ourselves washed up on the shores of the Globe for another season. All eyes may be on the newly launched Sam Wanamaker Playhouse, but just when we were all at risk of getting too distracted by its novelty, Jeremy Herrin and his new production of The Tempest are here to remind us what the original Globe Theatre does best.
We've not been short on Tempests in London of late, but if there is any space and company that should be able to make sense of Shakespeare's inscrutable late drama then it's here, where there's no temptation to round the work's sharper conceptual corners with special effects or elaborate visual trickery. But it's an odd choice for a season opener, and while humour gets an unusual prominent role in Herrin's treatment, you get the sense that this isn't the broad comedy or stirring English history that the already tourist-heavy crowd might want.
At its best this production takes an ambiguous play and allows it the freedom and flexibility to inhabit any of a number of readings. There's no undue emphasis or agenda, but conversely no real commitment to a particular narrative. This is largely the product of Roger Allam's delicately-handled Prospero – flightier even than Ariel in his shifting character.
Everything starts softly, matter-of-factly, with Allam (pictured above right with Buckley) offering us a bookish but affectionate father we can fully believe would prize his books above his dukedom, playing beautifully off Jessie Buckley's tomboyish Miranda. But where is the authority, the command in this genial autocrat? Allam holds back for the better part of two acts, subverting any sense of theatrical pomp or occasion in his throwaway delivery or by finding comedy hidden fathoms deep in Shakespeare's lines.
It's an approach that allows him to build to an impassioned "Ye elves of hills", but arguably climaxes even more spectacularly in Prospero's epilogue – verse that lacks the grandeur of so much of the character's writing, but in which we finally see Allam in full spate. Yet something is lost among so much humorous understatement, and perhaps it is risk. In emphasising nothing, committing to nothing except the necessity of laughter, Herrin smoothes over some of the play's more unpalatable elements.
In the director's hands Prospero's island is magical, a place of vivid puppetry (including some particularly wonderful skeleton-dogs to pursue the luckless Trinculo (Trevor Fox) and Stephano (Sam Cox) ) and music, but it is also a place beyond moral and social debate. Pip Donaghy's Gonzalo plays down his Commonwealth speech so much that it passes almost unnoticed, and never has Ferdinand (Joshua James) and Miranda's game of chess felt less symbolic.
The young couple are a highlight however, and this often awkward romance is rendered far more palatable by the welcome injection of humour. The ever-limp Ferdinand becomes a gormless hooray, posing for his beloved's benefit and generating some of the evening's finest physical humour, while Buckley glows with energy and simplicity as a beguilingly direct and unaffected Miranda.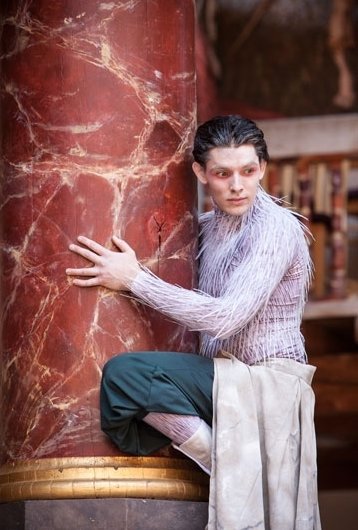 Strangely it's the comedy of the original that suffers most in this comic reading, taking the edge off the rather more wordy and weighty clowning of the drunkards and Caliban (James Garnon, pictured above with Sam Cox's Stephano). The latter loses a lot of his pathos in Herrin's direction – a calculated sacrifice, presumably intended to keep Allam's Prospero from any suggestion of villainy – and never really shows Garnon at his best. Colin Morgan's Ariel (pictured right) benefits from a rather overtly-pointed emotional subplot involving Prospero and their relationship, and while possessed of excellent comic timing his presence does rather dilute the more central emotional dramas.
Visually, spatially and as a theatrical experience this Tempest is well worth a visit. The magic of the Globe proves itself as potent as ever, and as dark falls and Prospero's masque unfolds it's easy enough to surrender yourself to Herrin's wiles too. But intellectually there isn't quite enough here to satisfy, and if you stop smiling for long enough to notice then the gorgeous illusion does flicker slightly.
In Herrin's hands Prospero's island is magical, a place of vivid puppetry and music
rating
Explore topics
Share this article