Tuba concerto unveiled in Liverpool |

reviews, news & interviews
Tuba concerto unveiled in Liverpool
Tuba concerto unveiled in Liverpool
Robin Haggart premieres a repertoire rarity with Andrew Manze and RLPO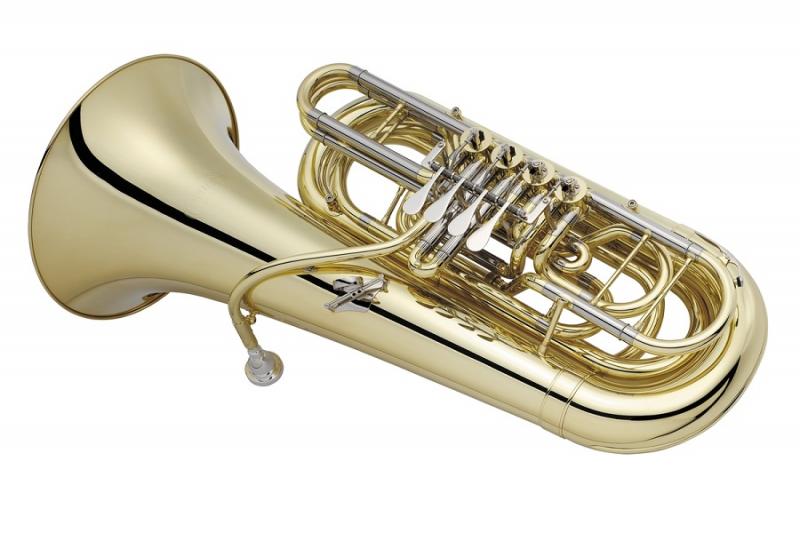 The tuba: 'a lyrical instrument, capable of all sorts'
How many tuba concertos are there? How many pieces are there where the guys from the heavy battalion can really shine as soloists? Well, possibly, here is one: this was the world première of Robin Holloway's Europa and the Bull, billed as a concertante for tuba and orchestra. It is a joint commission between the Royal Liverpool Philharmonic and the San Francisco Symphony. But Liverpool won the toss to perform it for the first time in Philharmonia Hall.
The main thing to bear in mind is that the tuba is a lyrical instrument, capable of all sorts, not just the bass notes in Wagner music-dramas and the impressive bits of Mahler and Bruckner. It has a life of its own, and on this occasion sounded extremely beautiful in the hands of soloist Robin Haggart, for 20 years principal tuba of the Royal Liverpool Philharmonic Orchestra.
The piece set to music the tale from Ovid in which Jupiter woos Europa in the guise a bull (pictured below: The Abduction of Europa by Jean-François de Troy, 1716). Complex? Yes. Picturesque? Not really. There was a series of eight short sections, one running in to the next. It was supposed to start as an Allegro tumultuoso, but didn't really. Nice, but hardly stormy and certainly not offensive. There followed a gentle Pastorale, a massively insistent Toccata and an explosive section entitle Quasi una cadenza. And then it all rather abated. The programme note talked about it being post-coital. Think what you like.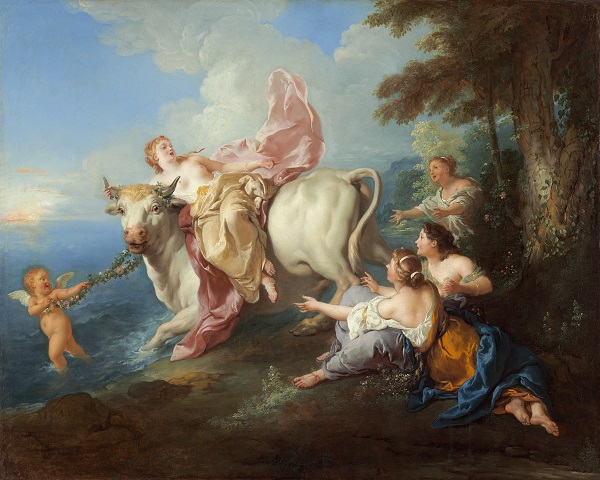 Overall, a pleasant piece, enthusiastically played and received. But special praise needs to be reserved for Haggart. His was a hugely accomplished performance and not one which overwhelmed: one thinks of the tuba as something which is wheeled out to make a musical point. Overall, the balance between the soloist and orchestra was expertly achieved and conductor Andrew Manze maintained a superbly confident yet rigid control over the RLPO.
Having heard from the two Robins, there was also a beautiful performance of Vaughan Williams's Eighth Symphony. A highly poised first variations movement led to some fantastically cataclysmic fortissimos while the staccato second movement was almost teeth-clenching. An exquisitely shapely third movement led into a "tutti all the way" finale. Amazing, but not entirely convincing.
The second half was taken up by Holst's Suite: The Planets. What can be said about this? Alright, for the most part. A quite brilliant Saturn. A satanic Uranus. But oh dear. Neptune may be a long way off, but it's not that far off key. The ladies of the Royal Liverpool Philharmonic Choir sank as Neptune faded out of sight. Shame, that.
The piece set to music the tale from Ovid in which Jupiter woos Europa in the guise a bull
rating
Explore topics
Share this article