theartsdesk in Warsaw - Penderecki at 85 |

reviews, news & interviews
theartsdesk in Warsaw - Penderecki at 85
theartsdesk in Warsaw - Penderecki at 85
Celebrations for the great Polish composer, and an inspiring audience with Arvo Pärt
Wednesday, 28 November 2018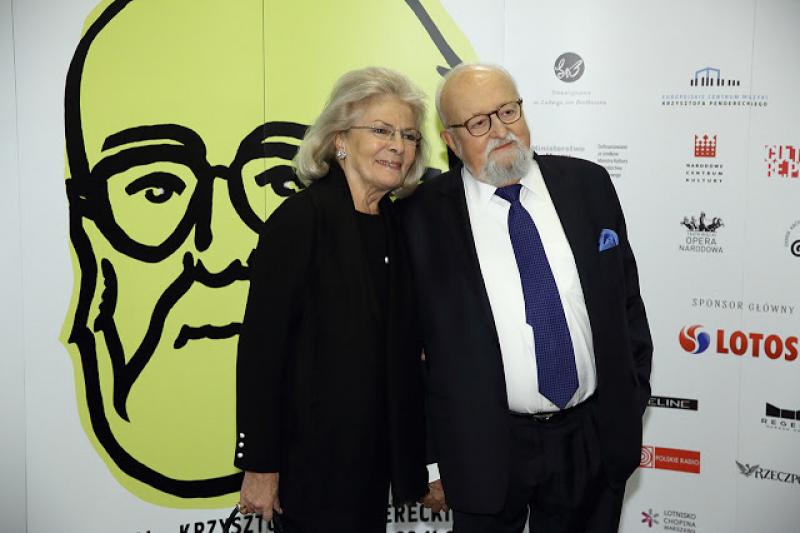 Krzysztof Penderecki with his wife, Elżbieta Penderecka
Krzysztof Penderecki is the elder statesman of Polish music, and celebrations for his 85th birthday in Warsaw were suitably grand. Penderecki has been setting the agenda for contemporary music, in Poland and beyond, since the 1950s. His early work pioneered explorations of sound and texture that became mainstays of European Modernism. His style later changed, but a strong religious conviction links each era, and that too proved influential, as the new music of the former communist bloc gradually embraced a spiritual dimension.
More recently, Penderecki has focussed his attentions on large-scale choral and orchestral works, and these formed the basis of the week-long birthday celebrations in Warsaw. The week culminated in a gala concert on 23 November, Penderecki's birthday proper. The evening was long, with speeches preceding each of the works. Audience reactions gave a snapshot of the political climate in Poland today: Piotr Glińsk, culture minister of the new government, was booed when he took the stage, while the biggest cheer of the evening was for a birthday telegram from Lech Wałęsa.
Composer apart, the star of the evening was Anne-Sophie Mutter (pictured below with Maciej Tworek), performing Penderecki's Second Violin Concerto, "Metamorphosen", which was written for her in 1995. Mutter's bronzed, viola-like tone is ideal for this music, and she has an intuitive grasp of the composer's long and flowing, but never predictable, melodic lines. Conductor and orchestra provided ideal support. The orchestra, Sinfonia Varsovia, is not Poland's most prestigious, but it has the closest association with Penderecki, who is its artistic director. Penderecki himself had planned to conduct, but handed the baton instead to his assistant, Maciej Tworek. The two often work together, with Tworek preparing orchestras ahead of Penderecki's performances, and Tworek even imitating Penderecki's conducting gestures, so he was a fitting substitute, and the orchestra demonstrated an impressive command of the composer's milieu.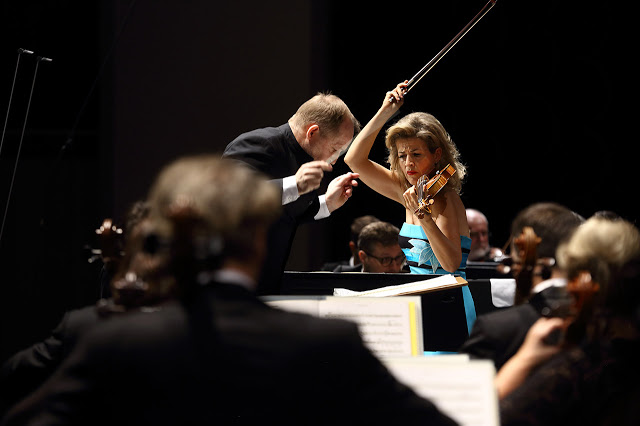 Another celebrity appearance for the second of the programme's three works – Christoph Eschenbach conducting the Concerto Grosso for Three Cellos and Orchestra, the cellists Frans Helmerson, Ivan Monighetti and Arto Noras. Like the violin concerto, this is a large-scale work, but Penderecki finds ingenious ways to balance the soloists with the ensemble. We are still in tonal and melodic territory here, but the large orchestra is well deployed to provide plenty of drama.
The concert concluded with large-scale oratorio, Dies illa (2014), the most recent of Penderecki's settings of texts from the Requiem Mass. Leonard Slatkin led an expansive but dynamic performance, with impressive singing from the massed choir, based around the Warsaw Philharmonic Chorus. Penderecki, ever indulgent with his orchestral demands, includes a prominent role for "tubaphone", a collection of long pipes arranged horizontally to the left and right of the orchestra, the ends hit with table tennis bats by two percussionists, the sound somewhere between percussion and low brass.
Celebrations continued the following week, with concerts in Krakow, to which Penderecki and his entourage travelled the following day. Meanwhile, performances continued in Warsaw. The final concert in the Penderecki series was also billed as the first in a new festival, the International Music Festival of Central Eastern Europe. The idea here was to commemorate the centenary of the independence of Poland, but also of its neighbours, Finland, Ukraine and the Baltic states, all freed from imperial control at the end of World War One. Given the current political climate in Poland, that international approach seemed an ideal way to bypass potentially nationalistic overtones. The next concert laid out the themes of the festival, a programme of Enescu, Szymanowski, Sibelius and Bartók from the Warsaw Philharmonic conducted by Lawrence Foster. The orchestra has a broad and opulent tone, aided by the bright acoustic of the Philharmonic Hall, and Foster seemed to actively promote the ensemble's strident sound. Ragged string ensemble took some of the impact from Enescu's Romanian Rhapsody No 2, although the backstage folk band at the end was suitably rustic. Akiko Suwanai gave a precise and elegant reading of the Szymanowski Violin Concerto No 1, managing to square the circle of impassioned expression and muted colours that Szymanowski demands. The second half brought an incisive and strident Finlandia and a virtuoso Bartók Concerto for Orchestra – crowd-pleasers to open a festival that would soon move into more obscure territory.
The following day began with electronic music, "Nordheim and His Warsaw", a series of tape works by the Norwegian composer Arne Nordheim, remixed by his compatriots Geir Jenssen and Helge Sten, aka Biosphere and Deathprod. Nordheim's electronica presents complex but generally warm and round textures, wholly abstract and rarely percussive. Biosphere and Deathprod sample freely, introducing loops and layers, all over huge bass pedals right at the limits of the sound system. The event took place in an avant-garde theatre, the audience in complete darkness and the DJs sitting at laptops in a cone of light produced by a spotlight and dry ice – a refreshing change in a weekend otherwise spent in concert halls.
Then from Norway to Estonia, with a concert dedicated to the music of Arvo Pärt (pictured above by Danuta Matlock), and performed by his long-time advocates the Estonian Philharmonic Chamber Choir and Orchestra conducted by Tõnu Kaljuste. The concert was a mix of old favourites and newer works, the strings performing Fratres and Cantus in Memory of Benjamin Britten, before the choir joined for Adam's Lament, Salve Regina and Te Deum. The strings played without vibrato, and although this highlighted some occasional intonation problems, it gave the orchestral sound a suitably ethereal quality. The Estonian Philharmonic Chamber Choir are so closely associated with Pärt's music that it was little surprise to hear close to ideal performances from them, especially under Kaljuste's engaged but unfussy direction.
Arvo Pärt himself was present, to accept an award, the Polish Medal of Merit to Culture. Pärt stood to give a short speech of acceptance, German the lingua franca. He speaks as he writes: slowly and deliberately, but with every expression carefully considered. There was some name-dropping, delivered with perfect timing, "When I first visited Warsaw, it was for a performance of my Tabula Rasa, played by Gidon Kremer and Tatiana Grindenko ... [long pause] ... accompanied at the prepared piano by Alfred Schnittke."
When the music began, it was fascinating to watch the composer. He listened with his eyes closed and a look of intense concentration on his face, often putting a finger to his lips, as if to urge even greater calm and inwardness from the ensemble. It is difficult to imagine how many hundreds of times he must have heard Fratres over the last 40 years, but it didn't matter at all: he was living every note of it.
Arvo Pärt speaks as he writes: slowly and deliberately, with every expression carefully considered
Share this article
Subscribe to theartsdesk.com
Thank you for continuing to read our work on theartsdesk.com. For unlimited access to every article in its entirety, including our archive of more than 10,000 pieces, we're asking for £3.95 per month or £30 per year. We feel it's a very good deal, and hope you do too.
To take an annual subscription now simply click here.
And if you're looking for that extra gift for a friend or family member, why not treat them to a theartsdesk.com gift subscription?