theartsdesk at the Australian Festival of Chamber Music - stratospheric performances by a tropical sea |

reviews, news & interviews
theartsdesk at the Australian Festival of Chamber Music - stratospheric performances by a tropical sea
theartsdesk at the Australian Festival of Chamber Music - stratospheric performances by a tropical sea
New artistic director Kathryn Stott personalises a much-loved Antipodean fixture
Julian Bliss (clarinet) and JP Jofre (bandoneon) perform on Orpheus Island
North of Brisbane, south of Cairns and a short boat trip from the turquoise waters around the Great Barrier Reef, Townsville is the site of a north-east Australian military base.
Despite its dry-tropical beachside glories, it's not necessarily the most obvious setting for a world-class
chamber music
festival
. Yet here, for 28 years, the
Australian
Festival of Chamber Music (AFCM) has been soundly embedded in the annual calendar, a much-loved national fixture.
I attended this year's session as both writer and participant, performing my narrated concert, Being Mrs Bach, which was commissioned by the festival, with 15 musicians and a costume from the National Theatre. A 24-hour journey and nine-hour jet-lag might seem daunting, but my goodness, it was worth it – not least for the moment you open the plane's cabin blind and see for the first time that hot, wild, Australian sunshine over the rugged brown hills.
Under its new artistic director, the British pianist Kathryn Stott (pictured right), the AFCM is pushing the envelope of what chamber music really can be. Stott – taking over this year from Piers Lane, who had been in post for 11 years – designed 10 days of eclectic programmes that incorporated six world premieres and 16 Australian premieres, instruments ranging from solo violin to the Chinese sheng, strong representation for composers who were/are female, and a consistently stratospheric level of performances – from Fanny Mendelssohn to Nikolai Kapustin, Rebecca Clarke to Olivier Messiaen, Ethel Smyth to Bela Bartók, WA Mozart to composer-in-residence Julian Yu.
With the attractive theme of "Connections", this programming proved a celebration of chamber music's limitless capacity for interpersonal communication and collaboration. If you thought this genre simply meant string quartets and piano trios – well, you'd have heard plenty of them, but as a starting point, not an endgame.
Perhaps one secret of the festival's success is that, rather than having fly-by-night soloists jet in and out, most festival artists stayed for the duration, each giving multiple performances, often in different groupings with colleagues they might not have encountered before. That gives the audience a chance to get to know the musicians and their many facets gradually across the festival; and the palpable sense of excitement and engagement that resulted was testimony to the rewards of this approach.
Attendees – many of whom return year after year – can enjoy musical events over 12 hours every day but one. First, at 10am at the smart resort-hotel The Ville (with infinity pool and island views), a large pavilion hosts Concert Conversations: each day a group of musicians are interviewed by Stott herself, then present a short concert. The chats took wide-ranging directions. One morning, for example, found trumpeter Tine Thing Helseth explaining why she plays barefoot, and opening up about the intense pressures of a profession in which she had no holiday for 10 years; pianist Timothy Young extolling the advantages of wearing yoga shoes at the piano, especially if playing from an iPad with bluetooth pedal; and Stott herself and pianist Daniel de Borah discussing the ups, downs and roundabouts of piano competitions. In the ensuing concert, Stott made her iPad debut playing Fauré's Dolly Suite with Young, and de Borah elected to perform barefoot for the first time.
After a short break, you could move on to the lunchtime masterclass series. Each day a festival artist coached a group from the Winterschool (28 degrees and sunny, but, yes, it's winter…). Directed by the dynamic Czech violinist and former leader of the Skampa Quartet, Pavel Fischer, this programme for young musicians this year involved masterclasses, performances, a new busking competition and sometimes the chance to take part in festival events with the "big" artists. Several students joined the plentiful cello-octet numbers, including Giovanni Sollima's Violoncelles, Vibrez!, alongside the likes of soloists István Várdai and Guy Johnston, and the young Stanley Street Quartet were in Being Mrs Bach, accompanying Roderick Williams in extracts from the Coffee Cantata and St Matthew Passion.
Our Bach show (pictured above: yours truly, in costume) was part of a 5pm Sunset Series, a type of musical cocktail before the evening programme. Each concert, whatever its time of day, felt like a mini-festival in its own right, with content mixed, matched, shaken and stirred. The evening events take place in the Townsville Civic Theatre, a spacious modern venue hindered only by a rather dry acoustic. Come to think of it, the city could do worse than build a purpose-designed concert hall, since this festival is evidently a tremendous local asset.
Here we experienced such delights as the gorgeous Chausson Concert, with Stott at the piano, Alexander Sitkovetsky on the violin and the Goldner String Quartet; the Australian premiere of Roxanna Panufnik's engaging Hora Bessarabia, played by Sitkovetsky with double bassist Kees Boersma; the Goldner Quartet in Schubert's "Death and the Maiden"; Roderick Williams and pianist Daniel de Borah in an elegant, open-hearted account of Vaughan Williams's Songs of Travel and the glorious Australian soprano Siobhan Stagg joined by Stott for their beloved Fauré's cycle La bonne chanson (Stagg pictured above in a festival performance of Villa-Lobos's Bachianas Brasilieras No. 5). The continuing list of delights could take up this entire feature.
The fascinating works of composer-in-residence Julian Yu were under the spotlight: born in China and resident in Australia since 1985, he was present and active throughout the event, despite health issues. His complex and beautifully shaped Passacaglia after Biber for solo violin was performed gloriously (and from memory) by the 19-year-old Australian violinist Grace Clifford. A winner of the ABC Young Performers Award four years ago, currently studying at Curtis, she's a very special rising star to watch (pictured below).
Choosing highlights is invidious, given the level of what was on offer. But of many outstanding performances, perhaps the one that shines brightest was Pavel Fischer's String Quartet No. 3. Fischer, leader of the Skampa Quartet for 20 years, knows a quartet's capabilities literally inside out; this work was inspired by the folk music of his native Moravia and surrounding cultures, including Bulgarian pipers, Carpathian dances and the Ursari Roma's life on the road – an impoverished people named after their ancient tradition of taming bears.
The composition is original, not taken from actual folk music, but embracing its idioms. Inspiration floods unstoppably through the piece: irresistible dance rhythms energise the second and final movements, and a slow movement features a viola solo so rhapsodic that it could turn the "Sad Piper" of its title green with envy. There could be no finer exponents than Fischer himself on first violin, Alexander Sitkovetsky on second, Lars Anders Tomter as that lucky violist, and the splendid Hungarian cellist István Várdai. I hope to high heaven someone recorded it: this quartet needs to be heard, plentifully, widely and soon.
One annual AFCM day out takes patrons to Orpheus Island, two hours away by boat, for an informal concert. Five musicians with outdoor-audible instruments – trumpets, clarinet, flute, bandoneon and sheng – played on an almost-deserted beach while the audience sat, knelt or lay on the sand, or immersed themselves in the crystal-clear sea. The swim-oriented occupants of a little motor-boat, arriving at the same time as our sea-cat, looked a bit startled when Helseth and her trumpeter husband Sebastian Haukås walked out of the waves playing a Norwegian wedding march.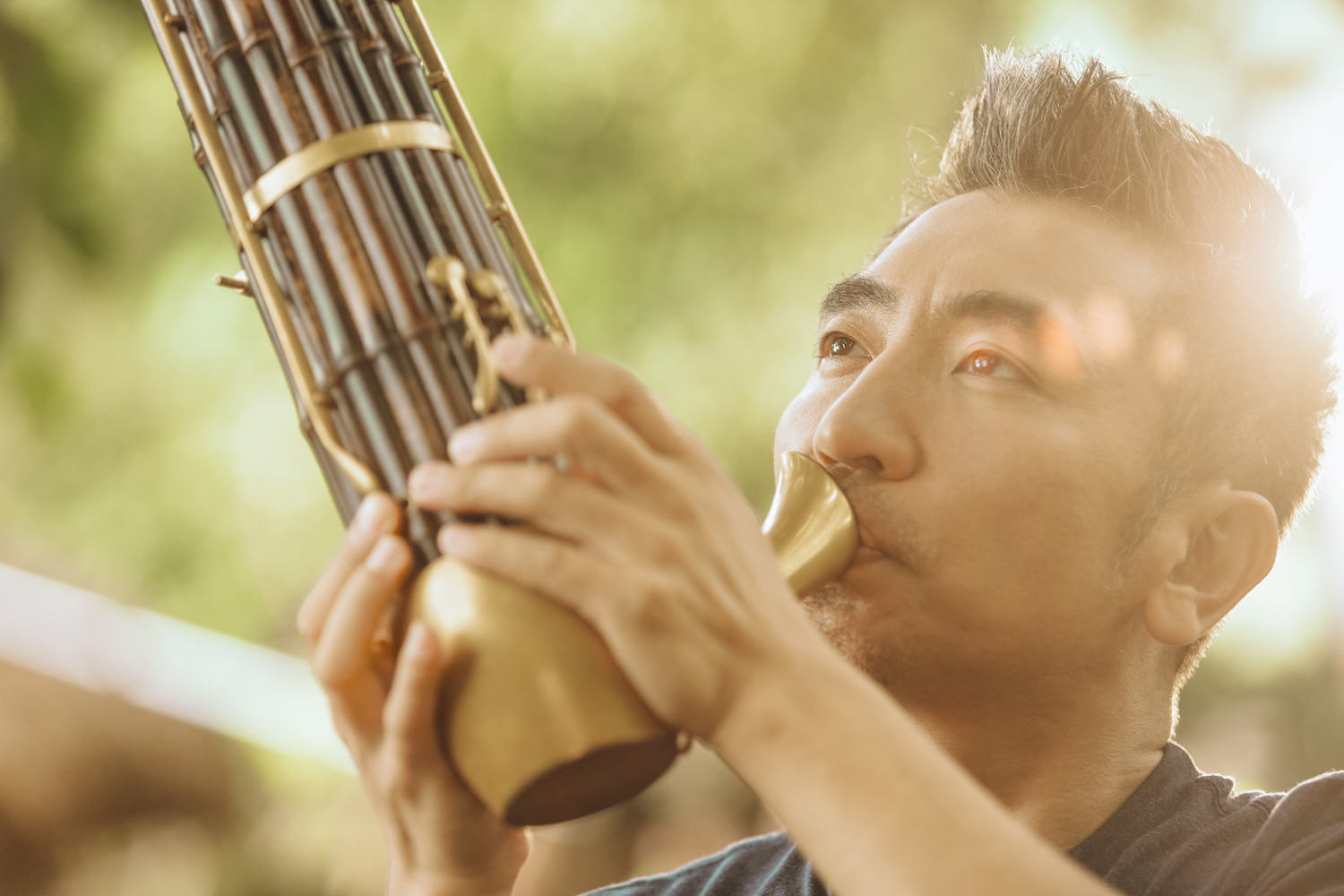 For me, one of the enduring memories will be the Chinese composer and sheng virtuoso Wu Tong mesmerising the beach audience (pictured right). The sheng is literally a mouth organ: a collection of pipes, organ-style, bundled together and powered by breath, producing a polyphonic sound not unlike an accordion. Wu Tong's dazzling performance found the ancient world of Chinese traditional music meeting motoric minimalist rhythms, influences from pop and rock and an enormous, galvanising energy. One wondered if western musicians have missed a trick by not importing such an instrument into our own fields – though Wu Tong says the sheng influenced the development of church organs in Europe. On the boat back, I asked him if the piece was one of his own recent compositions. Not exactly, he said. It was an improvisation.
An unexpected bonus performance occurred on that journey. We took a detour to look for humpback whales – and found some, a mother and baby who together put on a fine show of leaping, blowing and porpoising under the emerging stars in the unphotographable dusk. I defy any other music festival to give its audience quite such a whale of a time.
Pavel Fischer's String Quartet No. 3 needs to be heard, plentifully, widely and soon
Explore topics
Share this article