Guy Johnston on his 1714 Tecchler cello - 'every day I start again and explore the possibilities within' |

reviews, news & interviews
Guy Johnston on his 1714 Tecchler cello - 'every day I start again and explore the possibilities within'
Guy Johnston on his 1714 Tecchler cello - 'every day I start again and explore the possibilities within'
The cellist on taking a special instrument on tour from Cambridge to Rome
Saturday, 07 October 2017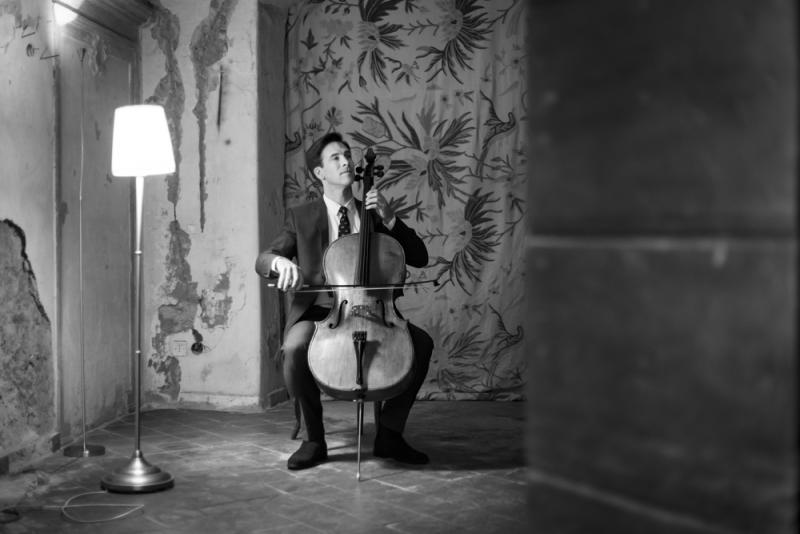 Guy Johnston playing his Tecchler in the former workshop in Rome
This adventure began in 2014 when my cello turned 300 years old. As birthdays go, it was a big one, so for me it felt important to do something special to celebrate. Why not imagine a journey back to Rome where it was made?
The role of the cello has evolved greatly over the last 300 years, so I was intrigued to imagine the variety of experience this instrument has had over the years. It also prompted me to think about my own musical roots and journey, and how these two journeys converged. I first learnt about Tecchler cellos through my teacher, Steven Doane, who has been a huge inspiration to me and has played on one for most of his performing and teaching career. He is not the only great cellist to have played on a Tecchler cello, as they have also been owned by cellists such as Beatrice Harrison, Emanuel Feuermann and Bernhard Romberg.
This particular Tecchler cello came to me from a cellist in Amsterdam in 2010 and I am indebted to the help of the Stradivari Trust and Royal Society of Musicians along with two private sponsors, without whose kind support I would never have been able to acquire such an inspiring instrument.
The Roman school of luthiers is perhaps one of the most undervalued and overlooked of the classical Italian period, and David Tecchler (c.1666-c.1747) stands out as the finest of this school. Born in Füssen, a Bavarian town in the Alps, Tecchler travelled to Rome via Venice and Cremona, presumably to familiarize himself with the other great Italian cello schools. He was not the first German luthier to make the move to Italy however, as there had long been a tradition of German luthiers travelling to Rome for their trade. Tecchler arrived at a time when violins, violas and (most importantly!) cellos were overtaking lutes and guitars as the preferred instruments, which created an opportunity for Tecchler to create a fantastic output of instruments.
Just as with human relationships, first impressions count a lot when searching for a new instrument. Luckily, I was instantly drawn to this Tecchler cello. Trying the instrument in a range of settings and contexts – with piano, in concerto, and so on – I knew that my instincts were developing along the right lines. After a long search for an instrument and funds for this cello, I could happily move forward after a seven year search. This cello has a complexity of sound both rich and focused that constantly entertains and challenges me. Every day I start again and explore the possibilities within.
King's College Cambridge
I am from a musical family and some of my earliest musical memories are as a chorister with my brothers at King's College, Cambridge. This spiritual place has had a strong influence on my musical career since then. I often return to King's to perform with the choir as well as other concerts in the Chapel, so it seemed to me like the perfect venue to record Ola Gjeilo's Serenity (O Magnum Mysterium), the first track on the album.
Hatfield House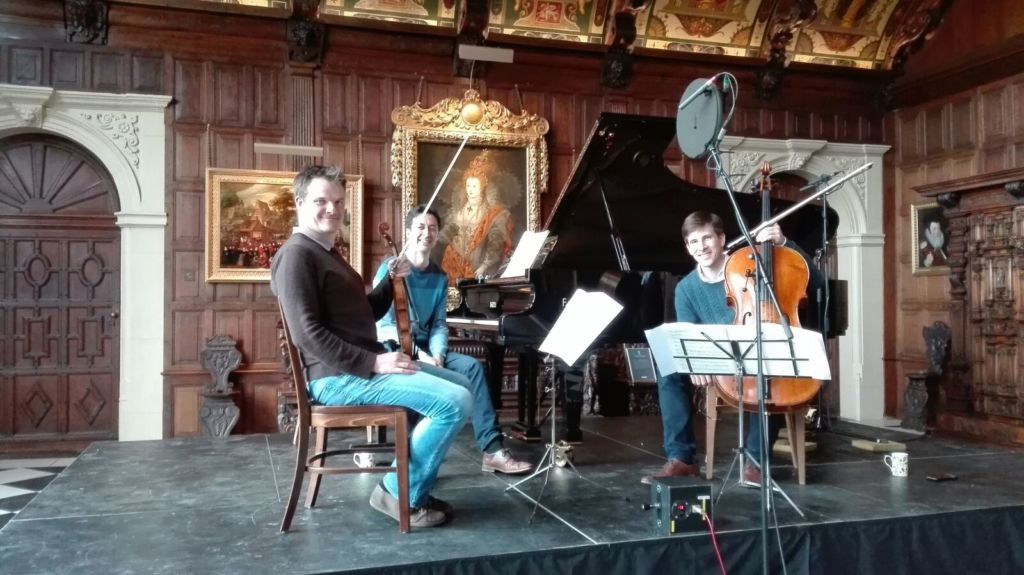 In 2012 I founded the Hatfield House Chamber Festival, and I have given many performances there with my friend Tom Poster and brother Magnus. One of my favourite performances there was of Beethoven's Piano Trio in D Major - often called the "Ghost" Trio thanks to its eerie slow movement. The Marble Hall in Hatfield House is a special setting, and it seemed only appropriate to record it there with Tom and Magnus who are always a joy as collaborators (pictured above).
London: Royal Academy of Music and Wigmore Hall
London - and more specifically these two venues - has been central to my musical life. I recorded Barriere's Sonata for Two Cellos in G Major with the wonderful young cellist Sheku Kanneh-Mason at the Royal Academy of Music. Sheku and I have quite a lot in common including performing the same Shostakovich Concerto in the BBC Young Musician of the Year competition about 17 years apart. Sheku has studied at the Royal Academy for a number of years, and I have the pleasure of teaching a small class of cellists there. It was a delight to have Sheku join me for this part of the journey, especially as he was loaned another Tecchler cello by a supporter of this CD, thus adding an extra dimension to the recording. It felt like two old friends were reunited.
For these London recordings I also commissioned three new works, asking the composers to think about how the role of the cello has evolved over the last three centuries and to let their imagination run wild. In his work Ein Celloben, David Matthews chose to explore themes from other works written around each centenary including Corelli, Beethoven and Ravel, while Charlotte Bray created a musical cryptogram out of David Tecchler's name to form the harmonic backbone of her work Perseus. Mark Simpson's work Un Regalo is a virtuosic whirlwind which showcases all the extremes of the instrument. It's a joy to add these inspired new works to our repertoire and to hear how uniquely each composer responded to the commission.
Rome
On this album I wanted to include a work that captures some of the spirit of Rome, and I was lucky enough to be able to record Respighi's Adagio con variazioni with the Orchestra dell'Accademia Nazionale di Santa Cecilia in their own concert hall. I love everything about Italy: the language, the food, the people, and the extraordinary history, and it felt like everything had led to this point. I had a memorable opportunity en route to meet Antonio Pappano at the Royal Opera House to work on the Respighi together before recording it with his orchestra's assistant conductor, Carlo Rizzari, in Rome.
I was hugely fortunate to be able to visit Tecchler's old workshop (now a garage) in the Parione district in Rome, and perform a concert there with friends much to the delight of the current owner. My dear friend and landlady had been in Rome and I asked her to have a look at the address where Tecchler worked, and by chance the owner happened to be there that fateful day checking up on his apartments above the garage. We also had the luxury of performing a concert at the historic Doria Pamphilj Palace thanks to the kind permission of Prince Jonathon Doria Pamphilj. It was a truly spiritual and uplifting experience to prepare a piece and record it in the very place where Tecchler would have been working, three centuries before. We had 50 supporters who joined us from the UK for the weekend and had a great time.
It seemed only right to end this journey where it began 300 years ago, back in Tecchler's city and in the birthplace of this cello. Once again, I want to thank all the people who have supported and been with me on this wonderful journey, and I hope everyone will enjoy hearing it as much as we enjoyed making it.
Explore topics
Share this article