Classical CDs Weekly: Michael Finnissy, Joel Frederiksen, Tine Thing Helseth |

reviews, news & interviews
Classical CDs Weekly: Michael Finnissy, Joel Frederiksen, Tine Thing Helseth
Classical CDs Weekly: Michael Finnissy, Joel Frederiksen, Tine Thing Helseth
A German lutenist tackles Nick Drake, a Norwegian trumpet player sings without words and a British contemporary composer makes imaginative use of birdsong
Rich and chewy? Finnissy's quartets appear on disc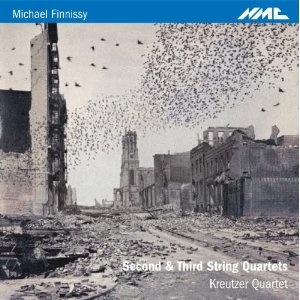 Michael Finnissy: Second & Third String Quartets Kreutzer Quartet (NMC)
Michael Finnissy, currently Professor of Composition at Southampton University, writes that his Second Quartet "is based on a compact Haydn model". The piece does pack a lot of event into 20 minutes, and there are sporadic flares of dry wit. Best is an extended passage near the close where cello and viola intone slowly moving consonant chords while the two violins screech about on top. It sounds as if we're listening to two radically different compositions simultaneously. Or two duetting pairs recorded separately and then superimposed. You then read that there's no score to this work, just four separate parts, which should "drift slightly apart, and definitely not seem calculatedly or rigidly aligned". The quartet abruptly stops with a fading, consonant whimper. You scratch your head, slightly baffled, but intrigued. And then rush to listen to this 20-minute piece again.
The vast Third Quartet takes Bruckner as a structural model. Long, slow passages of music hint at conventional tonality, and the piece's organisation is based on the letters spelling the name of the dedicatee. Finnissy also references Schoenberg's Second Quartet, which famously introduces a soprano in the closing movement, by introducing taped birdsong 20 minutes in. Bird calls begin to colour the string lines, and the last few minutes consist purely of natural sounds. Its'a barely noticeable that 44 minutes have passed. Superb performances by the Kreutzer Quartet make both works, described by their composer as "rich and chewy", far less forbidding than the cover photo of earthquake-ravaged San Franscisco would suggest.
Joel Frederiksen: Requiem for a Pink Moon – An Elizabethan Tribute to Nick Drake Ensemble Phoenix Munich (Harmonia Mundi)
American lutenist and bass Joel Frederiksen recalls the seismic impact of hearing Nick Drake's recordings: "the union of the plaintive voice, the intricate guitar accompaniments, and the moving lyrics… spoke to me." He taught himself to play several of Drake's songs, occasionally revisiting them despite a flourishing career playing the lute. Frederiksen's interest was reawakened years later by the use of the song Pink Moon in a car advert. He spent several years tinkering with the idea of performing Drake's songs arranged for early instruments, interspersing them with works by Dowland and Campion as well as his own material. The sequence was topped and tailed with two brief sections of the Requiem Mass. The results add up to the unlikeliest of crossover projects. It's tempting to skip straight to the Drake covers and marvel at how beautifully Frederiksen treats them. Drake's mumbling delivery on record can make deciphering his obtuse lyrics a bit of a struggle, whereas Frederiksen's crystal-clear diction is a joy. The discreet backings on lutes and theorbo are unfailingly sensitive.
You need to listen to this album in sequence. The sense of Drake's belonging to a melancholy English song tradition is enhanced by juxtaposing his material with older composers, and the transitions between the numbers are brilliantly effective. It's as if your ears have been abruptly syringed. Several of these songs take on a warmth, clarity and openness which is missing from Drake's originals. And what could have been a maudlin wallow emerges as transcendent, affectionate and uplifting. Frederiksen sneaks in his own song, Ocean, afterTime has told me. A sweet tribute, and you find yourself wondering how it would sound in Drake's own voice.
Tine Thing Helseth: Storyteller Tine Thing Helseth, Royal Liverpool Philharmonic/Elvind Aadland, with Håvard Gimse (piano) (EMI)
With the magnificent Alison Balsom already on their books, you wonder why EMI decided to sign up the young Norwegian trumpet player Tine Thing Helseth. Then you start listening to her new solo disc and accept that this is pretty sensational playing. Helseth's sound is recognisably distinct from Balsom's – slightly lighter, less imposing but not lacking in personality, and ideally suited to a collection of song transcriptions. "Although you lose the words, you have to play as if they were still there. To move the audience with a very simple tune is one of the hardest things to do." Helseth is right, and she manages to hold your attention by carefully changing and colouring the sound she makes. You want more than a sequence of insubstantial lollipops, and the material is well chosen.
Mahler's Wer hat dies Liedlein erdacht? can't help recalling the lyrical trumpet and posthorn solos in the composer's early symphonies. An aria from Korngold's overheated Die tote stadt is indecently rousing. Big tunes demand a big sound, and Helseth really lets rip. Two of Canteloube's Chants d'Auvergne are attractive, and my favourite among the orchestral transcriptions is Rachmaninov's brief Zdes' khorosho. The songs with piano don't succeed as well; the trumpet slightly too forward in the mix. Brilliantly enjoyable though, as is a disc of music for Helseth's 10-piece brass ensemble also released by EMI.
Tine Thing Helseth plays Rachmaninov
Nick Drake's mumbling delivery makes deciphering his obtuse lyrics a bit of a struggle. Frederiksen's crystal-clear diction is a joy
Explore topics
Share this article