Seven, Ballett am Rhein/RSNO, Edinburgh Playhouse |

reviews, news & interviews
Seven, Ballett am Rhein/RSNO, Edinburgh Playhouse
Seven, Ballett am Rhein/RSNO, Edinburgh Playhouse
Danced Mahler symphony is tour de force of energy and invention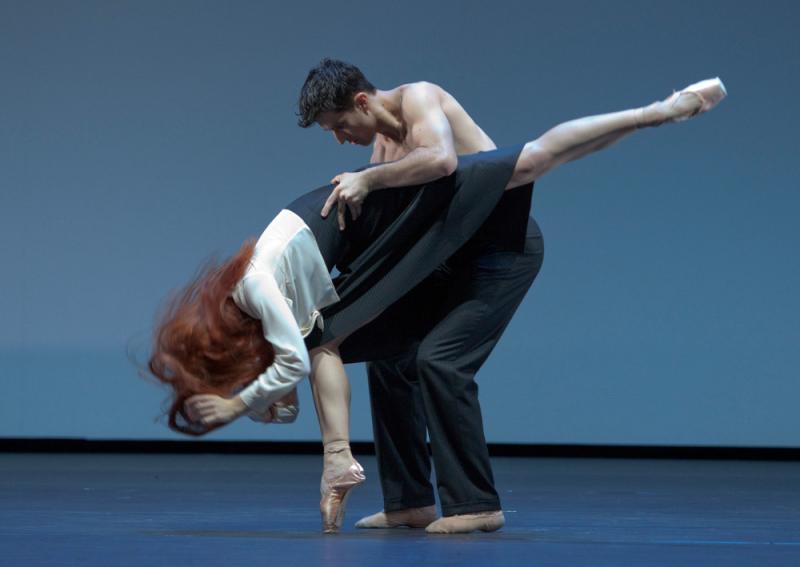 Letting your hair down: the best way to enjoy Martin Schläpfer's 'Seven' is to relax and let it all wash over you.
When the Royal Opera House told Kenneth MacMillan that Mahler was unsuitable for ballet, he went – where else? – to Germany. Though the success of MacMillan's Lied von der Erde for Stuttgart Ballet led to its happy adoption into Royal Ballet repertoire, making ballet to Mahler still seems to draw German companies more than others – whether because the orchestras, audiences, or state subsidies are better, who knows?
But the company visiting the Edinburgh International Festival last night was not that familiar Mahler-exponent, Hamburg Ballet, whose director John Neumeier has tackled eight of the symphonies as well as shorter pieces; no, it was Ballett am Rhein, a company so unknown in this country that it doesn't even have a Wikipedia page in English. The current director, Martin Schläpfer, who took over and reformed the company in 2009, has swiftly turned a provincial troupe into a stunning contemporary ensemble; no wonder that in 2013 he was invited to take over the prestigious Berlin State Ballet when its director left. No wonder, either, that he refused, preferring to stay with the fine dancers of Ballett am Rhein and continue to form the company according to his singular vision.


Mahler's Seventh Symphony is supposedly the difficult, enigmatic, hard-to-like one, but Schläpfer's visualisation of it in Seven (2013) embraces and makes a virtue of that difficulty, revealing it as a vibrant richness, full of surprises. The switches of mood, the interruptions to themes, the unexpected instrumentalisation in Mahler all find visual echoes: you never know whether dancers will be in pointe shoes, soft shoes or jackboots (pictured right), or which members of a group or a trio are going to go off with one another, or whether a romantic relationship is about to turn sour or a violent relationship sweet. Schläpfer will jar us one minute with cacophonous stamping which drowns out an oboe solo (sacrilege!) and then delight us the next with tableaux of great beauty and elevation: a woman lifted and floating like an angel, or four friends embracing, or a little group "rowing" on their backsides (a nod to Pina Bausch, surely).

With the dancers in monochrome costumes that are versions of everyday clothing and set against a plain, monumental grey set (by Florian Etti), the whole thing has the look and feel of a hi-spec contemporary opera production. Soloists are hard to pick out from the (large) crowd, and the standard of dancing is high across the board, with clean lines and astonishing commitment making up for the odd wobble out of synchronicity in the first two movements.

Like the music, the dance is a tour de force of energy and invention that does not easily attach to a programme or a plot, though there is perhaps a general movement from fear to confidence, and a sense at the end of coming out of the woods into the light. The way to watch is to let it wash over you, admiring the febrile intelligence of Schläpfer's neoclassical, tanztheater-inflected choreography, the strength and attack of his dancers, and the warm, thoughtful playing of the RSNO under Wen-Pin Chien. This is superlative programming from the EIF, and a deeply serious, deeply joyful fusion of dance and music.
Seven at the Edinburgh Playhouse until 22 August. For full Edinburgh International Festival dance listings, click here
Overleaf: Watch Ballett am Rhein in Martin Schläpfer's Seven
This is superlative programming from the Edinburgh Festival
rating
Explore topics
Share this article