Classical CDs Weekly: Bartók, Mahler, Sarah Neufeld |

reviews, news & interviews
Classical CDs Weekly: Bartók, Mahler, Sarah Neufeld
Classical CDs Weekly: Bartók, Mahler, Sarah Neufeld
Revelatory concertos, a sprawling late-romantic symphony and an intriguing solo debut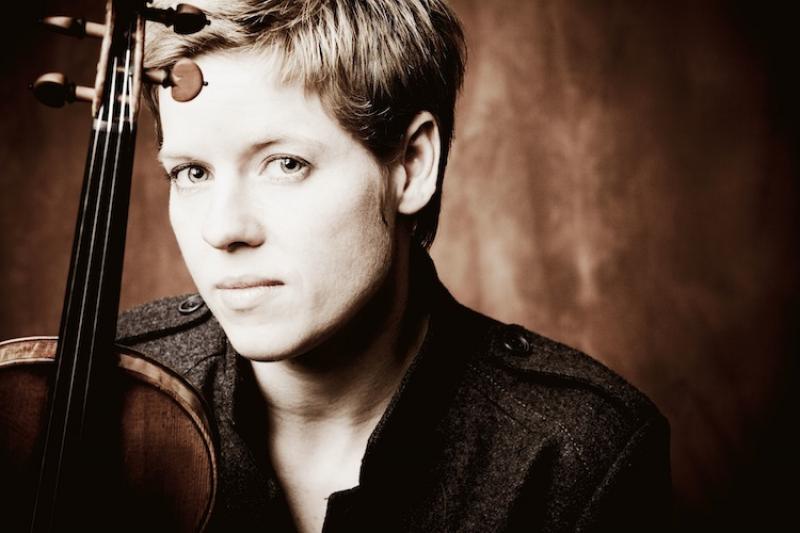 Isabelle Faust delves deep into Bartók
Bartók: Violin Concertos 1 and 2 Isabelle Faust (violin), Swedish Radio Symphony Orchestra/Daniel Harding (Harmonia Mundi)
Bartók's Violin Concerto No 2 remains a work more admired than loved; concertos by Prokofiev, Britten and Shostakovich still receive far more performances and recordings. You hope that Isabelle Faust's new disc will change things. She and conductor Daniel Harding scythe through the concerto's difficulties, and what emerges is a dramatic, lyrical and accessible work. Bartók's opening folk-melody, introduced slyly after a few bars of sultry harp chords, is a wonderful thing. Faust gives it startling colour and shape, and she transforms the ungainly chromatic second theme into music of eerie calm and icy beauty. Bartók's organisational abilities were never sharper, and Harding keeps the movement's poetic sensibility perfectly balanced with its dynamism. There are thrilling things here – pulsing, syncopated brass chords propelling the music forward, and he and Faust achieve miracles in the slow middle movement, its appealing solo theme subjected to a series of increasingly quirky variations. Bartók's finale is itself a variation, an engaging triple-time retread of the concerto's first movement. The work's original performer, Zoltan Székely, requested a more flamboyant, soloist-friendly ending, and Bartók duly obliged. Faust and Harding give us a rare chance to hear the composer's first thoughts. Both conclusions are fabulous – but the earlier version's brassy roar, all raucous trombones and punchy strings, will have you punching the air in triumph. It's that good.
But there's also the posthumously performed Concerto no 1, premiered in 1958. Such a different piece – opening with a rhapsodic, chromatic Andante that Bartók recycled as the first of his Op. 5 Two Portraits. Again, it's to the credit of Faust and Harding that this compelling, elusive music never feels shapeless, and the livelier second movement is cheeky, gutsy and pungent. Beautifully recorded, and Faust's self-penned sleeve notes make fascinating reading.
Mahler: Symphony No 7 Gürzenich-Orchester Köln/Markus Stenz (Oehms Classics)
Markus Stenz's ongoing Mahler series reaches No 7. The received wisdom for years was that this was Mahler's one dud – an unwieldy, incoherent and rambling work, rehashing ideas from his previous two symphonies. Stenz clearly doesn't believe any of this. This live performance is marvellous in many ways – fast-paced and brilliantly played. Listen straight through and you'll be exhausted but not drained, anxious to relieve the best bits. Stenz's first-movement introduction is shrewdly managed, with a splendid, primeval-sounding euphonium solo. When the horns blast out their Straussian first subject there's a delicious feeling of relief. Better still is Mahler's mysterious, near-static development section, all hazy strings and evocative trumpet calls. It's one of this composer's greatest passages – music which you can't imagine anyone sane not enjoying. Stenz also manages to make the Rondo-Finale sound coherent and lucid. This is a live performance, but the Cologne brass stay tightly focussed to the last, drenched in tubular bells and crashing cymbals.
The first Nachtmusik features some sensational horn-playing, though fastish speeds mean that the last ounce of mystery is missing. Better is a feverish, witty Scherzo and a delectable fourth movement. If you don't yet know this engaging, phantasmagorical work, Stenz's vividly recorded disc is as good a starting point as any.
Sarah Neufeld: Hero Brother (Constellation)
Violinist Sarah Neufeld is best known as a long-standing member of Montréal's Arcade Fire, and Hero Brother is her debut disc as a soloist and composer. CDs of contemporary music can contain toe-curlingly obtuse sleeve notes, but this one just offers the album credits, with no information about the relationship between each track and its title. You listen more carefully as a result. It's interesting to note the details of Nils Frahm's production, recording having taken place in several unlikely venues – underground car parks, railway stations and geodesic domes are all mentioned. Recitals of solo instruments need care if they're not to sound boring, and the different acoustic settings do enhance the music. Importantly, none of the 10 tracks outstays its welcome.
And these do feel like real, thought-through pieces, rather than improvisatory doodles. Neufeld can genuinely play. Her influences seem to include Bach, Bartók and contemporary minimalism. There's a pleasing variety of tone – the bluegrass slides at the start of "Right Thought" are a surprise and the opening of "Sprinter Fire" sounds like a hoedown. "Breathing Black Ground" mixes Arvo Pärt-style radiance and darkness. There's a haunting use of ambient sound in the closing track, "Below", with Neufeld's own voice floating into the ether.
the Cologne brass stay tightly focussed to the last, drenched in tubular bells and crashing cymbals
Explore topics
Share this article