Save The Conservatoire: Blackheath and the Arts Funding Climate |

reviews, news & interviews
Save The Conservatoire: Blackheath and the Arts Funding Climate
Save The Conservatoire: Blackheath and the Arts Funding Climate
What can a local campaign tell us about the national arts funding situation?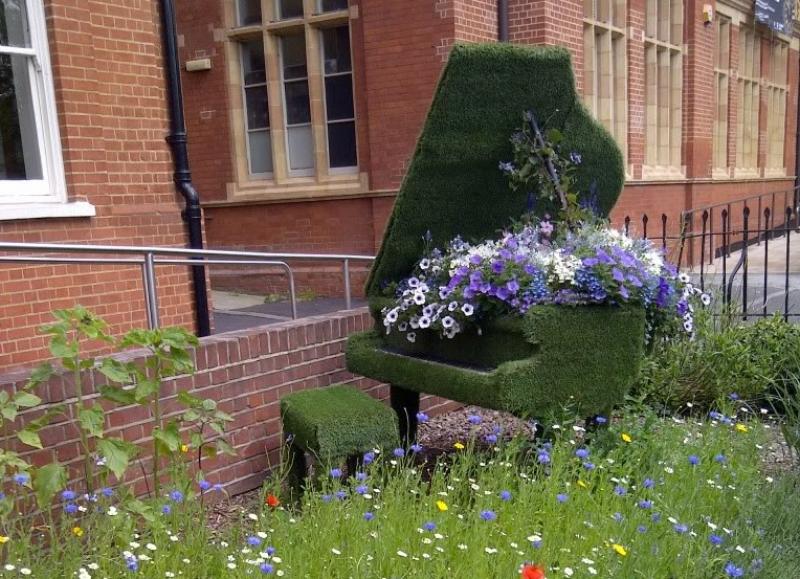 The Blackheath Conservatoire's distinctive flowery piano
As a south-east Londoner and a parent, I was overjoyed recently to discover the Blackheath Conservatoire and its range of family-friendly musical activities – and sad to realise that like so many arts institutions in the current climate it is under threat of closure. It is in fact in the very final stages of a fundraising drive to refinance its debt and prevent its demise – moving steadily towards a donation target of £175,000 needed by the end of this month.
Of course, The Arts Desk is happy to support other arts organisations, but what made this even more worth reporting was a chance meeting with Sydney Thornbury, the Conservatoire's chief executive. Thornbury, an American by birth, has been a key driver in the Save The Conservatoire appeal, but also as a member of the National Council for Voluntary Organisations advisory panel on arts and culture, is closely involved in researching and promoting sustainable strategies for arts organisations.
From the moment Thornbury said, "Innovation and new things only emerge when we have problems to solve," and directed me to her blog on the experiences of winding up a charity, it was clear she was serious and pragmatic about the topic and the wider challenges. "I think," she explains, "that the arts sector has to accept the fact that the amount of statutory funding we have seen over the last 15 years isn't coming back. We're looking at probably another three years of recession and even when state funding and local authority funding does increase, it probably won't be on anything like previous levels and also expectations will have changed."
The Conservatoire's approach has been through American style "pyramid funding", finding one major angel donor and a large group of mid-level (£5000+) donors, then trying to match this middle level with small individual donations raised in the classic manner: local appeals, sponsorship etc. "So far," says Thornbury, "this model has mostly been used by larger arts organisations who bring in consultants from America and I think a lot of the smaller organisations have felt like they don't have the expertise or the resources to take on the model. We're demonstrating that small/medium sized orgs can do it; of course it doesn't work for everyone, but it certainly can be used by more than are employing the technique currently."
As The Arts Desk's own contributors' opinions have demonstrated, arts funding is a polarising topic, and is likely to remain so as pressures increase and attitudes shift in coming years. No one approach is going to provide the solution. Though she promotes models formed in the red-in-tooth-and-claw American free market, Thornbury acknowledges, exposure to the market that comes with state funding cuts can be harmful: "organisations more reliant on earned income can give into the temptation to programme less adventurous work than subsidized organisations." As the climate becomes harsher, and ideologues' voices become louder, listening to the experiences of those who have both succeeded and failed is only going to become more important.
Innovation and new things only emerge when we have problems to solve
Explore topics
Share this article