Röschmann, Uchida, Wigmore Hall |

reviews, news & interviews
Röschmann, Uchida, Wigmore Hall
Röschmann, Uchida, Wigmore Hall
Mixed blessings from impressive soprano-and-piano duo in Schumann and Berg
Dorothea Röschmann: opulent sound
If you were one of the world's most famous pianists, you'd surely want to explore the masterpieces among Lieder with the great singers.
Having chosen less than wisely for Schubert, as some of us thought,
Mitsuko Uchida
has now found a powerful voice for Schumann, that of German soprano Dorothea Röschmann: opulent, many-hued, maybe a size too big for the fickle Wigmore Hall acoustics but always impressive.
It just depends on what you want in this repertoire. Last year in the same hall the slimmer-voiced Anne Schwanewilms gave a riveting interpretation with Roger Vignoles of Schumann's Op. 39 Liederkreis which also turned up in the first half of this concert. Where the earlier duo's peerlessly vivid conjuring of Eichendorff's German Romantic scenes, usually with a twist, had the limpid skies of Piero della Francesca, Röschmann and Uchida evoked a Titian-like richness. Uchida's palette is darker than Vignoles', clouded with a little more chiaroscuro than I'd like, but of course sensitive to the slightest turn in Schumann's extraordinary codas, which nearly always take us a little further than the vocal line.
She mouthed most of the words, with odd suggestions of topsy-turvy ventriloquism and the odd growl slightly distracting, though presumably not for the singer. Röschmann's colours were more varied, if sometimes you wanted her to throw off the drapes in favour of surface simplicity and create a smoother, longer line; "Mondnacht", for instance, needed a crescent moon for proper introspection, rather than the imperious evocation of the goddess Diana. And the scary demeanour of the witch Loreley in the third song as well as the darker hue in the upper register carried through to inappropriate places at times But the notions in later numbers of something creepy in German woods and rivers picture gave several chilling turns of the screw.
The full velvet of the Röschmann sound, which seems to have grown of late but always had that compound of fast vibrato with luminous halo offsetting it, was unleashed in Berg's Seven Early Songs, or at least in their more rapturous moments; to anyone who witnessed her excel as Mozart's Countess in a Royal Opera Marriage of Figaro, it's clear we need her now as Strauss's Marschallin.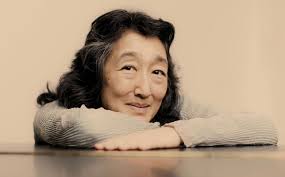 Still, there was a decline from the Eichendorff settings into Berg's vaguer haunting, compounded by inferior poetry. And that takes a further tumble in Schumann's true cycle Frauenliebe und -leben, which of course should get our backs up right at the start with its notion that a woman's life is nothing but love and the apogee of poetic cringe when Chamisso's heroine declares "I shall serve him, live for him, belong to him wholly, yield to him and find myself transfigured in his light". Other times, other customs. Fortunately it's the music which casts the light of transfiguration, but a more satisfying order would have been to have this and the Berg in the first half, Schumann's unbeatable Op. 39 in the second.
In any case all is not what it seems with the blushing bride, and while Röschmann was hardly destined to play the happy little woman, she found expansive majesty in the turns of "Er, der Herrlichste von allen" and the poise of "Du Ring an meinem Finger". The real reason for soprano and pianist to take this on, though, became clear in the disillusionment of the final song. Is the anguish of the suffering wife going to last? What does the long piano postlude say? After Röschmann had for the first time slimmed down her voice to a desolate sliver of sound, Uchida (pictured above) played the perfect sphinx. In this moment all equivocations vanished, and not even the encore, Schubert's setting of Mignon's "Nur wer die Sehnsucht kennt", chosen carefully as it was to complement Schumann's bitter ending, could match the recital's true epiphany of pain.
Recorded for release on Decca
After Röschmann had for the first time slimmed down her voice to a desolate sliver of sound, Uchida played the perfect sphinx
rating
Explore topics
Share this article