Proms at Cadogan Hall: Hardenberger, Gruber, ASMF |

reviews, news & interviews
Proms at...Cadogan Hall: Hardenberger, Gruber, ASMF
Proms at...Cadogan Hall: Hardenberger, Gruber, ASMF
Classy not-quite-easy-listening from Berlin, Vienna and Stockholm, with love
HK Gruber: comic timing in German pastiche, music for the people
Superior light music with a sting, done at the highest level: what could be better for a summer lunchtime in the light and airy Cadogan Hall? Our curator was that most collegial of top soloists, trumpeter Håkan Hardenberger. He'd invited colleagues of many nations, all of them first rate, but it was almost a given that chansonnier-composer HK Gruber would steal the show.
That's not to undervalue Hardenberger's own unique contributions, kicking off as piccolo trumpeter with Academy of St-Martin-in-the-Fields strings in the fireworks-strut of fellow Swede Tobias Broström's Sputnik. Jan Lundgren's jazz-blues atmospherics originally composed to accompany a production of Chekhov's The Seagull made the perfect contrast, the archetypal moody theme tune. If there had been segues, it could have gone straight into another arrangement by Roland Pöntinen, Weill's "Speak Low" in the voice of Hardenberger's perfectly muted trumpet.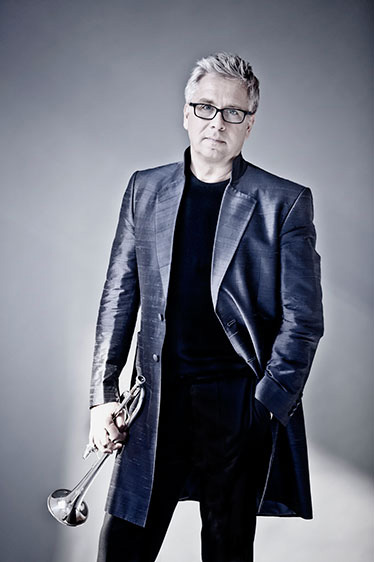 The next six Weill songs used a daringly small ensemble with no percussion. Some numbers felt odd without drums, though they worked, namely The Threepenny Opera's "Cannon Song", Hardenberger (pictured right by Marco Borggreve) zipping from trumpet to husky vocals to duet with Gruber, and Happy End's "Song of Mandelay", its refrains daringly piano rather than forte. Gruber wields his gravel with a Lieder-singer's art, and gave us immaculate comic timing in Ira Gershwin's Deutschland-pastiche "Song of the Rhineland", serenading his game pianist Helen Crayford's yellower-than-yellow hair.
Consummate accordionist Claudia Buder was the one to share the limelight, this time with an ASMF quartet, in two off-kilter Satie homages by Kurt Schwertsik; this unsettling Gymnopédie could be as much of a cult piece as its models. Gruber told us about those daring days in 1960s Vienna when he, Schwertsik and others broke free of Darmstadt dourness with MOB-art music for the people, both simple in the putting-across and complex in the execution; three of his own MOB pieces did that in style.
Only the pre-programmed encore, Brahms's Sixth Hungarian Dance as transcribed by Broström, didn't quite work. But by then we were in genial enough a mood not to mind. The only real shame was that this lively mix wasn't getting across, in the venue at least, to young as well as old in the audience – a marked absence after two Proms where youth-orchestra players had brought brothers, sisters and friends along to watch and listen. Maybe a return visit in a late-night Prom back in the Albert Hall would redress the balance. In the meantime, don't miss Hardenberger giving the London premiere of Gruber's Busking on Wednesday evening.