Mullova, London Symphony Orchestra, Nelsons, Barbican Hall |

reviews, news & interviews
Mullova, London Symphony Orchestra, Nelsons, Barbican Hall
Mullova, London Symphony Orchestra, Nelsons, Barbican Hall
Viktoria Mullova finds her inner peasant girl and Andris Nelsons shines yet again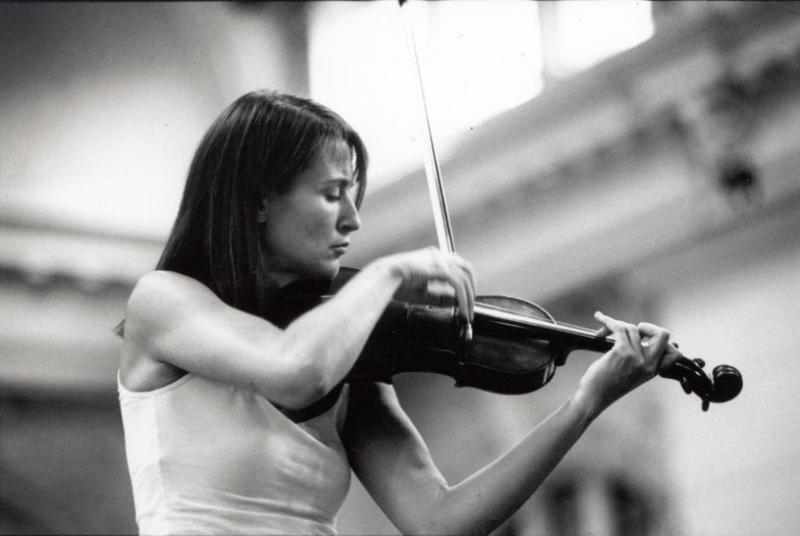 Viktoria Mullova: The violinist 'savoured the off-kilter rhythmic motors and dirty double-stopping'
This season's LSO artist-in-focus, violinist Viktoria Mullova, is an incorrigible off-roader. The rougher the terrain the better. Early, modern, rock, folk: she'll absorb their shocks, vault their bumps, relish their pitfalls and come out without so much as a scratch. So Mullova's opening concert last night was intriguing. Prokofiev's Second Violin Concerto isn't exactly smooth terrain, but its roughness is pretty suburban.
Mullova's approach was typically counterintuitive. There was no attempt to rough things up. She played to the work's inner shyness and tenderness. When a game of hide-and-seek breaks out between orchestra and soloist, Mullova proves herself to be a fine shunner of attention. Some of the modesty might have been down to an unfamiliarity with the work - she had the score out. Some of it might have been down to a difficulty empathising with the changeable moods of the First Movement, which seem to come and go as inconsequentially as a breeze.
The lack of overt emotion - Mullova has a lovely phlegmatic manner - was a great benefit in the richly romantic Andante assai. There was plenty of vibrato and a sweetness of tone but no schmaltz. And then came the dance rhythms of the final movement Allegro, with which Mullova seemed particularly comfortable engaging with. Here, texture and mood started to get interesting. Mullova savoured the off-kilter rhythmic motors and dirty double-stopping. The "peasant girl" that she hopes to become in one of the her most intriguing forthcoming programmes at LSO St Luke's this season seemed to have appeared early, as she jammed with the cellos and bass drum in the final, darkly infectious bars.
Last night wasn't, however, just a chance to see what the brilliant Mullova would have to offer. It was also a chance to hear one of the best conductors working in Britain today debut with Britain's finest orchestra. In the few years of following his inexorable rise in Britain, I have never seen Andris Nelsons perform a bum concert. Everything he does seems to come fresh. So my standards were high for the Tannhäuser Overture opening. Which perhaps accounts for the performance falling short. For it was undoubtedly a decent performance. However, it seemed to lack a litheness and spontaneity that I have come to take for granted when hearing Nelsons. And at times it appeared to walk so grandly, so ceremoniously, I was concerned the music was going to fall backwards with regal weight.
The Shostakovich Five was quite different. Here, a Nelsons stamp was discernible. The work is all too often driven down into a melancholic ditch too soon and too deeply. But Nelsons allowed for fragrance to enter. He didn't force trumpet entries into cartoonish villainy. Not all the humour was sarcastic in Nelsons' hands, some of it was just humorous. There were characterful entries from the flute and leader of the orchestra in the Allegretto. There was something of Sibelius's Lemminkäinen Suite (which was being performed at the Royal Festival Hall last night) in the pyre that Nelsons slowly allows to be assembled and set alight in the Largo. Then, having traversed a whole host of emotions, Nelsons unleashed the single-minded mania that consumes the symphony to the end. Images from Eisenstein's October of crowds rushing vertically, diagonally, across screen, up screen, down screen, flashed into my head.
I can't say I ever really enjoy Shostakovich's Fifth. It's about the only symphony that I know of that renders me temporarily bulimic. But this was an impressive debut from Nelsons. Does he do bad concerts, I wonder?
Shostakovich's Fifth is about the only symphony that I know of that renders me temporarily bulimic
Share this article