Monteverdi Choir, English Baroque Soloists, Gardiner, Barbican |

reviews, news & interviews
Monteverdi Choir, English Baroque Soloists, Gardiner, Barbican
Monteverdi Choir, English Baroque Soloists, Gardiner, Barbican
A bright stream of Bach occasionally blocked by some under-par soloists
Tuesday, 13 December 2016
Detail from Botticelli's Madonna of the Magnificat
Add three natural trumpets, flawlessly wielded, to chorus and standard period-instrument orchestra, and the seasonal spirit will flow no matter the context.
It's true that Bach's Magnificat is not that common a visitor at this time of year - according to the Lutheran church calendar, July is the time to celebrate the pregnant Mary's paean to the Lord, though this spectacular also featured at Christmas in Leipzig with four interpolations - but then its rarity may also be because it challenges all but the best. Which John Eliot Gardiner's Monteverdi Choir and English Baroque Soloists still undoubtedly are. Draw soloists from the choir, though, and standards of presentation and projection can drop.
Grumbles first. Can it really still be that choral sopranos - or rather two out of the three stepping forward here - still make a sound like an etiolated treble, lacking the welly of continental boys from Vienna or Tölz? Can't a tenor be drawn from the ranks with the muscle for a fiery number like "Deposuit potentes" in the Magnificat? And why does even a bass advertised among programme biographies badly in need of editing as possessing "a noble and round voice" lose tone at the bottom of the register, like several others of these early-music singers?
Praise be, then, to counter-tenor Reginald Mobley (pictured below by Massimo Giannelli with Gardiner and forces on tour), now - according to his biography - no longer "speaking his art" in "watercolours and oil pastels" but "through his own voice", for really putting across his numbers. His "Quoniam tu solus" in the F major Mass (Lutheran, so Kyrie and Gloria only) finally rocked and jazzed, a perfect counterpart to the choral and orchestral flow which Gardiner established so effortlessly at the start, like easing into a fast-running, sun-and-tree-dappled river in full sunlight.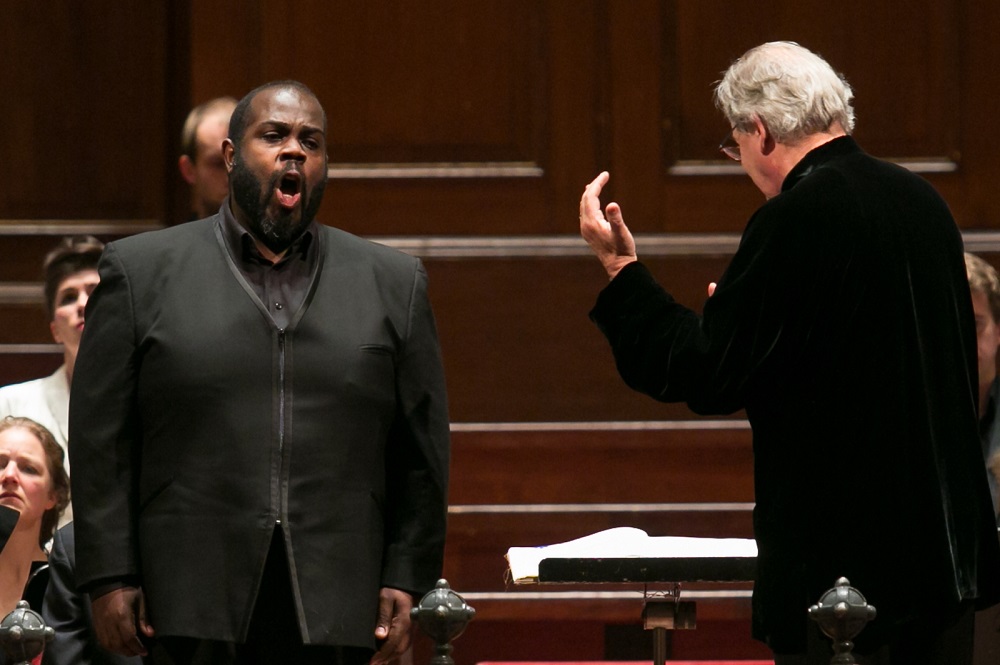 Orchestral solos were the things to focus on in less successfully delivered numbers - Rachel Chaplin's oboe d'amore, for instance, or Rachel Beckett's flute in the opening number of the Cantata "Süßer Trost", a lullaby for the Christ Child which needed more soprano brightness than it got here. The two horns with their daunting double circles of tubing quickly slipped into stylish gear for the Mass, and of the three brilliant trumpeters in the Magnificat - how does London serve up so many? - Neil Brough had his moment in the sun in the typically individual mesh with two sopranos and counter-tenor of the "Suscepit Israel".
Gardiner's characteristic sense of continuity drove home the sheer visionary novelties of the Magnificat, its daring range of unorthodox sonorities, curtailing of set-pieces, unexpected cadences and insertion of German texts. Deft choral rearrangements brought forth constant delights, like the unbearable lightness of sopranos, altos and tenors only. As a single entity, there are still no forces to match these for effortless reinforcing of Bach's surprisingly unorthodox genius. And if any ensemble fits the tricky Barbican Hall well, it's a group of this size.
Gardiner's theatrical sense of continuity drove home the sheer visionary novelties of the Magnificat
rating
Explore topics
Share this article