Los Angeles Master Chorale, Gershon, Sellars, Barbican review – embodiments of remorse |

reviews, news & interviews
Los Angeles Master Chorale, Gershon, Sellars, Barbican review – embodiments of remorse
Los Angeles Master Chorale, Gershon, Sellars, Barbican review – embodiments of remorse
Grandeur, and fussiness, in Peter Sellars' staging of a choral masterwork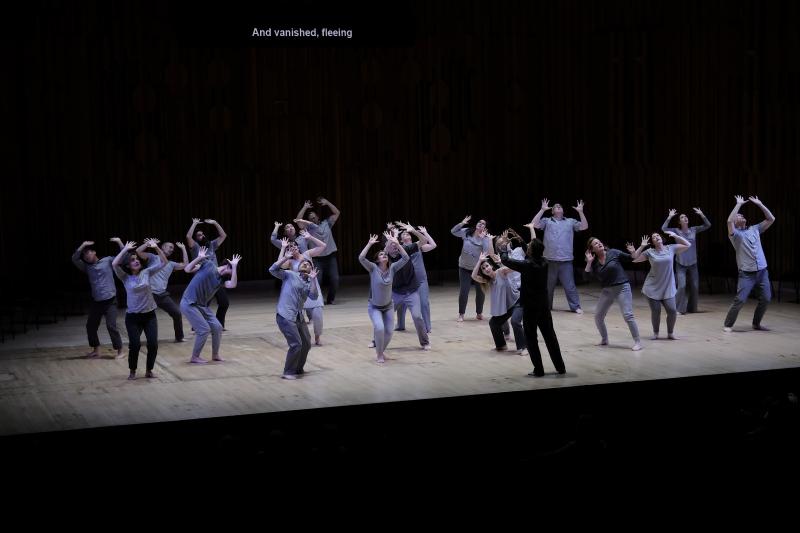 Music and movement: Lagrime di San Pietro
By some strange alignment of the stars, Peter Sellars's staged version of Orlando di Lasso's Lagrime di San Pietro (Tears of St Peter) arrived at the Barbican Hall just as – next door in the theatre – Pam Tanowitz's directed her dance interpretation of TS Eliot's Four Quartets. Not only does Tanowitz's choreography come with a commissioned score by Kaija Saariaho – a regular Sellars collaborator. Both works mix their media to present a spare and unflinching journey into age, remorse and grief. Those soul-searing lines of Eliot from Little Gidding about "the gifts reserved for age" – "the rending pain of re-enactment/ Of all that you have done, and been; the shame/ Of things ill done and done to others' harm/ Which once you took for exercise of virtue" – could have been emblazoned over the Hall's bare stage as the 21 singers of the Los Angeles Master Chorale formed a grey-clad semicircle around the choir's long-standing conductor and director, Grant Gershon.
Lasso, a Netherlandish composer schooled in Italy and working for decades in Munich, completed the Lagrime in his final years (he died in 1594). Though not without its passages of soaring vocal spectacle, its stripped-down and harmonically focused style feels distant from the gorgeous, sensuous intricacy of other masterpieces of late-Renaissance polyphony. Setting 20 texts by the poet Luigi Tansillo as "spiritual madrigals", and a final motet with words by Philippe de Grève, the Lagrime shapes variations of the theme of the aged Apostle's bitter remorse as he dwells on his triple betrayal of Jesus ("Before the cock crow, thou shalt deny me thrice," as Matthew's gospel says.)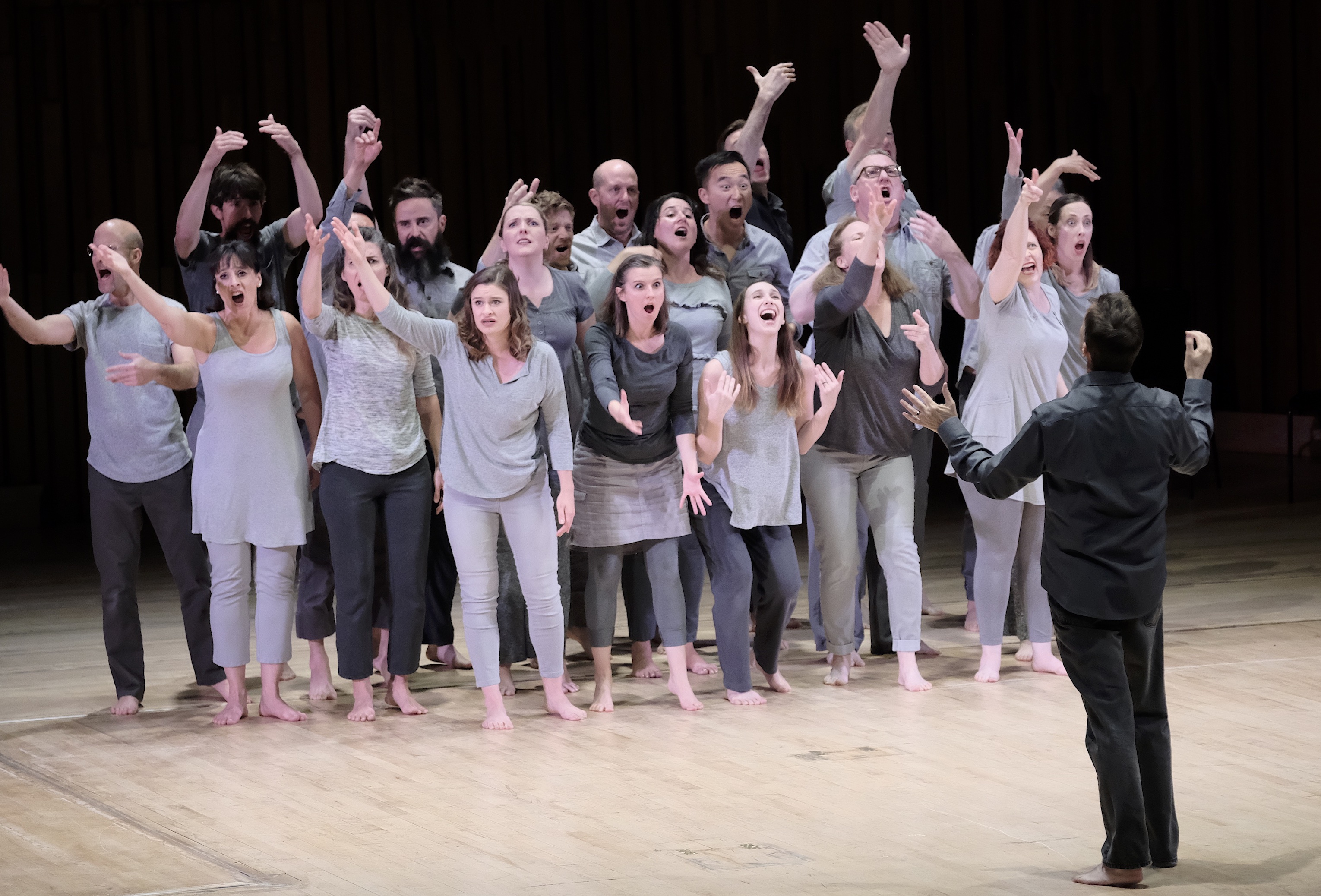 With its compact and intense a cappella writing for seven parts (each of them given three voices in the Sellars-Gershon staging), the music fiercely embodies Edward Said's concept of "late style", as a bold and fearless shedding of superfluities in art to reach the charged essence of meaning and experience. Lacerating sorrow, grief and self-punishment flow through the 21 sections in a beautiful but comfortless musical testament which (as Gershon notes) some recordings have smothered in a misplaced vocal prettiness.
It sounds tough, and the Beckett-like austerity of Sellars's staging – as in his productions of Bach's Matthew and John Passions – gives little relief. The singers wear shades of drab, institutional grey. Chairs ringed around the big Barbican stage offer the only visual adornment, apart from the central screen for surtitles. Purged, like the music, of all external fripperies, the staging makes room above all for movement. Against the stillness and solemnity of the vocal mode, Sellars puts his singers through a punishing exercise regime. Especially in the first half of the madrigali spirituali, he keeps the choir not only on their toes but (pretty often) on their knees, crouched or hunched, and even – more than once – flat out on the floor. As restless and tormented as Peter's anguished conscience, they prowl around the stage, split into larger or smaller sub-groups, then into pairs, before coalescing again into a single entity. Hand gestures, meanwhile, run the gamut from angry pointing to head-clutching despair, heaven-seeking outstretched arms, and the twisting, scourging actions that recall Christ's own anguish on the way to the cross.
All the while, constantly on the move, the – consistently fine – Los Angeles choir must keep the multiple strands of Lasso's score tightly bound together. They must vary emphasis, tone and volume as the emotions of the settings shift. Gershon, too, has to travel the expanses of the stage and conduct from a bewildering variety of spots (sometimes on his knees, when the singers writhe at ground level). So Sellars has set his collaborators a truly formidable task. And they do rise superbly to the challenge, even if I felt on occasions that all this incessant action created a needless sense of frantic busy-ness. At times it detracted from the contemplative sorrow of the work.
In fact, Lasso's severely lovely writing can often sound less overtly mimetic than much Renaissance polyphony. Sellars, though, has the choir act out extremes of feeling with his elaborate dumbshow performances, from those scenes of scourging, to quarrels and embraces between couples, and the shaking palpitations of prostrate sufferers as despair and self-loathing knock them to the floor.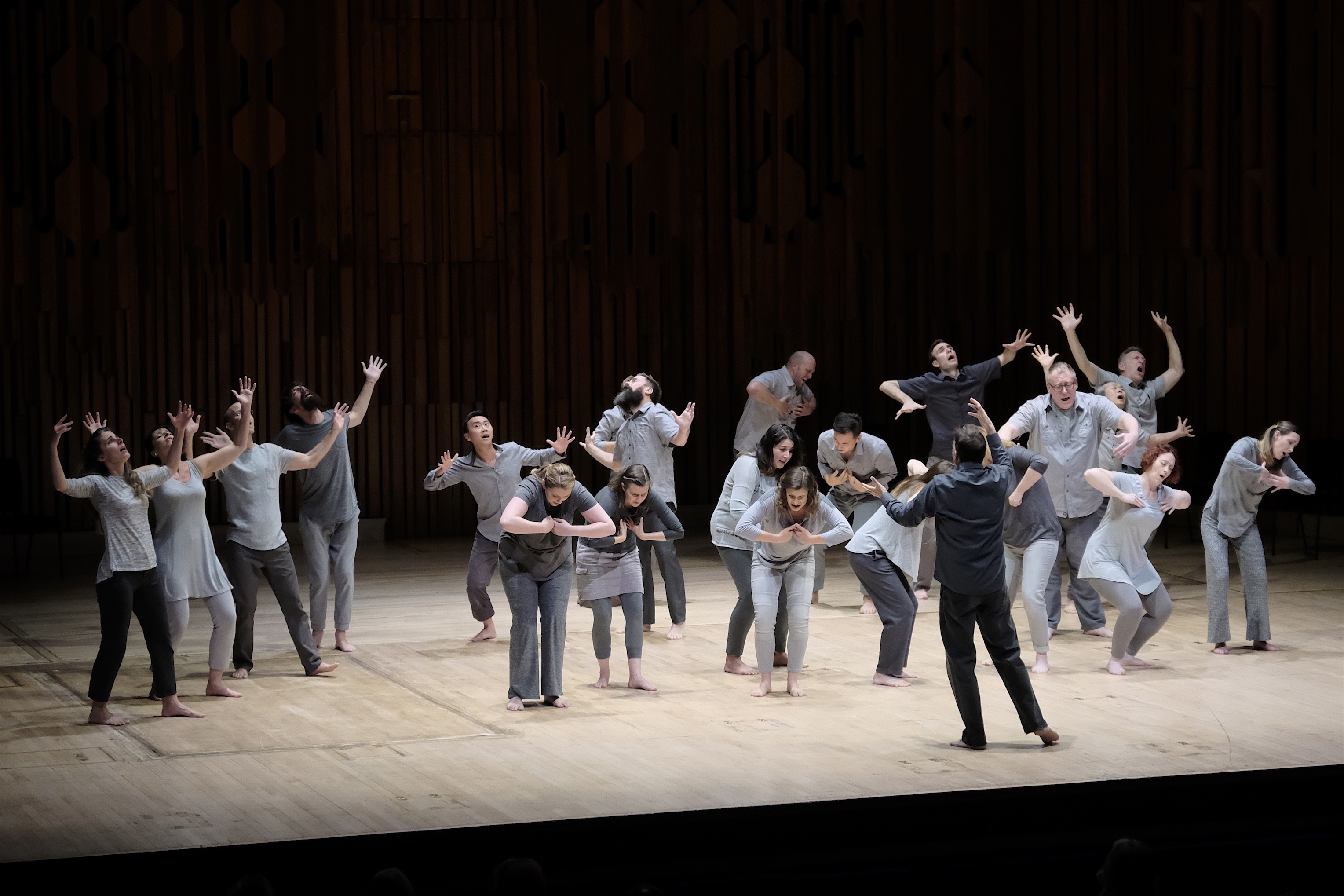 To keep the shape and direction of the vocal lines so clear when engaged in all this athletic choreography – and to charge them with the extra drama of sudden shifts in volume – was beyond doubt an awe-inspiring achievement. However, the relentless mobility required of the singers, as Sellars endlessly shuffled his pack, necessarily meant that he scrambled the part-writing as the seven gangs of three subdivided or converged into mutating cells of differing size. Sometimes I yearned for a simpler staging to let the music breathe. And, over the final seven madrigals, he did provide that, as the singers returned to their hemicycle of chairs.
Now we could hear the changing sonic balance and stress of the settings carry the weight of feeling in itself, rather than Sellars insisting on its embodiment in stretched limbs and clenched muscles. That said, the final, tentative transition from solitary regret to the hope of forgiveness proved immensely moving. The choir divided into two lines which then, slowly, edged towards a final embrace. For all the over-strenuous acting-out that had preceded it, this closing motet did vindicate the Sellars vision. Music and movement fused into a radiant glimpse of redemption.
The final transition from solitary regret to the hope of forgiveness proved immensely moving
rating
Explore topics
Share this article
Subscribe to theartsdesk.com
Thank you for continuing to read our work on theartsdesk.com. For unlimited access to every article in its entirety, including our archive of more than 10,000 pieces, we're asking for £3.95 per month or £30 per year. We feel it's a very good deal, and hope you do too.
To take an annual subscription now simply click here.
And if you're looking for that extra gift for a friend or family member, why not treat them to a theartsdesk.com gift subscription?