Julia Fischer, Wigmore Hall |

reviews, news & interviews
Julia Fischer, Wigmore Hall
Julia Fischer, Wigmore Hall
Bach's Valentine's Day spoiler is given a brazenly, brilliantly embittered account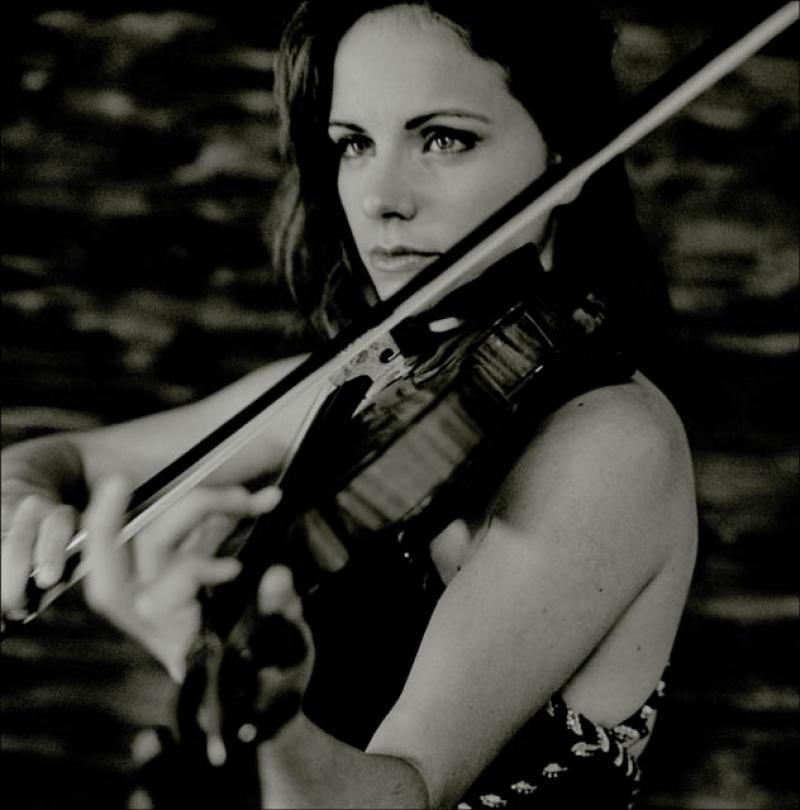 Julia Fischer: always technically immaculate
Is there a greater singleton's soundtrack than Bach's restless, tormented Three Partitas for Solo Violin? The works represent the extraordinary pinnacle of the violin repertoire and also the summit of Bach at his most chromatically and psychologically screwy.
Snuggling up to these intensely fragile works, as so many Valentines couples were preparing to do last night at Wigmore Hall, is about as fun as curling up to a slice of
Von Trier's cinematic clitoridectomy
. And the intensity, fragility and bitterness was never so clear as in Julia Fischer's nimble hands. Her sound was shockingly, fascinatingly dry and aggressive. Even at its most dramatic, never did it reach out to you. Except to push you over. With a singleton's shove or slap.
Starting as she did with the sunniest and most breezily upbeat of the three partitas, the Third in E major, one had hoped that we might get some rays of sun before the stormy battering. But no. Even the opening Prelude, which should cascade joyously around you like a peal of wedding bells, was anguished and dark, and rolled towards us like a black ocean wave. The Loure, a loose, long sarabande, was fiercely melancholic. By the entry of the sprightly Gavotte, a tartness was added to this fascinatingly embittered mood, full of short, flat, heel digs.
Throughout, there was a distinct reluctance to dance on Fischer's part. A struggle with the natural movement of the music ensued. If these three-steps were all courtly fare, Fischer was one seriously reluctant courtier. One got the sense of a young girl digging in her heels. There was no give in the rhythms of the two Menuets, though dramatic dealings with the double-stopping, the two lines peeling off brilliantly, reminded us of what Fischer is really after in these works: not necessarily a sense of dance, tonal beauty or joy but an intense and compelling musical narrative. Reaching the Bourree and Gigue, this picked up. The courtier had found a faster, more conducive beat to think, feel and move to. And with the splashy ricocheting of those semi-quaver rows in the Gigue - delivered without legato - a freedom and lightness was finally attained.
From here on in, the lights would get dimmer and dimmer. The story, too, was fading into and out of view. The Partita in B minor was, as a result, pretty frustrating. There were plenty of lovely things going on here: the darting runs of the Double presto which created a sonic roar in crescendo, a penumbra reminiscent of the sea lapping a shingle beach. Then there were the diagonal climbs littering every movement, which, with the joy of the medieval painting on the cusp of perspectival renaissance, crisscrossed enthusiastically and madly across the hall. And then came those hard spread chord stabs in the Tempo di Borea, like tango stamps of the feet. But there was sloppiness, heaviness and anonymity cramping the style of the others.
It was all building up to the mighty, hissing, spitting Ciaccona, a roaring tirade of a performance which seemed to crash through the Valentine smooching, tossing lovers left, right and centre
The narrative drive was maintained far better in the great Partita in D minor. We began with an Allemanda of interior tempest and searching, in which psychological whirlpools are cooked up through a simple irregularity of bowing. We leapt through a tarantella-like Corrente, Fischer's body curtsying to the rhythmic curves, after that, a lonely and dry Sarabande and then a rush of sound in the Giga, a hide-and-seek scampering.
It was all building up to the mighty, hissing, spitting Ciaccona, a roaring tirade of a performance, technically immaculate - as always with Fischer - which seemed to crash through the Valentine smooching, tossing lovers left, right and centre. It was a powerful display, Fischer striding unnervingly around the stage in her black simple dress like some 19th-century Russian mourner, hurrying along those runs of demisemiquavers into hidden grottos of sotto voce, spraying sforzandi from A and E strings into our eyes like pepper spray. Then came the arpeggiated passage, a crowning emotional achievement of the evening, a mighty journey through 30-odd bars of restless, kaleidoscopic rocking.
And still they clung to their girlfriends. Perhaps this was a way of vicariously letting out their frustrations. Or perhaps they weren't listening. Fischer allowed us all to unwind with the flashy Bach fantasy by Eugène Ysaÿe, the first movement of his Second Sonata for Solo Violin, which deconstructs the nightmarish psychological visions that had just been presented to us for an easier rest and - finally - an unencumbered cuddle.
Throughout, there was a distinct reluctance to dance on Fischer's part
Explore topics
Share this article