Imogen Cooper, Wigmore Hall review - calm waters run deep |

reviews, news & interviews
Imogen Cooper, Wigmore Hall review - calm waters run deep
Imogen Cooper, Wigmore Hall review - calm waters run deep
A piano journey down the river of musical time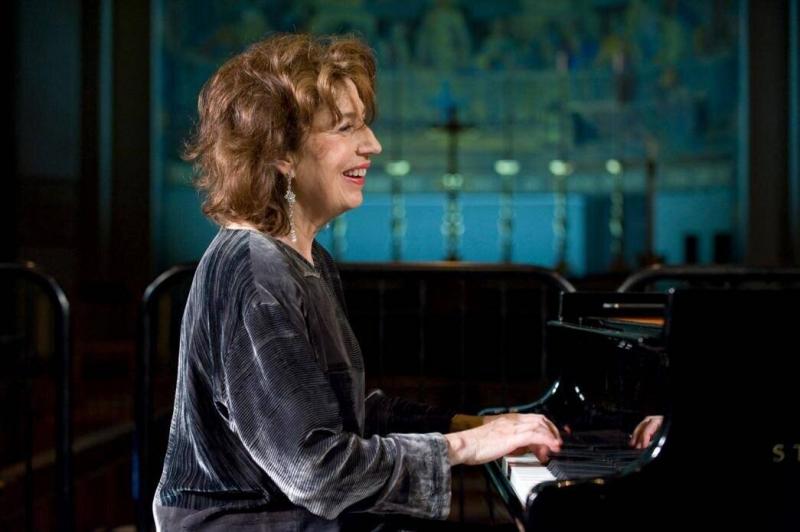 Fluency and fire: Dame Imogen Cooper
On a night when any brooks running past the Wigmore Hall might have frozen almost solid, Imogen Cooper's recital travelled on sparkling waters of the highest purity across almost a century of pianistic innovation.
As well as the streams and fountains that both Liszt and Ravel descriptively channelled into their Jeux d'eaux, Dame Imogen (absurdly, she has only just acquired the handle) found a rippling liquidity even amid the monumental gravity of Schubert's great A minor sonata. Piano generations touched hands, too, in Ravel's Valses nobles et sentimentales of 1911. They carried the Viennese lilt that Schubert had already deepened, and darkened, into a new era of harmonic nuance and rhythmic asperity.
The Liszt and Ravel pieces would have brought unaccustomed breadth to the recital for listeners who see Cooper chiefly as the heir to Alfred Brendel's immaculately tasteful, fuss-free classicism. But she played and loved these pieces as a music student. She revisits them in a recent recorded expedition into her own musical past – entitled, with a nod to Proust, Du Temps Perdu. We began, though, in her Schubertian heartland. Cooper's performance of the D845 sonata enriched its expansive architecture with countless fine touches that added grace to gravity. Her refinement and delicacy lightened the monumental, sometimes severe, bulk of the first movement, where the elder Beethoven seems to loom and brood. Wandering, questing right-hand explorations offset the implacable slow-moving geology of the bass. The five andante variations broadened the palette of feeling, with sweetness as well as sinew in evidence while the ominous tread of the core tune pulses underneath. Mercurial runs in the fourth variation gave us scintillating hints of the evening's aquatic theme while, in the scherzo, the sunlit, dappled trio brought welcome repose. As with Brendel himself, the lucid poise and structural elegance of Cooper's playing pays both music and listeners the compliment of clarity. This isn't quite self-effacing pianism – the reading is far too accomplished and intelligent for that. But it shows a firm Classical backbone beneath the passages of tender, legato warmth and playful fantasy that regularly flesh it out.
After the interval, the Ravel and Liszt illustrated both the scope of Cooper's artistry, and the underlying consistency of her gently compelling voice. In the three movements of the Sonatine, rippling, cascading passagework combines with memories of stately, Rameau-style dances in one of Ravel's genial couplings of old and new. Cooper [pictured above by Sim Canetty-Clarke] dazzled in the rush and gurgle of the closing, toccata-like movement while keeping her reins, as always, fairly tight. You feel a measure of disciplined restraint even at such unbuttoned moments. That glimpse of the stone beneath the stream emerged too in the two programmatic Jeux d'eaux, by Liszt (inspired by the gardens of the Villa d'Este) and then Ravel. As both composers' fountains spritzed, bubbled and fragmented into a mist of droplet showers, Cooper treated us to some spectacular – but not merely showy – pianistic effects. Her virtuosity – formidable as it is, deft hand-crossings and all – never exists for its own sake, but to bring the work in question more intensely alive.
With the dissonant ironies and droll pastiches of the Valses nobles et sentimentales suite, Ravel shows how far the dancing piano had come since Schubert (his ultimate model) – but also how much stayed the same. Cooper gave us his modern-minded bristle, swagger and wit in abundance, but also the wistful inwardness of the slower waltzes with their frankly Romantic markings ("une expression intense"; "un sentiment intime"). She closed an evening that saw her paint in a wider range of colours than even some admirers might expect with a beautifully articulate and clear-voiced version of a Liszt Hungarian Rhapsody – the lesser-spotted No. 13 in A minor, and so in its way an echo of the Schubert opener. Those critics who find Cooper a little too controlled and contemplative might have complained of a lack of leaping Magyar flames here. For me, the fire burned quietly but with a glowing intensity, especially in the slower sections. Her unhurried tempi, avoidance of dynamic extremes, and disdain for corny hotel-lounge rubato, allow details of light and shade to emerge with a satisfying complexity in such a work. Once more we felt the solid architecture underneath the folksy vernacular decor of those trills and runs. To some, she will always sound a shade too upright and correct, especially in repertoire such as this. For others (including me), you need healing draughts of pure water in an age of soulless fizz.
You need healing draughts of pure water in an age of soulless fizz
rating
Explore topics
Share this article