Hallenberg, Monteverdi Choir, English Baroque Soloists, Gardiner, BBC Proms review - a vindication of voices |

reviews, news & interviews
Hallenberg, Monteverdi Choir, English Baroque Soloists, Gardiner, BBC Proms review - a vindication of voices
Hallenberg, Monteverdi Choir, English Baroque Soloists, Gardiner, BBC Proms review - a vindication of voices
Choral singing at its finest roars back to the Proms
Thursday, 02 September 2021
Back with a bang: the Monteverdi Choir with Sir John Eliot Gardiner
Choral singers have suffered more than most from erratic and irrational Covid prohibitions while riskier mass pursuits have gone ahead. So when one of the world's great choirs returned to the Proms with the conductor who has guided them for over half a century, the sense of occasion was palpable.
Last night the
Monteverdi Choir
numbered 30 – not huge by Royal Albert Hall standards – but the joyfully exultant music that they made filled the dome with a boundless grandeur.
Sir John Eliot Gardiner
led his singers and the English Baroque Soloists through a programme that nicely reflected the mood of renewal.
It offered three Baroque masterworks written by two up-and-coming composers at or around the age of 22: Bach's Easter cantata Christ lag in Todes Banden, sandwiched between Handel's Donna, che in ciel and his mighty, astonishing Dixit Dominus. At this point, around 1707, Bach was proving his sober and sombre Lutheran credentials while, in Rome, Handel the chameleon experimented with Italianate, Catholic floridity. All three pieces, however, proved that musical genius arrives early and leaves an indelible stamp. Strands of the DNA that would later mould the Passions, or even Messiah, twisted through the evening.
Donna, che in ciel (never sung at the Proms before) sets a Marian hymn for alto – last night, the always-impressive Swedish mezzo Ann Hallenberg – and strings. Written for a thanksgiving service to mark Rome's escape from the Italian earthquakes of 1703, it gives Handel the chance to try out some of the imitative orchestral writing – shaking, lurching strings and all – that would later enrich operas and oratorios. The English Baroque Soloists, led with polish and precision by Kati Debretzeni, made the most of the special effects. Hallenberg (pictured above), mellow, assured and unruffled even in the fanciest of coloratura runs, struck a satisfying balance with the orchestra – not something that every fine singer achieves at the RAH. Maintaining a pure, even, but never bloodless tone, with just a touch of vibrato, she brought out the precocious loveliness of the score above all in the lilting, rocking adagio aria "Tu sei la bella serena stella": a foretaste of later Handelian operatic gems. The choir joined soloist and strings for the finale, "Maria, salute e speme", with a thrilling soar and swell that hinted at vocal riches still to come.
Bach's Christ lag in Todes banden, however, requires restraint, control and a sort of deeply glowing austerity. After the dark-hued sinfonia that opens it, these seven variations built around a Luther hymn intertwine arias for tenors, altos or sopranos (here, as groups rather than individuals) with sections for full chorus. The crisp attack of the Monteverdi singers' entries, either in their separate knots or all together, gripped and moved, as did their knife-sharp clarity of diction and virtuosic back-and-forth handovers. Of course, Gardiner brings his own brand of rhythmic excitement to every corner of Baroque repertoire, but it's not all unrelenting pace and bite. Unaccompanied (save for James Johnstone's chamber organ), the chorus "Es war ein wunderlicher Krieg" had an almost glacial stillness and lucidity, followed by the heart-stopping mix of monumentality and tenderness in the basses' aria "Hier its das rechte Osterlamm". Bach's scoring here has a granitic, modal, almost medieval quality – so different to Handel's Roman high jinks – and the Monteverdis did ample justice to this brooding, impassioned asceticism.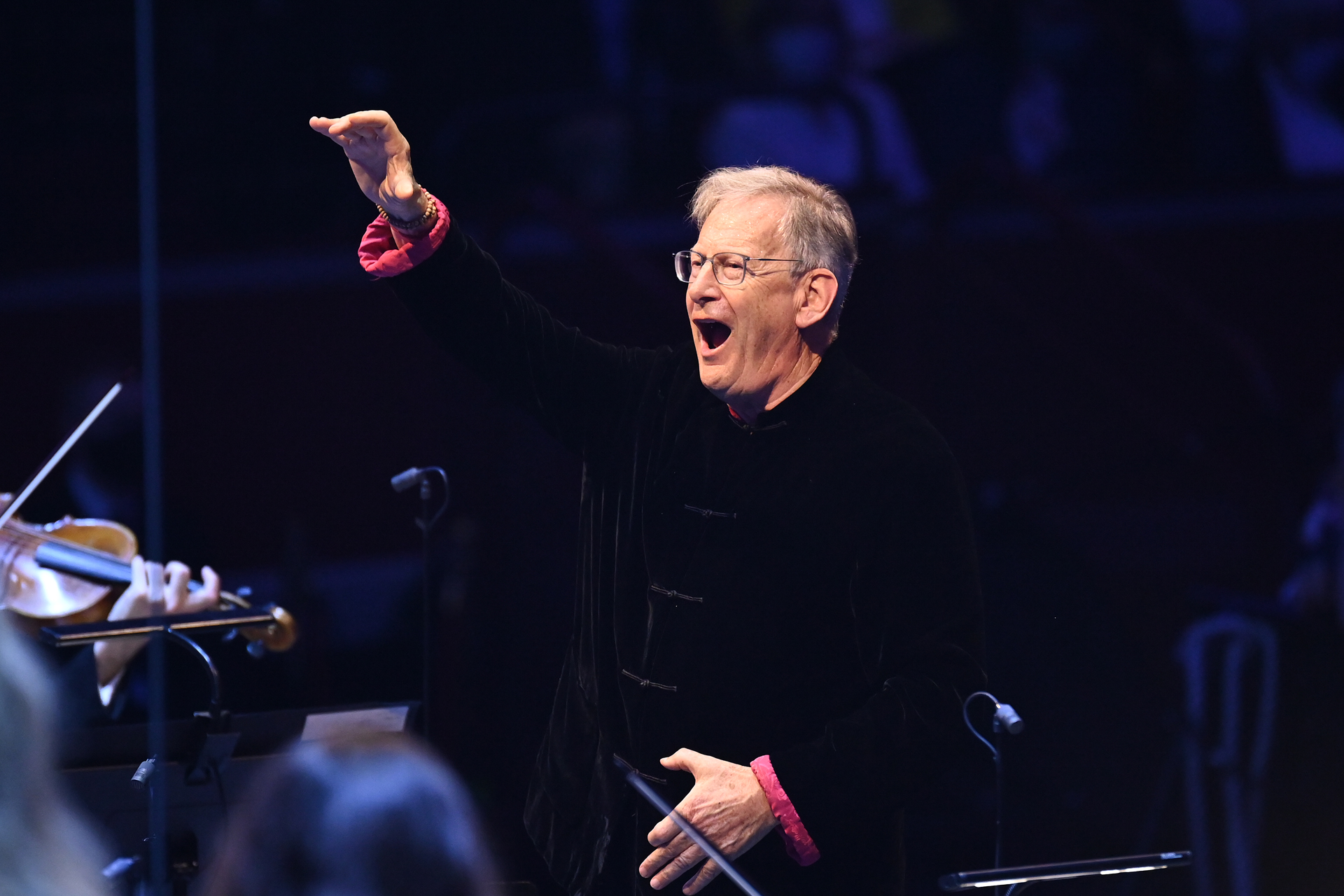 After the interval, Italian sun broke through in the scintillating stream of the Dixit Dominus. Choruses and solo parts (individuals rather than collectivities this time) alternate as one musical firecracker after another sparkles and blazes across choir and orchestra. Gardiner (pictured above) made the long, exquisitely woven lines entwine into a seamless fabric studded with flashing jewels. Handel is showing off his prodigious range of skills as a composer for voices here, and the results can be astounding – not least in the hammering repetitions of the "Conquassabit capita in terra multorum". Suddenly you feel spookily close to the explosive sound-world of Mozart's Requiem (the "Confutatis" maybe). But then Handel changes costume in a trice and the gorgeous soprano duet of "De torrente in via bibet", sung with both ardour and refinement by Julia Doyle and Emily Owen, ravishes the ear.
The other soloists from this choir of stars excelled too: the alto Bethany Horak-Hallett, tenors Graham Neal and Peter Davoren, and Dingle Yandell's bass. Gardiner, as always, plays a trump-filled hand packed with rhythmic and dynamic aces, and some breath-stopping ambushes engineered by this master of Baroque shock tactics. It takes discipline as much as power to prevent this love of drama from sounding merely spectacular rather than soulful: both the Monteverdi singers and their players have that virtue in abundance. The show-stopping final "Gloria", with its choral leaps and runs, swaggers into the future where Messiah and other marvels wait. For the adoring audience, young Bach and Handel, in Gardiner's hands, set a seal on the choral comeback with a triumphal vindication of the human voice. We wanted more, and we got it, in two encores that reprised passages from Dixit Dominus with all the ferocity, and sensitivity, we enjoyed first time round. Gardiner's 60th Prom crackled with youthful energy – and stamina.
Strands of the DNA that would later mould the Passions, or even Messiah, twisted through the evening
rating
Share this article