Semele, Monteverdi Choir, EBS, Gardiner, Alexandra Palace review - Handel's cornucopia lavishly served |

reviews, news & interviews
Semele, Monteverdi Choir, EBS, Gardiner, Alexandra Palace review - Handel's cornucopia lavishly served
Semele, Monteverdi Choir, EBS, Gardiner, Alexandra Palace review - Handel's cornucopia lavishly served
No 'secular oratorio' in these hands, but an ultimately electrifying opera
Semele (Louise Alder) wants more from Jupiter (Hugo Hymas)
Louise Alder, lyric soprano of the moment and vivacity incarnate, had yet to be born when John Eliot Gardiner made his first recording of Handel's Semele with the Monteverdi Choir and English Baroque Soloists in 1981.
Now they all come together to prove that when it hits the music-theatre heights in Act 3, the first great English-language
opera
in all but name, premiered 275 years ago, could have been written yesterday. "Sexy," as the advance publicity claimed, it is not, but there's plenty of sensuous music as mortal Semele basks in Jupiter's love, and intense drama as she goes too far in asking him to shuck his human form and show her his full divinity.
Circumstances for the company's only UK presentation - it is surrounded by performances in Paris, Barcelona, Milan and Rome - were not entirely happy at the start. Audience having been funnelled in to the crumbling temple of delights that is Alexandra Palace's wide, tall theatre, the performance began 20 minutes late. After the rollicking Overture, Gardiner getting the usual bite and lilt from the EBS as perfect companions throughout the action, and in a surprisingly good if dry acoustic, you just wanted the Monteverdi Choir to sit still. The best of professional choral singers, but hardly trained for stage work, their business with chairs at the opening nuptials of Semele to Athamas before Jupiter whisks her to the empyrean looked a bit amateurish. Thomas Guthrie's "concert staging" is not of the most elegant, despite designer couture by Patricia Hofstede and some atmospheric lighting effects from Rick Fisher.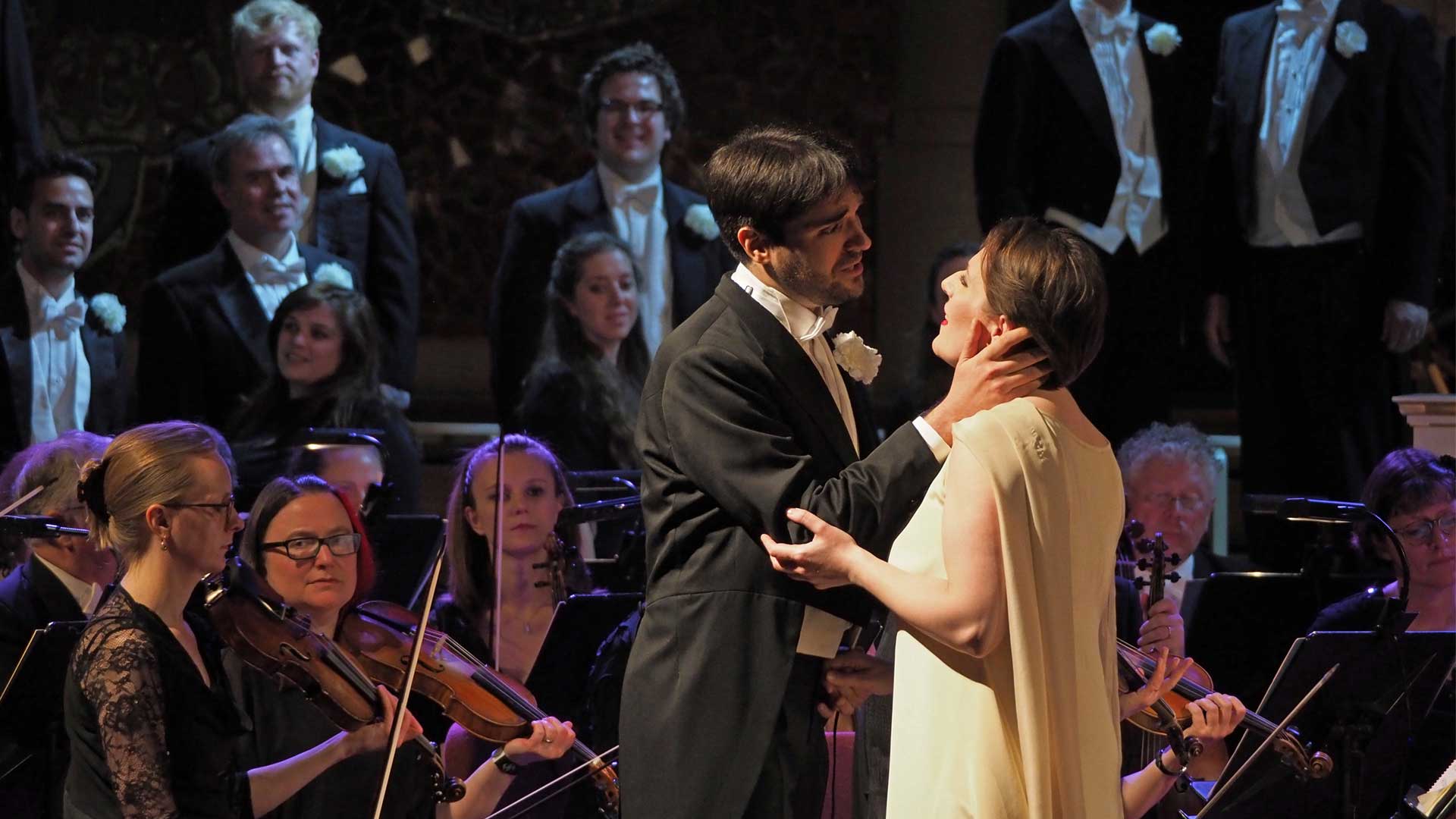 The overall line-up is variable. Three supporting sopranos it would be kinder not to name don't really cut the operatic mustard. True bass Gianluca Buratto is very loud as Cadmus, the father of Semele and Ino, much more effective as Somnus, awakening from the depths of the two bassoons who play at his head at the start of the third act. Counter-tenor Carlo Vistoli makes a lovely sound as the dramatically more or less otiose Athamas; it's good that he gets his final celebratory aria, not on Gardiner's recording, but it's a maddening dramatic hold-up between the superb choral response to Semele's death and the final celebration of Bacchus rising from her ashes. Outdoing him for doughtiness is contralto Lucile Richardot as Ino, the sister he prefers (pictured above with Vistoli); those redoubtable chest tones are better brought into play when she takes on jealous Juno, though there could be more on-the-note singing and a more perceptive director than Guthrie would have got her to rein in the flouncing expression of her ire.
You might question why Jupiter appears in the form of a sweet choral-scholar-tenor type; the role demands the presence of the likes of Anthony Rolfe-Johnson, unsurpassable on the recording, or John Mark Ainsley in Robert Carsen's gorgeous ENO production. But young Hugo Hymas sings with unremitting beauty and style; the da capo section of "Wher'er you walk" takes us to a special enchanted place, and his part in the denouement is not disappointing.
Unquestionably, though, the vocal honours belong to the chorus, so sprited in feting the joys above, and to Alder (pictured above with Hymas, Gardiner and the EBS), proving that she was robbed of the main award, if not the audience prize, in the 2017 BBC Cardiff Singer of the World Competition. She inhabits every move and phrase with natural intensity and perfect instinct, manages to blend with Richardot in the Semele/Ino duet and goes along with Guthrie's best idea for a da capo aria, "Myself I shall adore," starting out with mockery of Juno-as-Ino's "take a look in the mirror" before succumbing.
The climax of what has to be the early 18th century's most vivid dramatic sequence, "No, no, I'll take no less", is what you dream of in Handel - technically perfect fireworks, pure fire-breathing characterisation, as if Semele has actually gone mad in reaching too far (oddly, this was the only virtuoso number that got applause from a very quiet audience). What genius of Handel to give the lightning-blasted girl the bipolar opposite of this excess as Alder reduces the voice to a sliver of sound for the expiration. For all this, it was well worth an hour and a half's journey home after the show finished just past 11pm.
Alder inhabits every move and phrase with natural intensity and perfect instinct
rating
Explore topics
Share this article