Hahn, Philharmonia, Chan, Royal Festival Hall review – nature's angels and demons |

reviews, news & interviews
Hahn, Philharmonia, Chan, Royal Festival Hall review – nature's angels and demons
Hahn, Philharmonia, Chan, Royal Festival Hall review – nature's angels and demons
A bracing new context for some old favourites
Cool mastery: Hilary Hahn with Elim Chan
One benefit of the green tide in culture – music included – is that it should allow audiences to approach the arts inspired by the natural world in Britain, and elsewhere, a century ago with fresh ears and eyes. Weary over-familiarity can render a work such as Vaughan Williams's The Lark Ascending virtually inaudible, just as much as neglect.
So all credit to the Philharmonia, conductor Elim Chan and soloist Hilary Hahn for giving the easy-listening standby a resonant new context at the Royal Festival Hall last night. Launched aloft by Hahn's violin with the ravishing polish we expect from her, along with a tender poignancy right across the piece's range, RVW's Lark opened a smartly programmed concert in the Philharmonia's ongoing "Human/Nature" series. For all her filigree delicacy of tone and clarity of voice in the trickiest of trills, Hahn let us hear the earth as well as the sky, the rustic muscle of those modal tunes beneath the altissimo flights of the soaring cadenzas. The Philharmonia's woodwind, excellent throughout the evening, supplied further grounding and a sense of the whole "romance" as a conversation between gravity and grace.
So far, so gorgeously conventional. Then came immersion in the contemporary nature of Gabriella Smith's Tumblebird Contrails, written in 2014 when the Californian-born composer was 23. If RVW harked back from 1920 to the prelapsarian farmland of England before the First World War, Smith's orchestral seascape took her cue from the Pacific vistas of Point Reyes north of San Francisco, with its moody weather morphing above volatile seas. From the drums' rattle of surf over shingle to the swell and crash of waves in brass, slapped and plucked cellos and basses, and the keening cries of lonely seabirds high in the strings, Smith draws with relish on every maritime resource of the orchestra to paint her liquid scene. Sometimes the effect resembles Debussy with a postmodern Californian twist. Smith studied with John Adams, and you may also hear the immersive surge and dazzle of his soundscapes here, along with an Ives-ish sense of musical form on the brink of breakdown into random aural flotsam, but just about managing to hold its shape. Chan navigated this sonic ebb and flow with a master-mariner's aplomb, and attention to every instrumental asset on her craft. As with Vaughan Williams, beyond the avian mimicry and musical meteorology, you feel the fragility of a cherished natural order – which may not be as timeless and robust as an earlier, Romantic sensibility had supposed.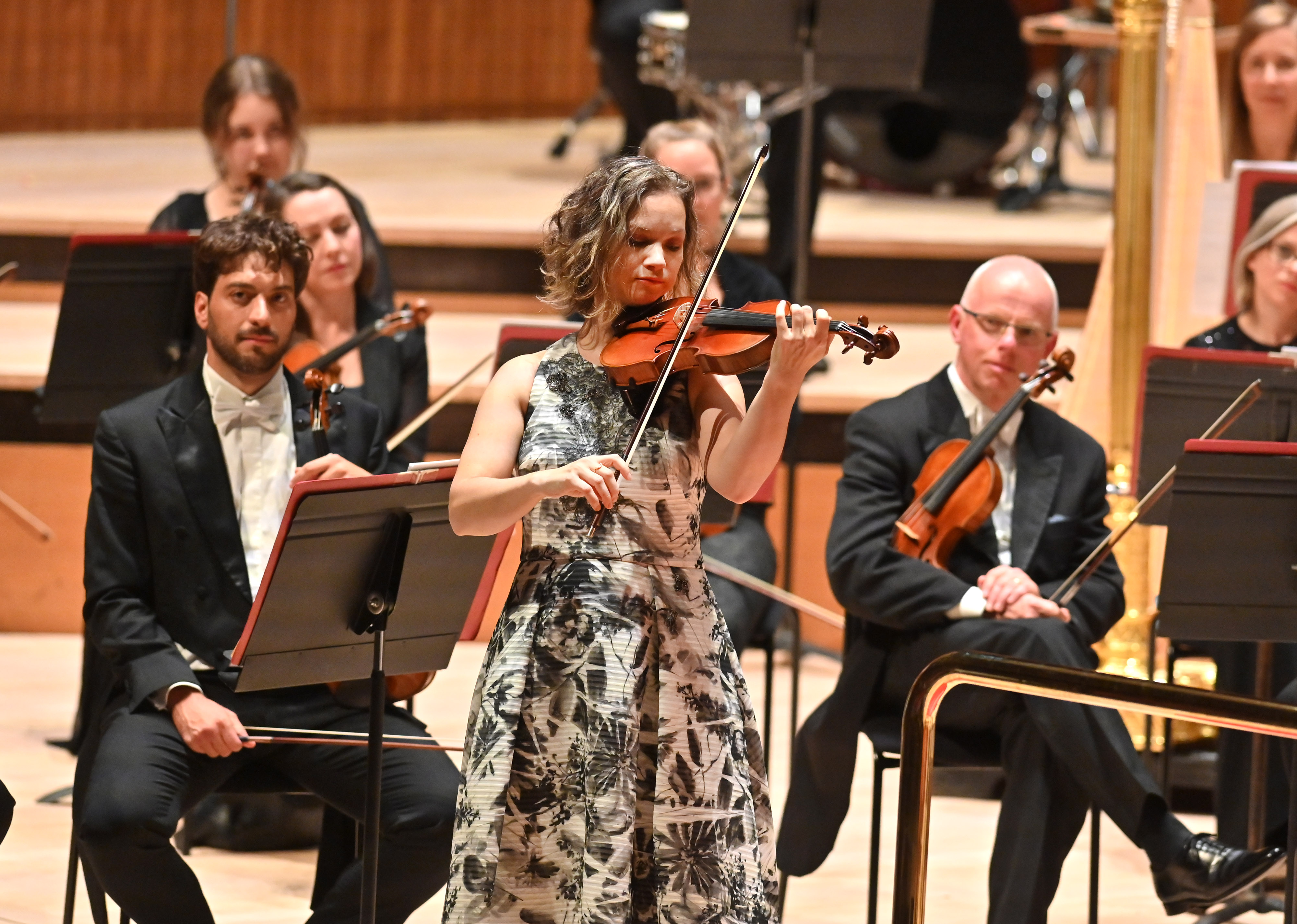 Hahn (pictured above) returned for Prokofiev's first, D major violin concerto – its outline originally sketched in 1913, even before the theme of the Lark first took flight. Premiered in Paris in 1923, with Stravinsky, Picasso and Rubinstein in the audience, it marries a lavishly lyrical tunefulness with an edgier, antic impulse of mischief and mayhem that really takes wing in the danse macabre of the scherzo. Angels and demons wrestle strenuously through the work; Hahn's crisp attack and cool mastery, in even the most fiendish of passages, gave a penetrative voice to both. She retains a silvery elegance even when Prokofiev sounds most like some jazz-age Paganini fiddling us down into a hell's kitchen where imps cackle and stomp. Does the sweet, singing lightness of her tone miss something of this nightmarish tinge? She certainly held potential delirium on a tight and beautifully elegant leash. The payoff came in the skipping, bouncing geniality of the finale, with its serene coda. Chan shaped some splendid stretches of dialogue between violin and orchestra, with the woods again immaculate and the Philharmonia brass – a special shout for Peter Smith's tuba – full of perky character. Ever-generous, Hahn gave us a double encore, and somehow negotiated a massive lurch in mood, with the Sarabande from Bach's second partita and the Gigue from the third.
After the interval, Brahms's Second Symphony put Chan (pictured below) and her players back in the spotlight. As they should amid the deep, warm textures of this work, they positively glowed rather than brashly sparkled. From the gentle opening arguments on the cellos and horns, Chan showed an architectural grasp of broad shape and fine detail, and she energetically made it count. This was a meticulous reading but not a dry or academic one. Harking back to the concert's first half, Brahms's "pastoral" symphony, conceived during a happy lakeside holiday, came not without its troubles and forebodings here. Chan brought tension and expectancy to the opening allegro rather than mere bucolic relaxation. Shifts in tempi complicated its easy swing and lilt, while the swelling strings, steered by leader Benjamin Marquise Gilmore, sounded suitably refined but not too plump.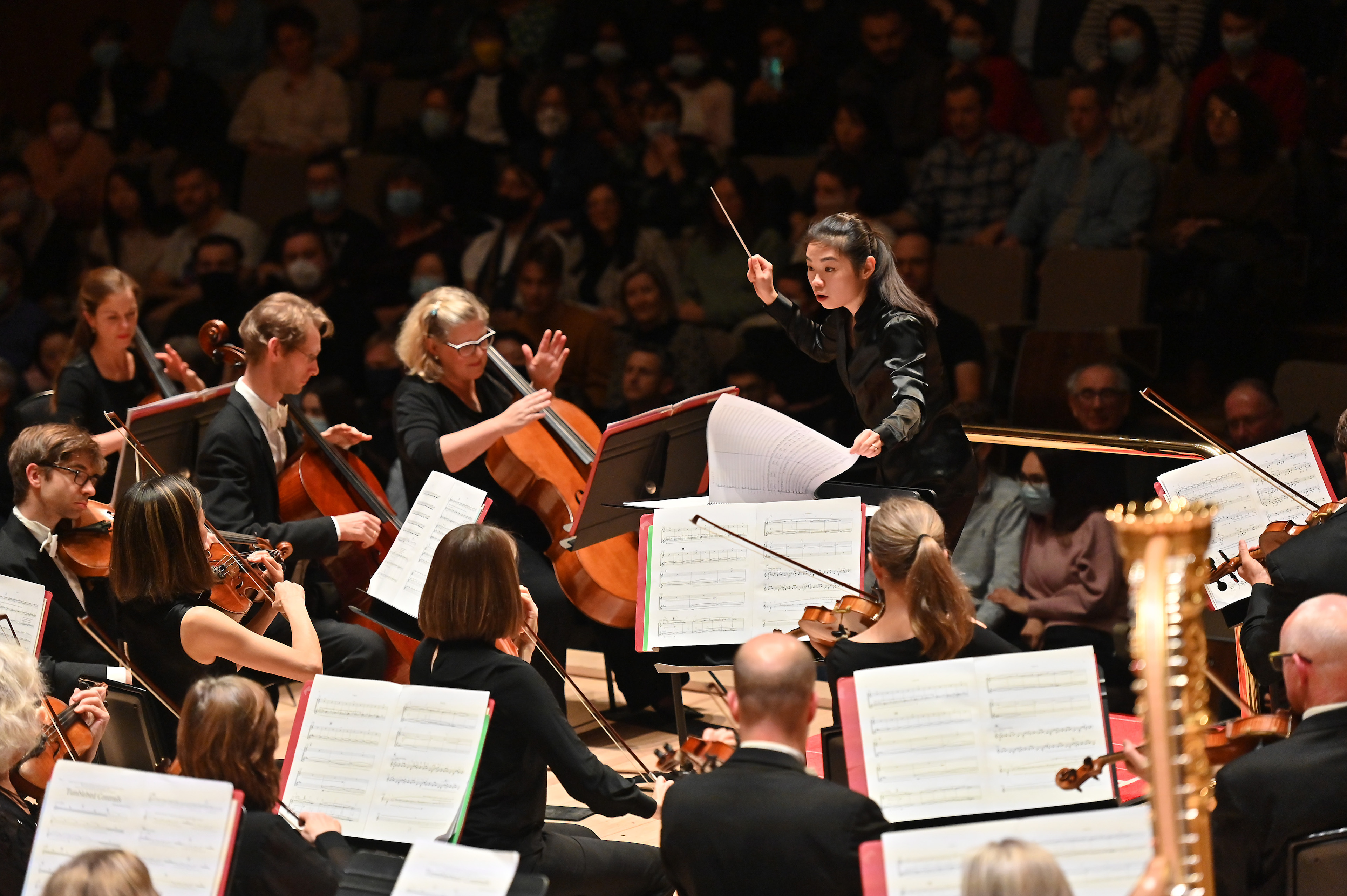 Excellent cellos, led by Karen Stephenson, guided us into a spellbinding adagio that kept an alert, watchful quality, a sense of pace and pulse, even as it thickened into the grave and massive tutti. The principal woods (Samuel Coles's flute; Tom Blomfield's oboe; Emily Hultmark's bassoon) deepened and enriched the quietly intense colours of the piece, and Chan found them the space to add their touches of sophisticated rural magic. After the springy rhythms of the allegretto grazioso, which more than lived up to its name, the Philharmonia burned through a finale which proved not just con spirito but marshalled and despatched with gratifying verve. Chan left us with a thrilling final statement, punctuated with brio, dash and exactitude. It made for a storming conclusion that, in the face of today's fears, reaffirmed Brahms's faith in nature's healing and transforming power.
Hahn held potential delirium on a tight and beautifully elegant leash
rating
Share this article