First Person: tenor Elgan Llŷr Thomas on recording a queer-themed album |

reviews, news & interviews
First Person: tenor Elgan Llŷr Thomas on recording a queer-themed album
First Person: tenor Elgan Llŷr Thomas on recording a queer-themed album
Collaborating with Iain Burnside on Britten, Tippett, Gipps, Browne - and the author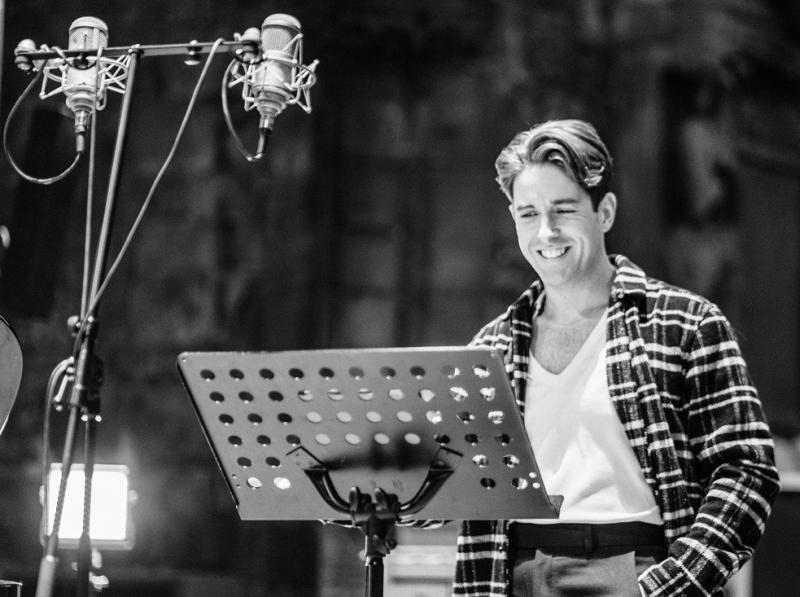 Elgan Llŷr Thomas recording 'Unveiled'
"No one makes money from CDs anymore"; "Remember, once it's out there it's out there forever"; "Everyone's making recordings these days, it's a very cluttered market"; "You'll struggle to make a mark…"
These are just some of the things uttered to me when I first told people I was thinking of recording a new album. Are these statements untrue? Not entirely, but neither were they reasons enough to stop me from embarking on what has been an extraordinary voyage of self-discovery.
The last few years have been a difficult time for musicians, but they also gave me a lot of space to ruminate. I particularly spent a lot of time thinking about how much I enjoyed being at home with my partner, Michael. We bought our first house during this time. Then, our first dog, Wotan. And then our second, Gunther. (For those who wish to know, they are both a cross of Pekingese and Shih Tzu which means they are absolutely gorgeous but incredibly stubborn. Wotan is a lazy baby whilst Gunther… well, let's just say Loge would have been a more fitting name).
Having spent most of my career thus far on the operatic stage, I was increasingly feeling the want to explore recital repertoire. Though representation for marginalised communities in opera is improving, I have yet to play an openly gay character on stage. Any insinuation that a character I have played may be queer has been for comedic effect or to somehow make sense of an under-developed libretto, neither of which particularly gratifying. Art songs give singers the opportunity to bring more of themselves to the stage but I was struggling to find songs that I connected with; this led to the realisation that queer representation in art song is hugely lacking. I knew there had to be more meaningful representation for me within it somewhere, and I became determined to seek it out.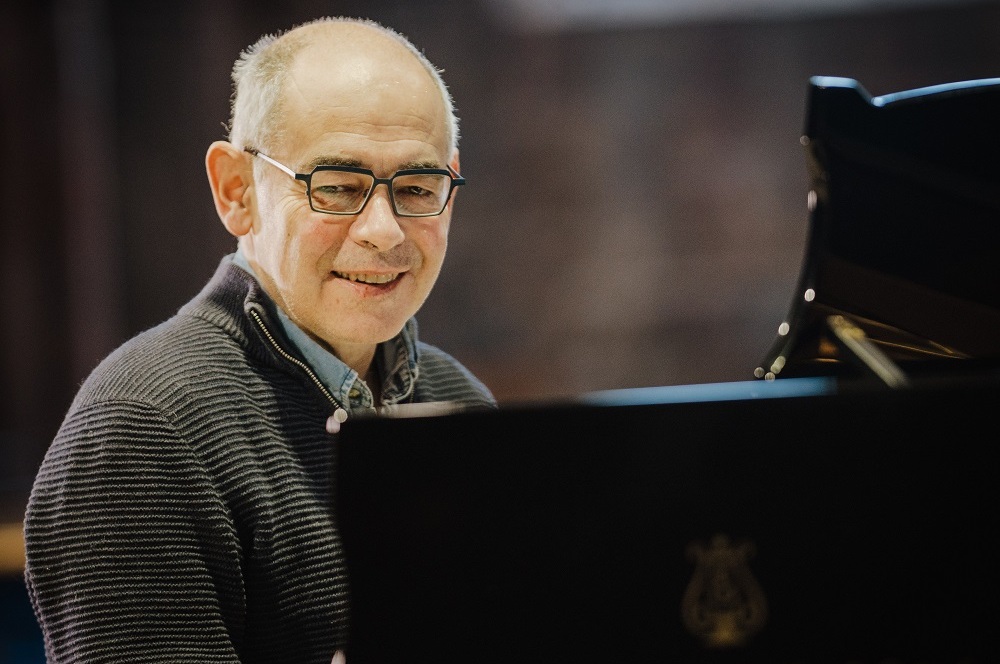 In March 2022 I contacted Iain Burnside (pictured above at the recording session), with whom I had worked during my years as a Harewood Artist at English National Opera, and we discussed all the possibilities that a queer-themed album could bring. I am so grateful to Iain for being my partner on this project. Having a musician of his standing by my side has been invaluable, for both his beautiful playing and unparalleled knowledge and passion for the repertoire. As well as helping me curate the programme, Iain also introduced me to Delphian Records. They were the perfect choice: they are open to new ideas and repertoire and they produce beautiful albums with highly effective marketing. And so, Unveiled was born.
Unveiled tackles themes of love, shame, acceptance, war and death. The programme traverses a history of male homosexuality from necessary discretion to the relatively liberated present. Although we have come a long way, there are millions of people still battling for the freedom to live as their true, authentic selves. We must never stop fighting for the right to love who we love.
Our starting point was Britten's Seven Sonnets of Michelangelo, songs he had written in 1940 for his partner Peter Pears. During my research, I found reading the correspondence between these two men deeply moving. Previously, I had always thought of Britten and Pears as being two rather serious and strait-laced individuals, any footage we have of them gives very little away about their relationship. Their letters lift the veil on just how in love these two men were - if you haven't read them, I highly recommend doing so. The sonnets are heard in Unveiled in English for the very first time. These new translations by Jeremy Sams are immediate, stark and beautiful, exposing these songs fully as what they are: a declaration of true and eternal love. I don't think it's a stretch to say that even if you speak Italian, you might have struggled to penetrate these rather dense poems by Michelangelo - meaning that Britten and Pears could bare their souls with somewhat less risk. This was, after all, before the passing of the Sexual Offences Act in 1967, meaning they could have been imprisoned if their relationship was exposed.
I settled on Michael Tippett's Songs for Achilles next, but I needed a guitarist: I gave Craig Ogden a call and – luckily – he agreed! What I especially love about Songs for Achilles is the unambiguous depiction of Achilles and Patroclus as lovers, not as cousins or friends as is so often the case.
I had two cycles by composers who are very well-known that have been recorded before - I needed something that wasn't either of those things. After some research, I came across Ruth Gipps' name. I had never heard of her. Four Songs of Youth were written specifically for tenor voice and written in 1940, the same year as Britten's sonnets, set to four poems by bisexual wartime poet Rupert Brooke. I discovered they had never been recorded and scarcely performed; I'm not a great believer in fate, but I like to think I was meant to record these songs and present them in this context.
For the final piece on the programme, I had a mad idea: I wanted to compose my own song cycle. I said to Iain, "if these turn out to be rubbish you have to tell me". I got in touch with Andrew McMillan, a Manchester-based queer poet whose work I was familiar with. I asked if he had any poems he thought would work in a musical setting and he pointed me towards Swan, a sequence of poems he had written after seeing Matthew Bourne's version of Tchaikovsky's Swan Lake.
They were perfect: eight short poems telling a contemporary queer story, a story many could relate to and a story I felt music would only enhance. A few (read: many!) drafts later, I had something. Iain didn't say they were rubbish and the next thing I knew, I was recording them. These are the songs I'm most nervous about, naturally.
We almost had our programme, but something was missing. I needed something lighter, more accessible, a song that was more familiar and yet not well-known. To Gratiana dancing and singing by W Denis Browne fitted the bill. He was a close friend of Rupert Brooke, having attended both Rugby School and Cambridge with him. They were both commissioned into the Royal Naval Division after the outbreak of the First World War, a war of which neither would see the end.
Denis Browne (pictured right) buried Brooke on the Greek island of Skyros after he died onboard a French hospital ship at only twenty-seven years of age. Denis Browne was killed less than two months later during the Gallipoli Campaign, aged just 26. It is widely believed that this song was in fact written with Brooke in mind. One of Denis Browne's dying wishes was that most of his music be destroyed, leaving us with only a handful of his work to admire. It is a beautiful piece and I'm delighted it found its way onto the album.
So why 'Unveiled?' The title came to me from a brainstorm with my partner. Firstly, we have the Britten songs heard in English for the first time, making their significance for the original creator and interpreter truly explicit. We have Songs for Achilles, already based on a queer subject matter, enhanced further by the thematic content of the rest of the album. We have a premiere recording of songs by a female composer who was sidelined in favour of her male contemporaries. And finally, we have my own composition, representing my second time coming out – this time, as a composer.
Alongside wrestling with copyright issues and composing software, I also had to learn about fundraising. I have been profoundly fortunate to have found a group of truly lovely people who made this album possible for me. By giving their time and money, they allowed me to fulfil this ambition and I cannot express my thanks enough to each and every one of them. Without the support of donors such as these, true music lovers who simply want to help keep it all going, our art-form would not survive.
My own composition representis my second time coming out – this time, as a composer
Explore topics
Share this article