Feldmann, BBC Philharmonic, Storgårds, Bridgewater Hall, Manchester review - adventures in the unusual |

reviews, news & interviews
Feldmann, BBC Philharmonic, Storgårds, Bridgewater Hall, Manchester review - adventures in the unusual
Feldmann, BBC Philharmonic, Storgårds, Bridgewater Hall, Manchester review - adventures in the unusual
Enthusiasm rewards a musical journey to Finland and beyond
Sure hand at the helm: John Storgårds conducts the BBC Philharmonic
For the most adventurous programme in its autumn Saturday series at the Bridgewater Hall, the BBC Philharmonic's John Storgårds brought two works from his native Finland's repertoire, and a concerto some distance from the beaten track.Like the Hallé's concert of mainly new music with Thomas Adès two days before, it did not pull the crowds in, despite a sweetener in the mix, but those who were there were enthusiastic.
The sweetener was Sibelius' tone poem, Pohjola's Daughter, which, oddly for a repertoire work, seemed to get off to a slightly sticky start. Maria Zachariadou's haunting cello solo – itself beautifully played – began against a strangely balanced wind chord, and the string motifs following it were slightly imprecise. There was much to admire after that, though, especially the solo playing of cor anglais (Gillian Callow), oboe (Jennifer Galloway) and clarinet (John Bradbury), but right at the end the pianissimo violins managed to be a mite sour-sounding. It's an old-fashioned story-telling piece, though, with a mysterious start and a bitter ending, so maybe that was all in aid of narrative realism.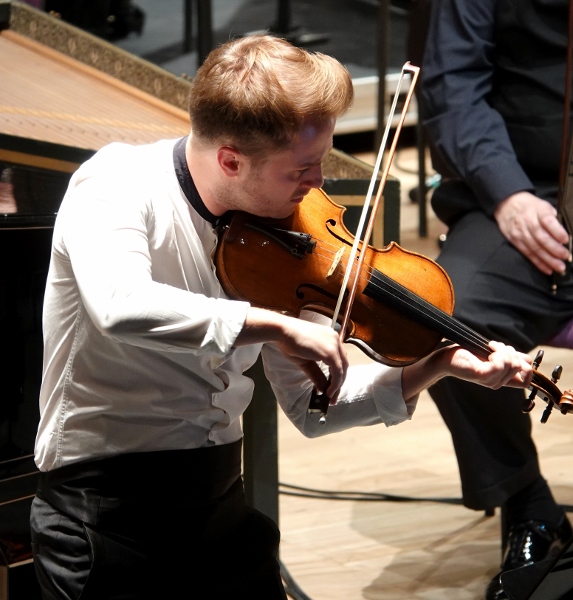 The guest soloist was Tobias Feldmann (pictured right), in Sofia Gubaidulina's second violin concerto, titled In tempus praesens, from 2007. The large orchestra employed for the Sibelius piece had to be strikingly changed to play this one: the soloist being the only violinist on the platform but the lower strings, wind, brass and percussion contingents all expanded and piano and harpsichord added to the two harps already present. It's a sequence of fast-changing episodes without movement divisions (though the doomladen sound of the tam-tam seems, to my ears at least, to be a kind of milestone more than once), and pits the lone sound of the single violin against mighty hosts arrayed around it. That sound is the voice of wisdom (in Gubaidulina's concept – and, if it was relevant to "present time" in 2007, wisdom's lonely voice is certainly needed now).
Feldmann played with unfailing tonal beauty and earnest passion, the cadenza-like section rendered with utmost expression, sounding both plaintive and lovely. The orchestra, particularly the multi-tasking percussionists, have their moments of glory, whether tinkling, twittering, grumbling or thundering, and it seems as if the bad guys win for a time – but we hear something like major triads at the end (with a little percussion fading away) which seems like a happy ending. John Storgårds piloted them through all this with sure hand.
The language of Rautavaara's Symphony no. 7 ("Angel of Light") is very different. There's a lot of what seems traditional in it – four movements, rich tonal harmonies, soaring melodic lines and long structural paragraphs – but mixed together in a way that still sounds novel though it's nearly 30 years old. The ample sound of the Philharmonic is ideal for music such as this: unflagging in the energetic (and then majestic) second movement, beautiful in richness of tone from the strings (led by Zoe Beyers), in the third and final movements, and gloriously warm and romantic in the visionary and almost filmic conclusion.
Recorded for broadcast on Radio 3 on Wednesday 1 November
Feldmann played with unfailing tonal beauty and earnest passion
rating
Explore topics
Share this article