Faust, English Baroque Soloists, Gardiner, St Martin-in-the-Fields review – gusto and grace
Faust, English Baroque Soloists, Gardiner, St Martin-in-the-Fields review – gusto and grace
Wit and vim invigorate favourite Haydn and Mozart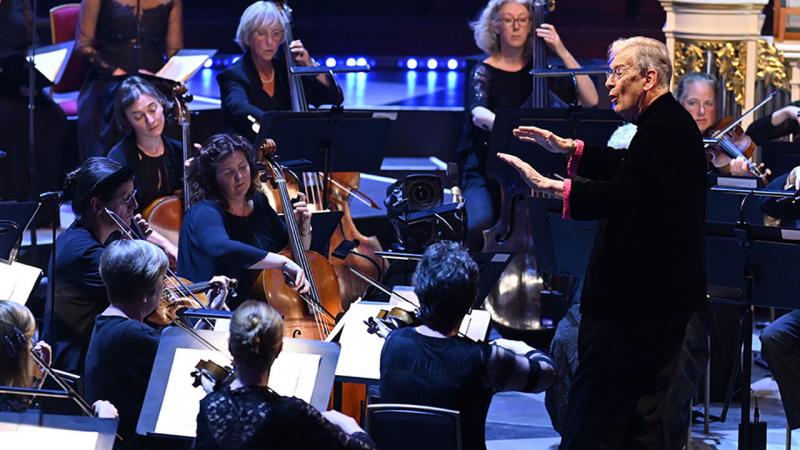 Forever young: John Eliot Gardiner and the English Baroque Soloists
More than half a century has passed since John Eliot Gardiner's choir and orchestras first won their historically-informed licence to thrill. A feverish Saturday night at St Martin-in-the-Fields proved that Gardiner and the English Baroque Soloists can still quicken the pulse and rinse the ears of the most jaded concert-goer.
In James Gibbs's elegant temple, a programme of top-drawer Haydn and Mozart symphonies interspersed with a brace of Mozart violin concertos might sound like a recipe for low-key polish and
politesse
. In the event, Gardiner – who turned 79 last week – and his band delivered a show that felt a bit more like
Bridgerton
than teatime BBC Jane Austen: richly, even gaudily, coloured, bristling with flair and wit; fiercely keen as ever to make us hear the mischief, invention and fun behind the staid forms of Classical decorum.
He also served up generous measures. Soloist Isabelle Faust (pictured below by Felix Broede) played the third of Mozart's late-teenage concertos before the interval, and the first after it. Bookending the bill were two forceful, ingenious masterworks in E flat major: Haydn's "Drumroll" Symphony, no. 103, and Mozart's 39th. Given the drive, pace, verve and sense of drama that Gardiner reliably brings to even the most familiar of concert staples, it all made for an invigorating evening to match the bright, brisk April day outside. St Martin's on a weekend night can demand extra gusto to override the cacophonous mayhem of Trafalgar Square outside. Gardiner's high energy, and high spirits, gave us that and more.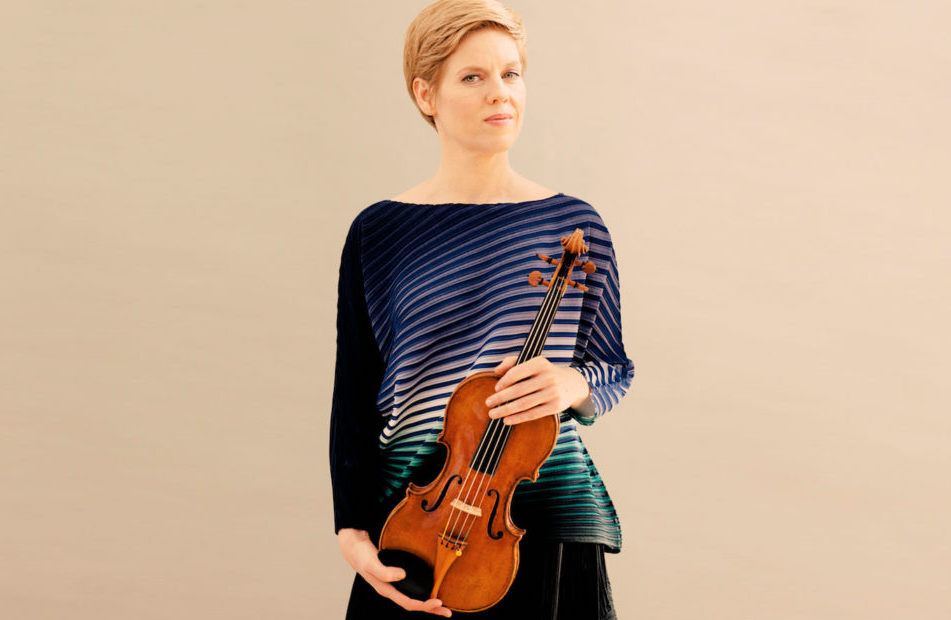 There's an argument that the aural ambushes that Haydn planted in his London symphonies stemmed from the need to grab the attention of chatting or dozing patrons. In the "Drumroll", we get that ominous percussion intro – dashingly despatched by timpanist Robert Kendell – and a chilling snatch of the "Dies Irae" on low strings before anything like normal salon manners returns. But Gardiner looked in no mood to let anyone nod, with crunchy entrances, slyly varied tempi and a swinging lilt to the EBS strings interrupted by thunderous, corpse-awakening tutti. The folk tunes of the Andante (Croatian ditties, it seems) made for a lovely Haydn-esque cocktail of the knowing and naive. They also showcased the Soloists' long-serving, exemplary leader Kati Debretzeni. She went into full gypsy-fiddler mode with enormous charm and flair. After a punchy minuet and trio with some explosive moments, delicious touches from the all-important woods, and no trace of idle chit-chat, the finale – unleashed by the flavourful horns – galloped home in champion style. However familiar the score, Gardiner never lets his hovering, raptor-like attention slip; his sudden starts, thrusts and pounces always (as it were) keep our ears on their toes. In a compact venue such as St Martin's, at their 40-strong full complement, the EBS wield not just a joyful but a truly mighty sound. Gardiner kept it all tight, swift and cleanly phrased, but with space for the strongly-accented voices of individual players to be heard.
When Isabelle Faust began the Allegro of Mozart's third violin concerto, from 1775, I wondered whether those emphatic EBS strings might compete a touch too boldly with her. Soon, balance issues resolved, and Faust's graceful but never insipid tone took ownership of the church. She didn't stint on Mozart's endless lyrical flow, but her vibrato-lite playing has a warmth and mellowness that perfectly offset the smoky, dusky flavour of the orchestra's woods. The Allegro (with its recycled aria from Mozart's youthful opera Il re pastore) yielded to the sumptuous cantilena melody of the Adagio: finely complemented by the flutes, and gorgeously sustained by Faust. The droll dance themes of the finale – levered in almost like a DJ's samples – allowed her to channel the dapper cheerfulness that hallmarked the whole evening. Faust's, and Gardiner's, quick-change artistry meant that moods and timbres could shift in a trice. No hint of monotonous daintiness ever let the music sag.
In comparison, the first concerto – written a couple of years previously – feels more like the work of a supernaturally talented apprentice. Still, its clever if conventional prettiness and stretches of twirling virtuosity gave Faust another chance to display a formidable control – in high-wire, high-risk runs and passagework – that never overshadowed the colour and character of her playing. She's capable of cheek and grace at once, earthy stomps as well as airy, filigree flights. If this was an evening that encouraged us to hear the pulsing blood and straining sinew that fuelled Classical suavity, then Faust's alloy of robustness and refinement splendidly kept with the programme.
In Mozart's 39th, the EBS at full blast and full tilt (pictured above at St Martin's by Paul Marc Mitchell) proved that E flat major need not – as musical folklore suggests – always entail an aura of mellow serenity. Rather, Gardiner put his focus on the radical instability that rocks the first movement, as it lurches between sing-song lyricism and volcanic tutti eruptions. Gardiner's rhythmic drive, and breath-catching swerves and halts, meant that the music could never settle into an ear-lulling groove. The Andante also bristled with his coiled, darting energy. Here and in the following Minuet, the EBS woods gurgled, parped and hooted with valiant, almost insolent, panache.
Chapeaux to clarinets Frank van den Brink and James Maltby, who made the most of their limelight moments in the bucolic, ironic Ländler – although flute and bassoons made piquant contributions too. On, then, to the hectic, manic scurry of the Finale, as barn-storming and roof-raising as it should be, but with Gardiner's firmly pointing fingers always on its racing pulse. The movement's wit and zest came from the knife-sharp timing and pacing that Gardiner has at his command; a shame, then, that the old curse of premature applause slightly spoiled the Haydn-like joke of the trick ending that Mozart slips in at the close. Still, the St Martin's congregation responded with open-throated roars, at least, rather than a genteel, churchy ripple. Gardiner, Faust and the EBS players had earned every shout.
Gardiner – 79 last week – and his band delivered a show that felt a bit more like 'Bridgerton' than teatime BBC Jane Austen
rating
Explore topics
Share this article