Exclusive: Friar Alessandro, The Voice of Assisi |

reviews, news & interviews
Exclusive: Friar Alessandro, The Voice of Assisi
Exclusive: Friar Alessandro, The Voice of Assisi
Listen to the enchanting debut album from 'the next Italian tenor', a young Franciscan friar
By day, Friar Alessandro Brustenghi lives and works in the Basilica of Santa Maria degli Angeli in Assisi. In his spare time, he works as a carpenter. But he also has a new career as, in the words of his producer Mike Hedges, "the next Italian tenor". The fruits of his entry into Abbey Road's recording studio is Voice from Assisi. You can listen here on theartsdesk to the entire album, exclusively until midnight on Thursday.
Voice from Assisi consists of traditional and modern sacred songs, from Schubert's Ave Maria and "Sancta Maria" from Cavalleria Rusticana and a recently discovered aria by Bellini, through settings of prayers by St Francis of Assisi.The Franciscan theme is established in the first track with Donovan's song "Fratello Sole, Sorella Luna" from Franco Zeffirelli's 1972 biopic of St Francis, Brother Sun, Sister Moon.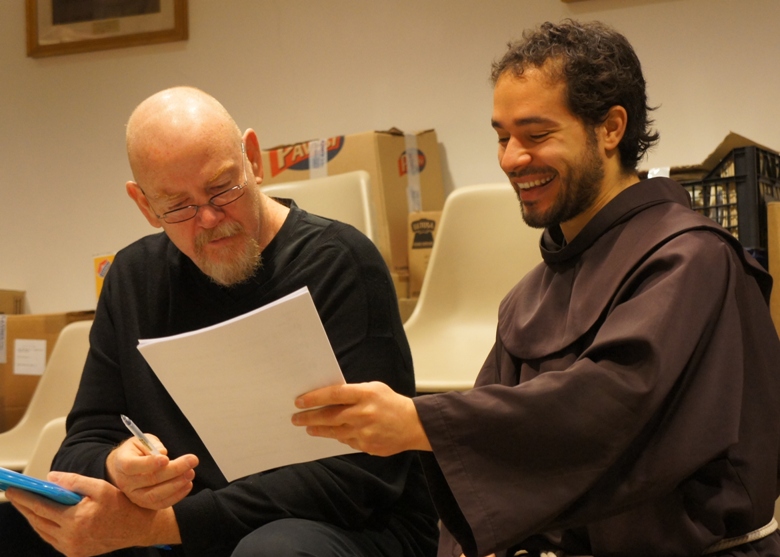 "Listening to his debut recording is a highly satisfying experience," writes theartsdesk's classical CD reviewer Graham Rickson. "Hedges' arrangements are invariably discreet and sensitive, and they're coupled with Friar Alessandro's glorious voice. His tenor never feels overstretched or artificial – you sense that Hedges has just placed him in front of a microphone and let him simply sing. And, in an accommodating Abbey Road acoustic, the results are beguiling." (Friar Alessandro pictured above right with Mike Hedges.)
Alessandro's back story is intriguing. Now 34, he was born and raised in Assisi and became interested in music at an early age, starting organ lessons at the age of nine. He attended a specialist music school as a teenager but his vocal talents lay dormant. "I'd always sung in the choir but I had a tiny voice. One teacher told me that I should sing because she needed the students to fill up her class." Spiritual and musical ambitions conflicted; at the age of 21, he decided to become a friar, seeing his musical talents as gifts which needed sacrificing.
But, needing to pass a vocal exam to enter the ministry, he threw himself into an intense practice regime: "I began to train myself with breathing exercises. It was like climbing a mountain." The voice blossomed, but Alessandro struggled to balance his devout faith with his musical ambition. Discovered by Hedges, who has produced U2, The Cure and Manic Street Preachers, he was persuaded to regard his vocal talent as a treasure to be shared. And, having taken a vow of poverty, he has refused to accept any royalties for Voice of Assisi, so all proceeds going to charity.
This exclusive listening offer has now ended
One teacher told me that I should sing because she needed the students to fill up her class
Explore topics
Share this article