Dunedin Consort, Butt, Wigmore Hall review - Christmas glory in Venice and Dresden |

reviews, news & interviews
Dunedin Consort, Butt, Wigmore Hall review - Christmas glory in Venice and Dresden
Dunedin Consort, Butt, Wigmore Hall review - Christmas glory in Venice and Dresden
Heaven on earth: a full-bodied festive treat
Wednesday, 21 December 2022
Earth, wind and fire: the Dunedin Consort
St Mark's shadow fell gloriously over the Wigmore Hall last night with a programme of Christmas music performed in, or inspired by, the great basilica of Venice.
The Dunedin Consort braided festive works from pioneers who wrote for its grandly sonorous spaces – Gabrieli, Monteverdi, Grandi – with pieces by their German visitor and student Heinrich Schütz, culminating with his
Christmas Story
(1660).
No one knows better than the Dunedins' director John Butt how risky it is to posit historical "authenticity" for any interpretation of music composed four centuries or more ago (he wrote a definitive book on that topic). Still, we can claim beyond all doubt that Butt and his colleagues served up a seasonal banquet that made lavish and ravishing sense on its own persuasive terms. Voices – solo and choral – and strong-flavoured period instruments combined to raise the roof and lift the spirits as the hall's modest dimensions seemed to expand to cathedral size.
At this time of year, many fine ecclesiastical choirs will remind you of the ethereal, angelic aspects of late-Renaissance and early-Baroque sacred music. Though hardly lacking in subtlety, the Dunedins with Butt preserve the earthy, sensual thrill that the early-music movement first brought to this repertoire. However ecstatic or otherworldly the result, this music always has grain, fibre and deep, embodied human texture, from the singers' breaths to the sackbuts' growl. Here rustic shepherds and celestial angels both have their essential parts to play, and did so splendidly. Arguably, the German items supplied domestic, bürgerlich intimacy and conviviality, while the Venetians sparkled and blazed with heavenly glamour and mystery. But the Dunedins allow you to hear the family kinship that binds Schütz's cosy Lutheran storytelling to the Italianate splendour he brought home to Saxony.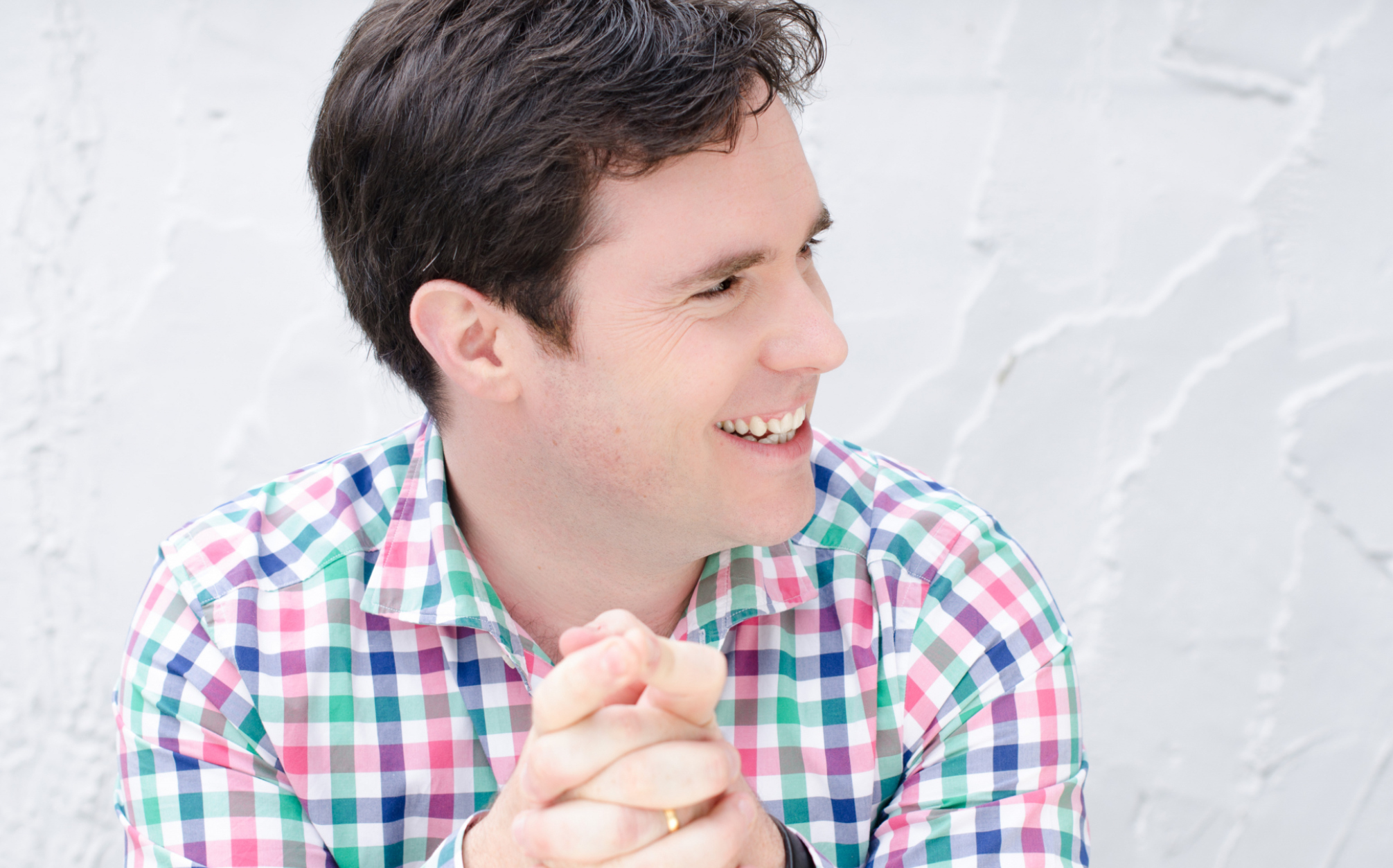 A stretch of Christmas narrative from Schütz's Geistliche Chormusic introduced us to the springy, punchy and well-blended sound of the Dunedin choir. Grandi's motet Plorabo die ac nocte let some of the star individual voices shine: Joanne Lunn's expressive, full-bodied and radiant soprano; Alex Potter's robust and finely-controlled alto; and Nicholas Mulroy [pictured above] as the stalwart, confiding, warm-toned tenor rock on which the whole evening would rest. In Gabrieli's O Jesu mi dulcissime we enjoyed the wall-stretching illusion of a mighty choral sound generated from a mere ten voices. The Dunedins appeared to reconfigure the entire Wigmore architecture to suggest endless vistas of shadowed naves and transepts under a soft Adriatic winter light. Butt's direction regularly found variations of tempi, texture and dynamics to avoided any monotony or uniformity of sound.
After this aristocratic solemnity, Schütz's Hodie Christus natus est followed with its folkish, dancing merriment; homespun German cloth – or rather, a sophisticated imitation of it – next to fancy silk brocade. An instrumental sonata in C by Schütz's contemporary David Pohle showed off the distinctive mellow string palette, and rhythmic drive and gusto, of the Dunedin players – led by the outstanding Matthew Truscott. Monteverdi's Laudate pueri Dominum, capped by Gabrieli's Quem vidistis, pastores, pulled us magnificently back into the lordly Venetian theatre of polyphony. Now golden, glittering period brass – Gawain Glenton's and Conor Hastings's cornettos, Philip Dale's and Emily White's sackbuts – trilled around sublimely woven voices to summon a mood of majestic euphoria.
Schütz's contemplative and quietly involving Christmas Story, which filled the second half, offers more fortifying comfort than demonstrative joy. The Gospel stories become homely and intensely personal, with few spells of spangled Venetian drama but a multitude of telling touches as the instruments illustrate or intensify the vocal lines. As the Evangelist storyteller, Mulroy held the show together with stamina and sensitivity, his recitatives intimate, assured and beautifully phrased.
The soprano of Joanne Lunn [pictured above] – as the Angel and later in the decorative dazzle of Stehe Auf – soared into the heavens but also robustly swooped to earth, with power and character to spare. Collective choral numbers, such as a thrilling Ehre sei Gott in the Höhe, punctuated and amplified the overall sense of a sacred fireside yarn. Instrumental obbligati – the shepherds' recorders in Lasset uns nun gehen; the playfully defiant cornettos that mock Herod's vain threats against the holy babe – enrich every stage of the story with colourful but discreet touches of musical scene-painting. Schütz's Christmas drama, we grasped, can stand proud and self-sufficient as an achievement in itself, not simply a half-way house along the evolutionary road that leads from Monteverdi to Bach. After the heart-stirring ensemble of choir, strings and brass in the final Beschluss, Butt promised us a little encore from the same stable. It came (inevitably, perhaps) in the shape of Es ist ein Ros entsprungen. The Dunedins deftly wrapped the carol with Michael Praetorius's enveloping harmonies and their own brass flourishes. Few of the shoppers who crowded the swanky stores nearby could have found a more gratifying gift.
The Dunedins allow you to hear the family kinship that binds cosy Lutheran storytelling to Italianate splendour
rating
Explore topics
Share this article