Classical CDs Weekly: Ives, Plakidis, Shostakovich |

reviews, news & interviews
Classical CDs Weekly: Ives, Plakidis, Shostakovich
Classical CDs Weekly: Ives, Plakidis, Shostakovich
Visionary Americana, Latvian orchestral music and a pair of Soviet violin concertos
Pēteris Plakidis takes a break
Ives: Universe, Incomplete (Accentus DVD)
Charles Ives's Universe Symphony, conceived for 4,000 musicians positioned on different mountain tops, never saw the light of day. Sketches for the work span his creative life, some made as late as 1948, and several composers have created speculative performing editions. Ives did leave a note, explaining that "in case I don't get to finishing this, somebody might like to work out the idea." You suspect that he had no intention of completing it. This DVD set contains Christoph Marthaler's Universe, Incomplete, performed during the 2018 Ruhrtriennale. Marthaler and conductor Titus Engel use two fragments of the planned symphony which Ives left intact, along with a selection of other Ives pieces. I'll confess to finding the music, and the vast turbine hall where the production was filmed, more involving than Marthaler's staging. It opens with the performers shuffling through a caravan checkpoint, and ends, fittingly, with The Unanswered Question. Presumably you had to be there. The music, though, is phenomenal – close your eyes and marvel at the bold audacity of Ives's imagination.
Buy this set for the second disc: Anne-Kathrin Peitz's hour-long documentary The Unanswered Ives is outstanding, and could have been three times as long. The talking heads, including John Adams and Jan Swafford, are excellent. Adams refers to Ives as "the godfather of American music", and Swafford ponders The Unanswered Question's potency, noting that because the question is unanswered, we're drawn in. It's fascinating to learn that Ives's methodical, ordered approach to selling life insurance is still followed today, and it's no surprise that his burning the candle at both ends – working long hours in Wall Street and composing until 4 am – took its toll, Ives suffering a creative collapse in the 1920s, complaining to his wife Harmony with tears in his eyes that "nothing sounds right." It's tantalising to imagine Ives and Mahler talking shop in the office of the New York copyist they both used, Swafford revealing that Mahler kept some of Ives's sketches for his Symphony No. 3. Peitz makes good use of archive footage and the musical extracts are absorbing.
Pēteris Plakidis: Glance Back (Atskatīšanās) Latvian National Symphony Orchestra/Vassily Sinaisky (Skani)
Not knowing anything about a composer or their work can be liberating, and in this case it's fitting. One contributor to this disc's booklet notes refers to Pēteris Plakidis's own comments about his 1986 orchestral piece Canto as "meagre", though praising him for "not babbling about the thoughts and ideas contained in a work… in the music – that's where it can all be found." Born in Riga in 1947, Plakidis's career included a spells as Music Director at the Latvian National Theatre and many years teaching composition at the Latvian Academy of Music. Plakidis sought to "speak Latvian" in his music, using modes, stark harmonies and drones. Four substantial orchestral pieces fill this disc, written between 1976 and 1991. The details of what each one is "about" are sketchy; what's instantly apparent is how well they sound together as a sequence, and that Plakidis was a superb orchestral technician. This music, even when using large forces, is so transparently scored, Plakidis's broadly tonal language distinctive and immediately appealing. Plakidis never wrote a symphony, but the contents of this disc almost amount to one in disguise, something along the lines of Sibelius's Lemminkainen Suite. Canto is a huge triple-time processional with added electric guitar, the forward motion occasionally disrupted before peacefully winding down. The Variations were completed a decade later and follow a similar path, frenzied craziness offset by serenity.
Legend is the earliest work, making more overt use of Latvian folk material and showcasing some effective percussion writing. Glance Back was completed in 1991, shortly after Latvia regained its independence. Plakidis's string writing and fondness for bell sounds recalls the music of Arvo Pärt. It's magical stuff, an outpouring of guarded optimism which fades into silence. A treat, and handsomely played by Vassily Sinaisky's Latvian National Symphony Orchestra. Skani's recorded sound is deep and punchy.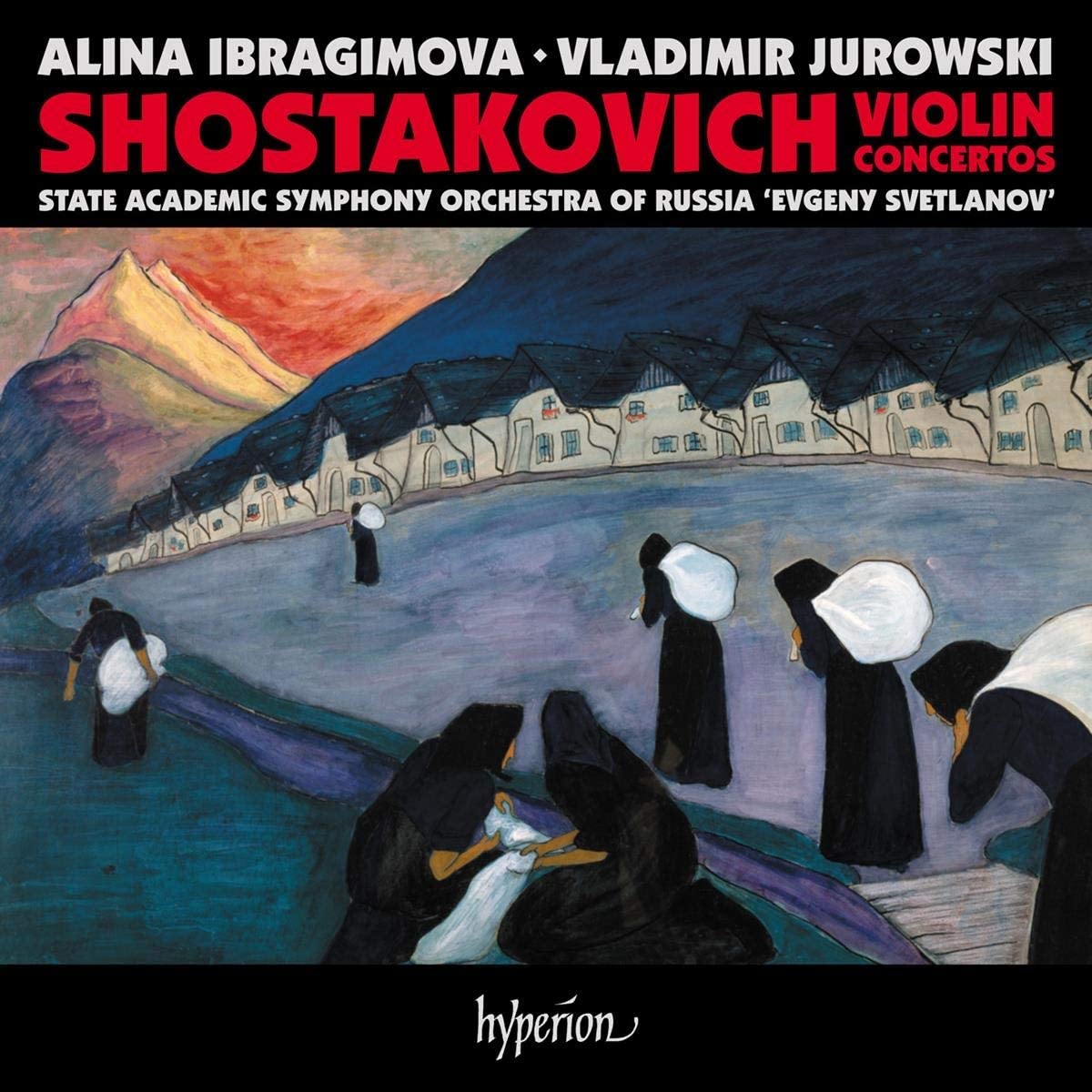 Shostakovich: Violin Concertos Alina Ibragimova (violin) State Academic Symphony Orchestra of Russia 'Evgeny Svetlanov'/Vladimir Jurowski (Hyperion)
Shostakovich's epic Violin Concerto No. 1 has definitely come in from the cold; recordings, at least Western ones, were hard to come by until Itzhak Perlman taped the work for EMI in the 1980s. Completed in 1948, the concerto should have been Shostakovich's Op. 77, but the Zhdanov Decree and "cultural uncertainties" prompted him to keep it hidden from view, giving the opus number instead to the mysterious, still unperformed Three Pieces for Orchestra. Dedicatee David Oistrakh eventually gave the delayed first performance of what the composer described as "a symphony for violin and orchestra" in 1955. Alina Ibragimova's recording gives us the work as it was originally planned, the first statement of the finale's theme played by the soloist instead of full orchestra – Oistrakh having asked Shostakovich to rescore the passage in order to allow him a breather after the long cadenza. It doesn't actually make a huge difference, though the published version works better for me, the soloist's first entry in the "Burlesque" cheekier and more intrusive, like a late-arriving party guest. Ibragimova's is a fabulous performance though, she and conductor Vladimir Jurowski whipping up hysteria in the work's final seconds. Jurowski draws wonderfully dark, stark sonorities from his Moscow players: sample the great passacaglia's opening and flinch, the basses and cellos really digging in. It's one of the greatest movements in any 20th century concerto, Ibragimova commanding and consoling by turns. Terrific.
The concerto's successor, a premature 60th birthday gift for Oistrakh, is still a concert hall rarity. A shame – stick with it, and it's a real grower, much as the Cello Concerto No. 2's charms take time to work their magic. Shorter and more lightly scored than No. 1, it's full of intriguing details – the brilliant writing for tom-tom stands out, and there's a glorious, unexpectedly romantic horn solo near the end of the slow movement, beautifully played here. Ibragimova is superb in the last movement cadenza, the lopsided dash to the finishing line as chilling as it is funny (listen to what she does 7'25" in, seconds before the final bars). You'll need a sit down afterwards. Brilliantly recorded, well-annotated and with good sleeve art – a must have.
It's tantalising to imagine Ives and Mahler talking shop in Manhattan
Explore topics
Share this article