Classical CDs Weekly: Dvořák, Toivo Kuula, Mozart |

reviews, news & interviews
Classical CDs Weekly: Dvořák, Toivo Kuula, Mozart
Classical CDs Weekly: Dvořák, Toivo Kuula, Mozart
All the Czech violin concertos you'll need, plus Finnish orchestral music and a fruity horn disc
Saturday, 24 October 2015
Josef Špaček: an idiomatic performance of Suk that feels definitive
Dvořák, Suk, Janáček: Violin Concertos Josef Špaček (violin), Czech Philharmonic Orchestra/Jiří Bělohlávek (Supraphon)
Dvořák, Suk, Janáček: Violin Concertos Josef Špaček (violin), Czech Philharmonic Orchestra/Jiří Bělohlávek (Supraphon)
Josef Suk's expansive single movement Fantasy in G minor is a big-boned, lovable work; it's a surprise to learn that Suk complained in later years that he'd had "enough of it to last a lifetime." Suk's large-scale pieces can be a little overbearing. This 23-minute work isn't. It opens brilliantly witha furious tutti passage full of quirky modulations and punchy accents. You expect that soloist Josef Špaček's first entry will calm things down, but Suk's music becomes increasingly capricious – storms and sunshine juxtaposed to superb effect.
Some passages sound astonishingly modern – there's a disconcerting moment 11 minutes in where a dry bass line is answered by sharp wind chords. Just when you think it's about to end peacefully, the furious mood closes proceedings. This is a piece to enjoy again and again, and Špaček's idiomatic performance feels definitive. And here they're so well accompanied too, by one of the few conductor/orchestra combos which can claim to have Suk's music in its blood. Špaček is the orchestra's leader – you'd expect nothing less.
Janáček's unfinished Violin Concerto, subtitled "The Wandering of a Little Soul", started life in 1926 but was abandoned a year later. Some of the material resurfaced in the opera From the House of the Dead, and the concerto was reconstructed in the 1980s. It sounds exactly as you'd expect, its 12-minute span taking in tragedy, comedy and high drama. Špaček's tone is darker, grittier, and Bělohlávek accentuates the orchestral oddities. This must be the only violin concerto with parts for rattling chains. Špaček also gives us Dvořák's loveable concerto. A flop after its 1883 premiere, it's still not performed enough. Bělohlávek and Špaček are supremely affable in the lolloping 3/8 finale. It's very well recorded, the balance between soloist and orchestra near-perfect.
Kuula: South Ostrobothnian Suites 1&2, Festive March, Prelude and Fugue Turku Philharmonic Orchestra/Leif Segerstam (Ondine)
Finnish composer Toivo Kuula met his premature end through a gunshot wound, received during drunken celebrations following the end of the Finnish Civil War in 1918. Ondine's notes mention Kuula's fiery temperament and include a magnificently cheesy tribute from his friend Levi Madetoja: "The poet of the plains of Southern Ostrobothnia stepped into the sombre ferryman's barge… and donned the laurels of death." Crikey. Kuula is also known for being a pupil of Sibelius. So you'd be forgiven for expecting something epic and brooding from this release. On the evidence of Leif Segerstam's new compilation, Kuula was a composer of delectable miniatures and a brilliant melodist. The one really imposing moment comes when a solemn brass chorale emerges near the close of the Prelude and Fugue, before a pleasingly austere coda. Kuula's Festive March feels just a little too long and not quite festive enough, despite the excellence of the playing.
Best to start with the two South Ostrobothnian Suites, folk-inspired works completed in 1907 and 1913 respectively. They abound in ear-tickling moments: the cor anglais solo in No. 1's "Landscape" is exquisite, and the same suite closes with a magical evocation of dusk. No. 2 is better still, showing how Kuula's technique had developed in just a few years. "Rain in the Forest" has the dampest, muggiest opening imaginable, achieved with little more than a quiet drum roll and scurrying string ostinato. "The Will-o'-the-Wisp" bids us farewell in a highly satisfying, downbeat fashion. Immaculately performed by Leif Segerstam's Turku Philharmonic – a highly enjoyable disc.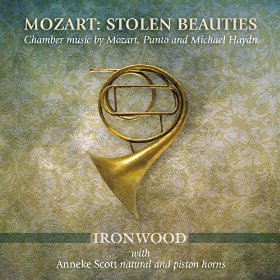 Stolen Beauties: Chamber music by Mozart, Punto and Michael Haydn Ironwood, with Anneke Scott (natural and piston horns) (ABC Classics)
Mozart links the various items on this anthology, along with the lives of a clutch of horn virtuosi active in the 18th and 19th centuries. Josef Leitgeb was the player who inspired Mozart to write his horn concerti. Unfairly remembered as a simple-minded soul who was the butt of Mozart's bad jokes, he must have been a phenomenal player. As is shown by Anneke Scott's performance of Mozart's Horn Quintet, a work even more demanding than the concertante pieces. It closes with a fiendishly witty Allegro, demonstrating that hornists shouldn't be restricted to hunting finales in 6/8 time. Mozart's use of two violas instead of two violins gives the piece a very distinct, autumnal colour, and there's nowhere for the soloist to hide.
The huge leaps and rapid semiquaver passages are flawlessly handled, and an ideal balance means that Scott is never too loud. Pip Eastop's recent version on Hyperion is outstanding, but Scott's musicality and sensitivity make this a version to live with, along with fine string-playing from the Australian period-instrument ensemble Ironwood. Michael Haydn's Romance in Ab for horn and string quartet appears at first to be an arrangement of the slow movement of Mozart's K447. Which work was composed first still isn't clear; the two composers were close friends and it's suggested that the Romance contains ideas from both. There's also a neat transcription of Mozart's Kegelstatt trio, for piano, horn, viola and cello.
There's an Air varié pour corno based on a famous aria from Don Giovanni, written by an unknown hand in 1845 for the London-based player Giovanni Puzzi. Scott tackles the increasingly difficult variations with ease, though 10 minutes of remorselessly jolly Eb can seem a long time. We also get three duos by the Bohemian horn player Jan Vaclav Stitch, better known as Giovanni Punto. Originally for horn and bassoon, they sound fine with a cellist. Scott's notes are scholarly but accessible. What's not to like?
Toivo Kuula met his premature end through a gunshot wound
Explore topics
Share this article