Classical CDs Weekly: Brahms, Shostakovich, Tchaikovsky |

reviews, news & interviews
Classical CDs Weekly: Brahms, Shostakovich, Tchaikovsky
Classical CDs Weekly: Brahms, Shostakovich, Tchaikovsky
Romantic orchestral music, a bleak Soviet symphony and a jazzy ballet reinvention
Saturday, 19 October 2013
Duke Ellington and Billy Strayhorn
Brahms Beloved: Symphonies 2 & 4, Clara Schumann Lieder Orchestra Sinfonica di Milano Giuseppe Verdi/John Axelrod, with Indra Thomas, Nicole Cabelle (sopranos) (Telarc)
There's a glut of Brahms symphonies on disc this autumn, with live recordings from Valery Gergiev and a new Leipzig cycle on Decca from Riccardo Chailly. As an appetizer, you could do far worse than to investigate this handsomely recorded, well performed Telarc set. Conductor John Axelrod believes that each of Brahms's four symphonies has a distinct character, all directly inspired by his unrequited love for Clara Schumann. Arguing that each work reflects a different aspect of Clara's personality seems a step too far – Brahms 2 is much more than a bucolic, pastoral idyll, and no 4 is not just a gruff E minor rant. Axelrod has accompanied each symphony with a set of Clara Schumann lieder, chosen to match what he feels is the prevailing mood. Having different voices to sing each set is an inspired touch – Indra Thomas is superb in the set accompanying Symphony no 4, and Nicole Cabell's lighter tone suits the warmer cast of the songs following no 2. But how frustrating not to have the texts handy - they can be downloaded, but who wants to listen to a CD while staring at a computer screen?
But don't be put off – the two symphonies are beautifully done. The Fourth is shrewdly paced and beautifully coloured, the Milan orchestra never sounding too dark and murky. It's easy to underestimate the modernity of this work, its textures veering from fruity richness to parched austerity. Axelrod nails the passage leading to the first movement recapitulation, the material thinning out before the main theme's spectral reprise. Rarely has the last movement's opening chorale sounded so organ-like, and the glowering final pages have plenty of energy. It's a weighty work, but it shouldn't be a depressing one. No 2's grave slow movement is sublime, and the subsequent lightening of mood skillfully judged. Well worth investigating.
Shostakovich: Symphony no 4 Royal Liverpool Philharmonic Orchestra/Vasily Petrenko (Naxos)
The opening tempo marking, Allegretto poco moderato, suggests that we're about to hear something light, witty, elegant. No chance – this pulverizing performance of Shostakovich's ill-starred Symphony no 4 is like being kicked in the face. In a good way. Famously, its composer withdrew the work shortly after rehearsals began in 1936, and it wasn't performed until 1961. There's a good quote in Richard Whitehouse's sleeve note; Shostakovich, talking after an early performance of his acclaimed th Symphony, remarked that "I finished the symphony fortissimo and in the major… I wonder what everyone would be saying if I had finished it pianissimo and in the minor?" The Fourth's unsettling whisper of a close can pack a devastating punch, and Vasily Petrenko's new version is as good as any around. The Royal Liverpool Philharmonic play out of their skins – everything's secure, but nothing sounds glib or slick. I'm thinking of the first movement's roaring lower brass, or the extraordinary, breathless string fugato. The lengthy cor anglais solo near the movement's coda is stark and lonely, and the sudden orchestral flareup seconds before the close is wonderfully sardonic.
Petrenko's percussionists make the Scherzo's eerie fade sound effortless, but it's Petrenko's Finale which really stuns. Shostakovich's nods to Mahler are everywhere – the introductory funeral march is terrific, as is the raucous, unsettling circus music which follows. It's funny, but leaves a bitter taste. All culminates in one of the loudest perorations imaginable and the most emotionally devastating of symphonic fadeouts, replete with a twisted reference to the major-minor triad motif heard in Mahler 6. Petrenko brings unusual coherence to the movement; it sounds like a long, single take. Unmissable.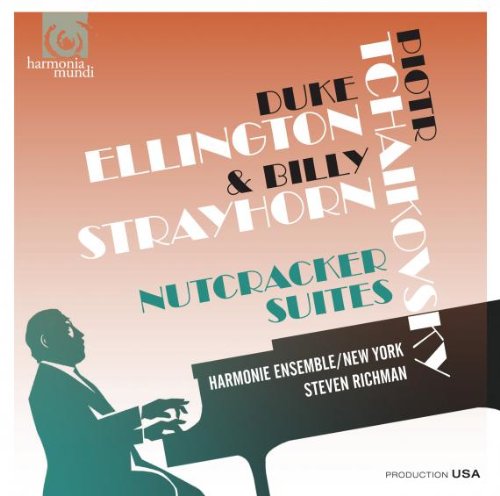 The Nutcracker Suites: Music by Tchaikovsky, Duke Ellington and Billy Strayhorn Harmonie Ensemble New York/Steven Richman (Harmonia Mundi)
Steven Richman's Harmonie Ensemble recorded one of the greatest ever Gershwin discs a few years ago. This brilliant follow-up combines Tchaikovsky's Nutcracker Suite with a neglected revamp concocted in 1960 by Duke Ellington and his long-time collaborator and arranger Billy Strayhorn. Strayhorn became a member of Ellington's band after meeting the great man in the late 1930s, the Duke later admitting that "Billy Strayhorn was my right arm, my left arm, all the eyes in the back of my head, my brain waves in his head, and his in mine." The Ellington/Strayhorn Nutcracker is sublime, and this recreation is a thing of wonder, sounding as if it could have been recorded in, er, 1960, but with better sonics. Tchaikovsky's original is reinvented with staggering cheek and flair. Tempi are stretched. Waltzes become foxtrots. Reedy wind sonorities emphasise the original suite's harmonic boldness, and everything is underpinned by Hassan Shakur's emphatic bass playing.
Dance of the Sugar Plum Fairy becomes Sugar Rum Cherry, celeste replaced by a pair of saxophones. The suite closes with the Arabian Dance revamped as the Arabesque Cookie, bouncing along under an insistent percussion riff and with some classy muted brass. All fantastic, and the results never detract from the magnificence of Tchaikovsky's original. Which occupies the first half of this disc. It's played here by a more conventional orchestral incarnation of the Harmonie Ensemble, here sounding like the best pit orchestra you've ever heard. Listen to that bassoon line chugging away underneath the Chinese Dance, or the tight brass in the March. Fantastic fun, and nice sleeve art too.
Tchaikovsky's original is reinvented with staggering cheek and flair. Tempi are stretched. Waltzes become foxtrots
Explore topics
Share this article