Classical CDs Weekly: Brahms, Haydn, GrauSchumacher Piano Duo |

reviews, news & interviews
Classical CDs Weekly: Brahms, Haydn, GrauSchumacher Piano Duo
Classical CDs Weekly: Brahms, Haydn, GrauSchumacher Piano Duo
Keyboard music from Austria, Germany, France and Bali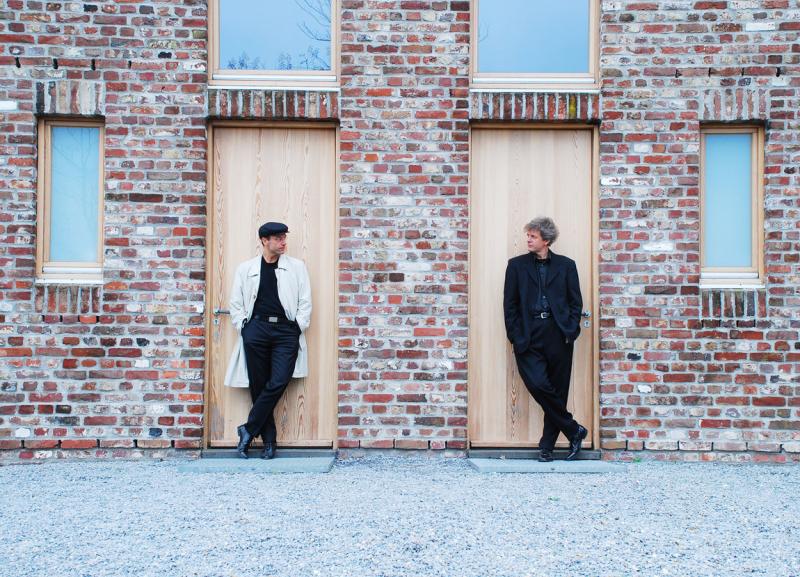 Sparring partners: the GrauSchumacher Piano Duo
Brahms: Piano Concertos Sunwook Kim (piano), Hallé/Sir Mark Elder (Hallé)
Compare the openings of Brahms's two piano concertos and you'd be mistaken for thinking they were by different composers. The earlier work begins with the fiercest of orchestral growls, the piano waiting a full five minutes before entering. No. 2 starts with a soft, serene horn call, immediately answered by solo piano. It's tempting to see them as portrayals of youthful impetuosity and serene maturity respectively, though they've much in common, besides extravagant length. I'll confess to preferring No. 1's darker pleasures: the blazing opening tutti remains one of the most thrilling things Brahms ever wrote. It sounds fabulous here, Sir Mark Elder's Hallé producing a suitably astringent wall of sound. Sunwook Kim steals in imperceptibly, the piano's first appearance merely continuing the orchestral argument before slipping into soloist mode a few minutes later. It's all good; a matter of pianist with, not versus, orchestra. There's a lot of careful listening going on, the Hallé winds superb collaborators. There's a beautiful, hushed Adagio, before the zingiest of finales. Kim's crystalline articulation is a joy in the movement's main theme. The last few minutes are terrific, the joyous shift to D major magical.
No. 2 isn't all sunny uplands, Kim and Elder especially riveting in the music's darker corners. There's a pleasing swagger to the minor key Allegro appassionato, the prelude to a rapt Andante, Kim taking his cue from Nicholas Trygstad's melting cello solo. The heavier tuttis don't disappoint, and Kim's beefier first movement solos are technically marvellous. And, for once, the last movement doesn't feel like an incongruous, lightweight addition, the slowdown in the final bars amusing and emotionally satisfying. Excellent, then, and handsomely recorded in the orchestra's rehearsal venue, a converted church in Ancoats, Manchester.
Haydn: Keyboard Concertos Viviane Chassot (accordion), Kammerorchester Basel (Sony)
Swiss accordion virtuoso Viviane Chassot modestly describes her speciality as "ultimately just another keyboard instrument". Not in her hands it isn't. You'll rarely hear it played so expressively, Chassot describing how careful control of the bellows can affect tone and dynamics. What she plays here wasn't invented during Haydn's lifetime, and he never visited Switzerland to hear the folk music which influenced Chassot. But Haydn would have approved of this disc, Chassot playing four of his keyboard concertos whilst directing a light-footed chamber orchestra.
What the accordion can do is highlight Haydn's various moods: opening movements are refined, alert and witty, and the instrument's ability to sustain a line creates magic in the aria-like slow movements. The G major concerto's Adagio cantabile offers particularly succulent proof. And those tiny, hyperactive finales: Chassot making them explode with joyous energy. The D major Rondo all'Ungerese is predictably spectacular, though the last movements of the two concertos in F are as alluring. And what responsive, zingy playing she draws from the gut-stringed Kammerorchester Basel; the accordion impeccably balanced. You sense that these sessions must have been happy ones. This disc really does have it all: intelligence, emotion and an infectious sense of fun. Recommended without hesitation.
Concerti III: Music by Poulenc, McPhee and Adams GrauSchumacher Piano Duo, Trio Mediæval, Deutsche Symphonie-Orchester Berlin/Brad Lubman (Neos)
More keyboard fun, this time from the GrauSchumacher Piano duo, made up of Andreas Grau and Götz Schumacher. The must-hear item on this disc is Tabuh-Tabuhan by the Canadian composer Colin McPhee, who'd pitched up in Bali in the 1930s. McPhee introduced the young Benjamin Britten to the Balinese gamelan, and gamelan sounds can be found in many of Britten's works, most explicitly in The Prince of the Pagodas and Death in Venice. McPhee's three-movement "toccata for orchestra and two pianos" still sounds refreshingly modern, the keyboards integrated into a glittering orchestral backdrop with prominent tuned percussion. It's a real crowd pleaser, and should be far better known. Recordings aren't exactly thick on the ground, so this one should be snapped up. It's an ideal companion for Poulenc's Concerto for Two Pianos and Orchestra, a work which makes extensive use of gamelan patterns, Poulenc having heard Balinese musicians in the early 1930s. Other audible influences include Mozart and music hall, though the disparate elements produce sounds which couldn't have emanated from any other composer. I like the GrauSchumachers' rhythmically sharp performance very much: conductor Brad Lubman's steady opening tempo gives the music more room to breathe, the schmalzier, salon-inflected passages played with total sincerity. As is the slow movement's gorgeous Mozart pastiche, the pianos cushioned by a diaphanous curtain of orchestral loveliness. The recorded sound is on the dry side, but that works to Poulenc's advantage. My new favourite recording of this work.
Longer and grander than the McPhee or Poulenc is John Adams's bonkers Grand Pianola Music, one of the composer's sources of inspiration being a memory of walking through the San Francisco Conservatory and hearing massed pianos "playing Chopin, the Emperor Concerto, Hanon exercises, Rachmaninoff, the Maple Leaf Rag, and much more." Quirkily scored for two pianos, winds, percussion and three wordless female vocalists, it's overlong but difficult to dislike. There's a striking moment six or so minutes in when Adams suddenly lets rip with pounding arpeggios and heavy brass: it sounds glorious here, Trio Mediæval's vocals suitably strong but never strident. Grau and Schumacher's belief in the piece shines through; this is thrilling pianism. An excellent anthology.
Trio Mediæval's vocals are suitably strong but never strident
Explore topics
Share this article