Classical CDs Weekly: Bernstein, Fučík, Wartime Consolations |

reviews, news & interviews
Classical CDs Weekly: Bernstein, Fučík, Wartime Consolations
Classical CDs Weekly: Bernstein, Fučík, Wartime Consolations
An American symphony, some effervescent Czech marches and 20th-century violin music
Saturday, 19 September 2015
Marin Alsop: perhaps unwisely, letting us hear Bernstein's original thoughts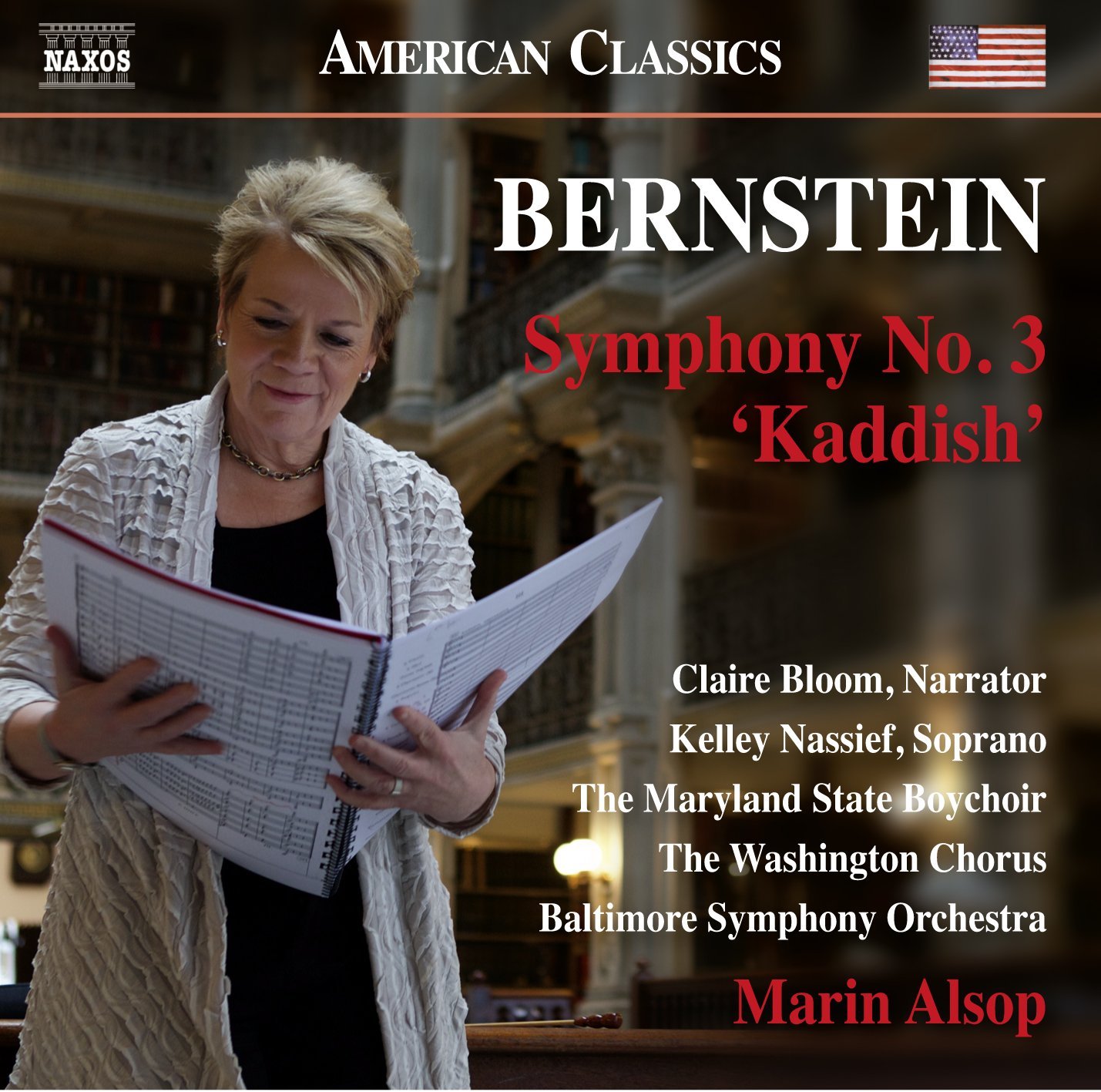 Bernstein: Symphony No. 3 'Kaddish' Baltimore Symphony Orchestra/Marin Alsop (Naxos)

Technically this disc is superb. Claire Bloom's narration is beautifully assimilated into the sound picture. The orchestral playing is razor-sharp, the chorus outstanding. Naxos's recording has the requisite depth and range. The issue is the piece itself; Bernstein's Kaddish Symphony is an unwieldy mess of a work. Occasionally brilliant, but frequently baffling and downright irritating. Superb recent recordings of West Side Story and On The Town serve to confirm where Bernstein's strengths lay. Bloom does her best, but it's frustrating that such an articulate, passionate musician and communicator could produce such a clunker of a libretto, the speaker's angry "dialogue with God" expressed in the purplest of prose. Cuts were made to the narrator's part in the 1977 revision; Marin Alsop, perhaps unwisely, lets us hear Bernstein's original thoughts. What does make this baggy symphonic hybrid fascinating is the musical language, the slick fusing of dodecaphony with finger-clicking jazziness. Individual moments dazzle, like the unexpectedly romantic, tonal melody which arrives in the final section, and the fantastic writing for boys' voices. As a concert hall experience, the Kaddish might well overwhelm. But give me "One Hand, One Heart" any day.
The couplings are excellent, however. We get a concert version, with Bloom as speaker, of Bernstein's score for a 1955 staging of Jean Anouilh's L'Alouette, as adapted by Lilian Hellmann. The bright, astringent choral numbers are superb, so it's not surprising that they were later recycled to form a Missa Brevis in 1988. Brilliantly sung by the São Paulo Symphony Choir, the 11-minute work doesn't contain a wasted note.
A Festival of Fučík Royal Scottish National Orchestra/Neeme Järvi (Chandos)
Julius Fučík's name won't be familiar to too many listeners, though several of his pieces will be. Two of them are included here. One is 1907's "Grande marcia italiana" Florentiner. Still a brass band staple (and heard in Mark Hermann's film Brassed Off), it's even funnier when you read that the two-note figure answering each statement of the chattering main theme depicts a boyfriend grunting in agreement with his Florentine partner. The other standard is Fučík's Entry of the Gladiators, an 1899 march which is probably the most performed work by any Czech composer. As an evocation of Roman spendour and vicious combat it falls flat, largely due to the popularity of a 1910 arrangement for military band which swiftly became a circus standard. You know which one I mean. It's a marvellous little piece – get past the ubiquitous opening theme (its chromaticism designed to demonstrate what the latest brass instruments could do) and there's a phenomenally catchy trio, wonderfully orchestrated. This is light music, but wonderfully accomplished. Fučík's harmonies delight, and the scoring, though fulsome, remains incredibly transparent. And brilliantly performed on this generously filled disc; Neeme Järvi's ongoing long term relationship with the Royal Scottish National Orchestra rarely disappoints.
Other gems include The Old Grumbler, a four-minute display piece for bassoon (Fučík's own instrument), flawlessly delivered by the RSNO's David Hubbard. Of the waltzes, a standout is the expansive Danube Legends, its evocative introduction sparkling in Järvi's hands. Uncle Teddy's rhythmic quirkiness surprises, and The Mississippi River can't help recalling Sousa's marches. Enormous fun, in other words, aided by glowing Chandos sound. Good notes too.
Wartime Consolations – music by Hartmann, Weinberg and Shostakovich Linus Roth (violin), Würtemberg Chamber Orchestra Heilbronn/Ruben Gazarian, with José Gallardo (piano) (Challenge Classics)
Why isn't Karl Amadeus Hartmann's music better known? There's a great quote from Henze in this disc's sleeve notes, the young composer describing meeting Hartmann after World War Two, referring to him as "someone who could compose so marvellously – and so completely different than anyone else." Hartmann's Concerto funebre is the main work on violinist Linus Roth's new disc. Written in 1939, it's predictably sombre, though there's never a trace of self-pity or sentiment in Hartmann's music. Premiered in Switzerland in 1940, it was Hartmann's last "official" composition for the next five years. Roth is superb – his tone suitably dessicated during Hartmann's stark introduction, though there's no lack of expressive warmth when the Adagio unfolds. There's a sardonic, bitter scherzo before an elegiac last movement. The surprising final seconds are devastating. It's a wonderful piece, and this performance boasts stunning orchestral playing from Ruben Gazarian's Würtemberg forces. Lower strings possess incredible presence.
After Hartmann, Weinberg's lyrical Concertino comes as blessed relief. Weinberg's output can seem maddeningly patchy, though this work is exquisite. Wistful, poignant and lyrical, it was composed in 1948, though never performed during Weinberg's lifetime. Roth's playing is suitably tender and understated. It's the best 20th-century violin concerto you've never heard. He's more extrovert in the dazzling, extrovert Rhapsody on Moldavian Themes, another work which deserves to be a popular classic. All terrific – though what makes this beautifully produced disc an essential purchase is the final item: what remains of a recently unearthed 1945 violin sonata by Weinberg's supporter and colleague Shostakovich. The 250 bars are tantalisingly good, with one of the themes clearly finding its way into the epic 10th Symphony. Alfred Schnittke turned down a request to complete the movement, commenting that "such an extensive exposition would require an enormous development, the scope of which does not correspond to the chamber genre." A self-recommending purchase.
The two-note figure depicts a boyfriend grunting in agreement
Explore topics
Share this article