Classical CDs Weekly: Bach, Prokofiev, Shostakovich |

reviews, news & interviews
Classical CDs Weekly: Bach, Prokofiev, Shostakovich
Classical CDs Weekly: Bach, Prokofiev, Shostakovich
Baroque keyboard suites and Soviet violin music
Saturday, 25 October 2014
Igor Levit
Bach: Partitas 1-6 Igor Levit (piano) (Sony)

Martin Geck's sleeve essay accompanying this pair of discs is a good read, hinting at the subtleties and complexities lying just below the surface of what may, superficially, look like six simple suites of dance movements. Bach's title page for the first Partita describes it as music "for keyboard practice... composed for music lovers, to refresh their spirits". Geck quotes from a letter about Bach written by Schumann in 1840: "I confess my sins to this lofty figure every day, while seeking to purify and strengthen myself through him... I'm convinced that Bach is unbeatable: he is incommensurable." Blimey. But, of course, you don't need to study this music in geeky depth to get enormous pleasure from it, and Igor Levit's miraculous performances exude more joy, more wisdom than you'd think possible.

Levit gets everything right. Technically he's beyond reproach, and the sense of clarity, of directness, is remarkable. Everything gleams, even the tinier movements. Try the Rondeau and Capriccio from the Partita no 2; both crystalline miracles in Levit's hands, Bach's potential austerity offset by cheeky wit and superb control. The Capriccio is followed by the brilliant, elegant Ouverture to the 4th Partita, sumptuous but never grandiose. There's a Sarabande of limpid grace, and the Gigue's clattering close is electrifying. There's a thrilling, craggy account of the 3rd Partita's glowering Scherzo. The joie de vivre which Levit finds in the major key Partitas is infectious – no 5's effervescent Allemande and Passepied are highlights. We're back to stark E minor for the 6th Partita, its vast opening Toccata controlled here with calm authority. Be surprised at the final Gigue's abrupt, unexpected close. All captured in glowing, warm sound – a desert island recording.


Prokofiev: Violin Sonatas, Five Melodies Alina Ibragimova (violin), Steven Osborne (piano) (Hyperion)

Prokofiev's F minor Violin Sonata had a protracted gestation. Begun in 1938, it was cast aside when Prokofiev scored Eisenstein's Alexander Nevsky, and work on the sonata wasn't resumed until 1943. Daniel Jaffé's booklet essay suggests that the great violinist David Oistrakh was instrumental in prompting the work's completion, and that the sonata's brooding darkness reflects its status as a bittersweet, unofficial memorial to friends and colleagues who'd perished under Stalin's Great Terror. Alina Ibragimova has the piece's full measure, her tone alternating between sweetness and steel. The work's opening is magnificent here, with Steven Osborne's pitch black musings answered by Ibragimova's softly snarling trills. Prokofiev at his sourest was still a brilliant tunesmith, and the heartstopping moments abound – most notably a remarkable passage near the first movement's close, where hyperactive violin scales float over gentle, diatonic piano chords. There's a sardonic Allegro brusco and a sublime Andante. The last movement leaves the mood unresolved; the bravura writing giving way to the return of those disturbing flurries.

The D major Sonata inhabits a different emotional world. Listed as No 2, it was completed in 1943 (its predecessor wasn't finished until 1946). It began life as a work for flute and piano, and was transcribed at Oistrakh's suggestion. Breezier and more capricious in tone, it sounds well in its recast form, though I've a soft spot for the flute original. Sparks fly in the faster movements; the finale's cheeky first theme is one of Prokofiev's most endearing. The detail is terrific – Osborne's accompaniment breathtaking in its agility and lightness. As a bonus we get the delectable Five Melodies for violin and piano, adapted from a set of wordless vocalises. They're wonderful, especially the brief fourth movement – Prokofiev's genius distilled into 60 seconds. Decent sound, and good sleeve art.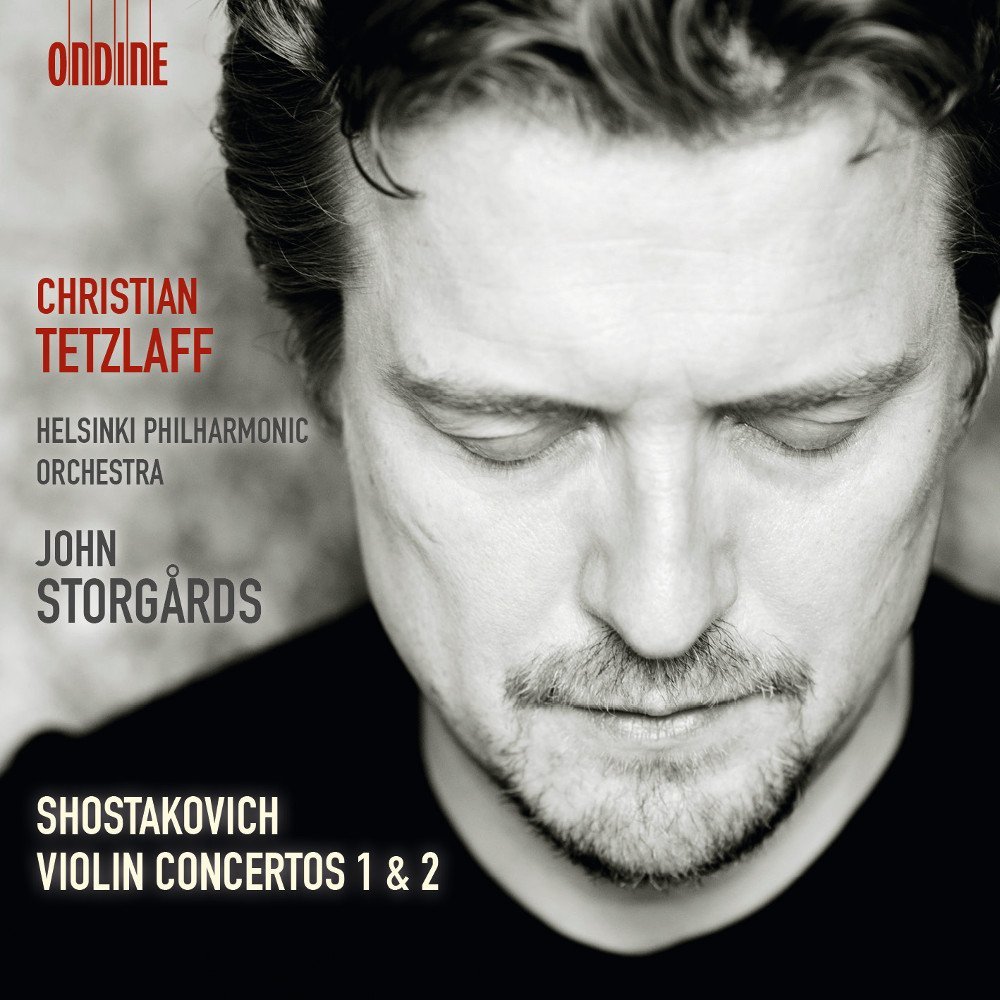 Shostakovich: Violin Concertos 1 and 2 Christian Tetzlaff (violin), Helsinki Philharmonic Orchestra/John Storgårds (Ondine)

Both of these concertos were also written for David Oistrakh (see above). Shostakovich's Violin Concerto 1 is almost a repertory work, but the more elusive Concerto no 2, written in 1967, remains in the shadows. Superficially it's a more conventional three-movement work, though the nods made to standard concerto form never quite feel sincere. It has a gravely beautiful Adagio, wonderfully played here by Christian Tetzlaff, his tone retaining its beauty even when he's at the extremes of the instrument's range. There's a disconcerting, violent outburst near the movement's close, and an exquisite extended horn solo. This music deserves to be better known. John Storgårds provides lithe, lean backings. The last movement's sarcasm is tempered with plenty of black humour. Tetzlaff's cadenza is terrific, and the final minutes are thrilling, an aggressive tomtom making its presence felt. It's as good as Shostakovich's elegiac Cello Concerto no 2.

The Concerto no 1 was completed in the late 1940s, though the prevailing political climate meant that it lay unperformed in Shostakovich's bottom drawer until Oistrakh premiered it in 1955. Tetzlaff nicely captures the Notturno's chilly romanticism, and the savage Scherzo is a blast, Storgårds' Helsinki winds matchless in the first few minutes. Shostakovich's epic Passacaglia is the work's centrepiece – the bald opening statement giving way to some of the most impassioned, heartfelt music this composer ever wrote. And how the lower strings attack the repeated theme, answered by strident horns. All wonderful. After an extended cadenza, there's an exuberant Burlesque, the upbeat close for once devoid of irony. Tetzlaff's physicality is mesmerising. A superb disc.


You don't need to study this music in geeky depth to get enormous pleasure from it
Explore topics
Share this article