Classical CDs Weekly: Bach, Mozart, Poulenc |

reviews, news & interviews
Classical CDs Weekly: Bach, Mozart, Poulenc
Classical CDs Weekly: Bach, Mozart, Poulenc
A baroque Passion in a fresh staging, valveless brass-playing and delectable French chamber music
Saturday, 17 January 2015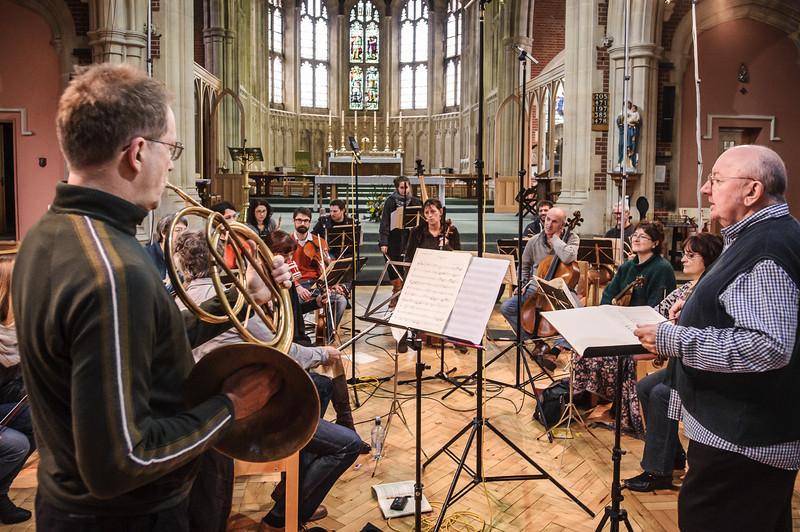 Mozart: Horn Concertos, Horn Quintet: Pip Eastop (left) and Anthony Halstead
Bach: St John Passion Berliner Philharmoniker, Members of the Rudfunkchors Berlin, Soloists/Sir Simon Rattle, with staging by Peter Sellars (Berliner Philharmoniker)
You'd happily settle for an audio recording of Sir Simon Rattle's version of Bach's St John Passion, but director Peter Sellars' input makes its presentation as a DVD essential. Daniel Finkernagel and Alexander Lück's stylish, unfussy video direction is only mentioned in small print on the booklet's last page – a pity, as their work adds hugely to this issue's success. Sellars' ritualistic, spare conception is undeniably effective, even if you're not convinced that this work needs staging. He and Rattle latch onto this Passion setting's dissonance, violence and modernity, in contrast to the more contemplative St Matthew Passion. One of this reading's greatest assets is the singing of Simon Halsey's well-drilled chorus, full-voiced and confident even while Sellars has them darting around the Philharmonie stage. Mark Padmore's Evangelist stands out among Rattle's soloists; pure-toned, serious and sympathetic. Period instrumentalists blend seamlessly with a stripped down Berlin Philharmonic.
This performance is full of striking images, most of them achieved through simple means. Notably a sequence near the close of Part 2 where an eloquent, barefoot Magdalena Kožená comforts Roderick Williams's ailing Christ, immediately followed by the arrival of Christian Gerhaher's Peter, prostrate on the ground where Christ was lying. Padmore's description of the earthquake shattering the temple has the chorus members writhing and shaking. Surtitles are provided, but you'll probably find them unnecessary – this performance is easy to follow, musically and dramatically. Bonus features include a lucid introduction to the work from chorus master Simon Halsey, and an entertaining interview with Rattle and Sellars. Luxurious presentation too – there's a bonus BluRay disc and a seven day pass to the orchestra's Digital Concert Hall.
Mozart: Horn Concertos, Horn Quintet Pip Eastop (horn), The Hanover Band/Anthony Halstead, Eroica Quartet (Hyperion)
Brass buffs will be aware of conductor Anthony Halstead's reputation as a natural horn specialist. He's recorded the Mozart concertos twice, and his Nimbus disc of Weber's impossible Concertino is one of the greatest horn discs ever made. So this Hyperion release has good credentials; Pip Eastop's versatility is a given and the period-instrument Hanover Band have been performing since 1980. As with recent recordings by Roger Montgomery and Anneke Scott, Eastop's playing has the effect of making the modern horn sound a little, er, boring. He doesn't attempt to smooth over the differences between open and stopped notes, effortlessly switching between legato lines and rollicking hunting calls. It's an instantly appealing, very vocal sound. Eastop describes his instrument as "rougher, wilder, more playful and idiosyncratic – more Robin Hood than James Bond". Play Mozart on a valve horn and you miss the colour, the drama. Everyone needs a copy of Dennis Brain's silken mono recording, but these pieces do take on a different character heard on a length of unadorned brass tubing.
This is a feel-good disc in every way; Eastop's cheeky virtuosity eliciting gasps as well as giggles. The cadenzas are a case in point. They're always intensely musical and Mozartian, though it's hard to imagine Mozart's favoured hornist Ignaz Leutgeb being quite so flamboyant or hitting stratospheric high notes with such ease. The concertos are ordered in their probable date of composition – the more difficult nos 2 and 4 actually the first to be written. Anoraks will note that the prosaic ending of K417's first movement, never completed by Mozart himself, has been tweaked by Halstead to allow space for a cadenza. No. 4's ubiquitous finale is fun, and No. 3 emerges as the subtlest, most mature work. Leutgeb's technique was waning by the time Mozart completed the D major concerto, and the manuscript of the "Rondo" is peppered with insults directed at him. He must have been made of stoic stuff; lesser mortals would storm off in a huff if they were to read comments like "at least get one note in tune, Dickhead!". Leutgeb's abilities must have been phenomenal if he could perform the sublime Horn Quintet. Eastop sails through its difficulties, resisting the temptation to rush through the witty finale. It sounds all the better for it. Intelligent notes, sensitive accompaniments and excellent sound – what's not to like?


Poulenc: Chamber Music Pascal Rogé et ses amis (Urlicht)

Similarly irresistible is this handy compilation of some of Francis Poulenc's most appealing chamber music, the recordings split between Paris and New Jersey, and all given continuity by the elegant pianism of Pascal Rogé, who taped a definitive cycle of Poulenc's piano music for Decca in the 1980s. There's far more to this composer than breezy high spirits, and anyone encountering his music for the first time through this disc would get an unusually balanced impression of Poulenc. Les Biches and the Concerto for Two Pianos aren't the whole story. Rogé and his collaborators latch onto the music's wistfulness, the sadness. These performances ooze authority and sincerity. We get lightness when it's needed, but plenty of gravitas too. These pieces deserve to be taken very seriously.

The three late wind sonatas are nicely done. I've fallen in love with the Clarinet Sonata's bittersweet slow movement, a wordless aria magnificently played by Pascal Moragués, and Liang Wang has the measure of the Oboe Sonata's downbeat slow finale, the bleakness just offset by the occasional squelchy chord. The 1957 Flute Sonata is better known, and Michel Moragués projects the requisite blend of effervescence and poetry. New York hornist Howard Wall gives us a very Gallic sounding Élégie, his subtle vibrato very apt for this work. The dark wartime Violin Sonata is well-handled by Elmira Darvarova, who also sparkles in a brief, fiery Bagatelle for violin and piano. Rogé is joined in the bright, frenetic Sonata for piano four-hands by his wife Ami. Excellent performances of deeply loveable music, captured in rich, velvety sound.
Leutgeb must have been made of stoic stuff; lesser mortals would storm off in a huff if they were to read comments like "at least get one note in tune, Dickhead!"
Share this article