Classical CDs: Tambourines, multiphonics and hot chocolate |

reviews, news & interviews
Classical CDs: Tambourines, multiphonics and hot chocolate
Classical CDs: Tambourines, multiphonics and hot chocolate
Horn concertos, piano concertos and sacred choral music
Saturday, 02 September 2023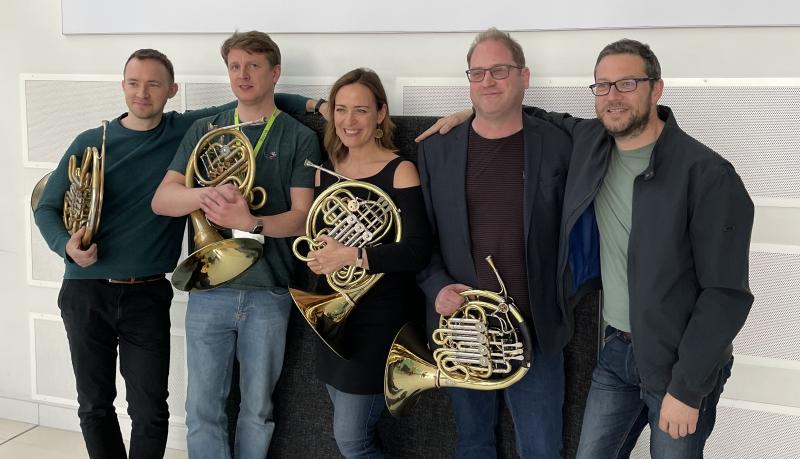 Horn royalty: Martin Owen and friends play Schumann
Rachmaninov: Piano Concertos 1-4, Paganini Rhapsody Lukáš Vondráček, Prague Symphony Orchestra/Tomáš Brauner (Supraphon)
Yuja Wang, Los Angeles Philharmonic/Gustavo Dudamel (DG)
Yet more Rachmaninov, but I'm not complaining, and comparing pianists Lukáš Vondráček and Yuja Wang in the composer's five concertante works has been an enjoyable experience. Vondráček's set was recorded between February and June 2021 in pandemic conditions, whereas Wang's cycle was taped live over two weekends in February 2023. Vondráček favours broader tempi and plenty of introspection in Concertos 2 and 3, nicely matched by Tomáš Brauner's Prague Symphony Orchestra. Supraphon's recording balance has a very realistic concert-hall feel, the dynamic range wide. Vondráček's dialogues with the orchestral winds are well-judged, with a charismatic principal clarinet in Concerto No. 2's slow movement. No. 3 shares similar virtues, its central; "Intermezzo" sweetly flowing before a finale which takes time to build up steam but hits the heights in the closing minutes. I'm more and more intrigued by Concertos 1 and 4, particularly the latter's edgy, brittle brilliance. And do seek out Alexander Ghindin's recording of Rachmaninov's longer first version, a fascinating curio. Vondráček's own notes refer to the concerto's habit of throwing brief "fragments of beauty" at the audience only to snatch them away, and the last movement's clattering close is exciting. His Paganini Rhapsody is also fun, with an effervescent, bouncing take on Variation 14 with sharp-witted orchestral backing. Vondráček's booklet interview is ailluminating, especially a passage where he compares Rachmaninov's different compositional styles to blends of hot chocolate.
But, turn to Yuja Wang's new DG release and it's as if you've had your ears syringed and a fresh pair of contact lenses have arrived. Earl Wild's 1965 Rachmaninov cycle (reissued on Chandos) has, up to now, been my go-to Rachmaninov package, and his balance of poetry and pizazz still sounds spectacular. Wang, brilliantly accompanied by Gustavo Dudamel's Los Angeles Philharmonic, pulls off the same trick. I don't think I've ever heard Concerto No. 1's opening flourish sound so imposing, the orchestral strings' smoochy response pure Hollywood. DG's close, luxuriant sound is another plus, lower strings having plenty of weight. And while Wang turns in a poised, thoughtful account of the central "Andante", it's the effervescent outer movements which really hit home. Concerto No. 4 is similarly exciting, the occasional brashness entirely appropriate. Why isn't this piece played more? Listen carefully to the percussion in the concerto's closing minutes, the all-important snare drum, triangle and tambourine lines brilliantly differentiated.
Wang's Paganini Rhapsody is a known quantity after her recent Proms appearance, the 18th variation exquisite. Concertos 2 and 3 are as revelatory, Dudamel's soft intro to No. 2's flowing slow movement is beautifully done, and good to hear the strings' plucked accompanying figure so clearly two minutes in. The finale's apotheosis is joyous. So far, so marvellous, and this account of Concerto No. 3 is genuinely jaw-dropping. Particularly in the finale, where Wang's electricity is easily a match for Wild and Martha Argerich. A zippy basic tempo is brilliantly sustained, and, as elsewhere, Wang understands the need for uplift as well as drama. There's a gorgeous moment 8'40" in, the music pausing for a quick breather before the recapitulation. Wang's soft chords sound like a wry musical smile. Stunning, in other words.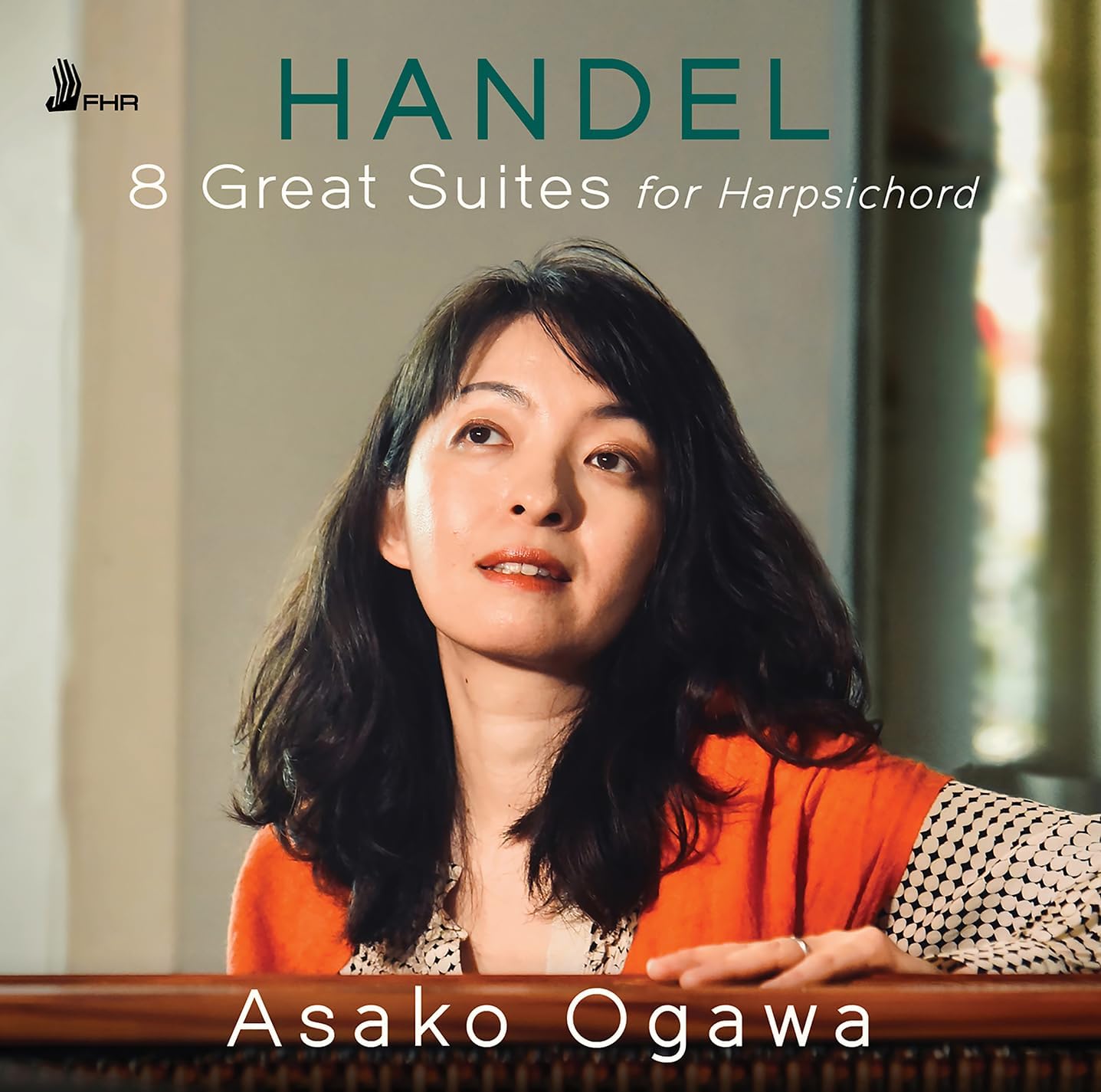 Handel: Eight Great Suites for Harpsichord Asako Ogawa (First Hand Records)
Of the three great composers born in 1685, I am much more familiar with keyboard music of Scarlatti and J.S. Bach than I am with Handel, who is often overlooked as a composer for the harpsichord, although he was a noted performer with a reputation as an improviser. As a student I learned figured bass playing from his still-in-print primer, which also contains a guide to improvising fugues, perhaps the height of keyboard virtuosity in the 18th century, and which, safe to say, I never mastered. (His big tip was that if you make the fugal entries really obvious then you can just fill in the bits in between with generic noodling, which is easier said than done.)
This present recording of the eight so-called Great Suites goes some way to winning be over to Handel's cause. As something of a devotee of Baroque music on the piano – no purist me – I am always slightly nervous of acres of harpsichord such as this double album, but Asako Ogawa does a great job of maintaining interest, both in her use of registrations and in her characterisations of the different suites. From the high-spirited "Gigue" of Suite no.1, which the disc kicks off with (after that the recording does not follow the published order), through the elegant (and quite Bachian) double-dotting and sombre lute-like sound of no.6 to the variations on a tune dubbed "The Harmonious Blacksmith" – which is uniquely Handelian – there is plenty of variety. The suites are mainly 10-15 minutes long, but the longest and most elaborate no.3 in D minor lasts 25, and covers a lot of ground. The counterpoint of the first two movements shows Handel at his most "academic", followed by a pensive and alluring "Allemande" and a highly ornamented "Air and Variations", all rounded off with brisk and full-flavoured Presto. The engineering by John Croft is as exceptional as ever, enabling us to hear the details of the harpsichord playing but without a feeling of being inside the instrument. Bernard Hughes
Schnittke: Psalms of Repentence Capella Amsterdam/Daniel Reuss (Pentatone)
Having recently reviewed a pair of new recordings of Rachmaninov's Vespers I couldn't help being struck by the affinity between that acknowledged choral masterpiece and Alfred Schnittke's Psalms of Repentence. Both tap into the deep cultural tradition of Russian Orthodox church music while also speaking in the composer's own idiom: in Rachmaninov's case through rich and intense consonance, and in Schnittke's by way of a more abrasive harmonic palette. Alfred Schnittke (1934-1998) had a complex background: of German heritage, born in Russia, student in Vienna he lived most of his life in Moscow. He became known in the west in the 1980s for works like his Concerto Grosso no.1, which juxtaposed music of different styles with little regard for avant-garde fashions or conventional ideas of taste.
But just as he rebelled against the modernist mainstream by writing pieces with titles like "concerto grosso", later in his life he rebelled against the extrovert polystylism of his previous work in more contemplative, sombre music. The Psalms of Repentence (1988) belong to this phase. The texts come from a 16th century anonymous Russian book and the commission was for the 1000th anniversary of the Christianisation of Russia. Psalms of Repentence is a weighty and profound piece in 12 movements of which the last, a wordless vocalise, is the most serene ending imaginable. Elsewhere, the text is set syllabically in ever-shifting metre, with sections alternating between the contrapuntal and chordal, the dissonant and the sweetly resolved, dark and light. Capella Amsterdam sing very well, with real edge when needed, and warmth when that is the mode. Conductor Daniel Reuss revisited the manuscript in preference to the unreliable published edition, so this can be regarded as an authoritative document. It is certainly a powerful and affecting one. Bernard Hughes
Schubert: The Complete String Trios, Purcell, transcr. Warlock: Three-Part Fantasias Sakuntala Trio (Resonus)
Deutsch's catalogue of Schubert's works lists just one completed string trio: D. 581 in Bb, completed in September 1817. There is also a listing for an earlier work: "D.471. String Trio in Bb. First movement and fragment of the second. September 1816." Musicologist/composer Brian Newbould (b.1936), renowned for his completions of Schubert works ever since his work on the Seventh Symphony in E major in the mid-1970s, has said of the second movement that "this gem of a fragment... cried out for completion." According to Newbould's website, the completion was originally a commission in 2000 from the Leopold String Trio, but that earlier group only ever recorded/released the first movement of the work, so this new version is the premiere recording of the whole work. The second movement 'andante sostenuto' is one of those pieces in which, even in the short extant fragment we meet "Schubert the sleepwalker" as Brendel has called him. The composer (and the completer) take us on one of those wonderful, dream-like harmonic wanderings.
The Sakuntala players (Rebecca Chan - violin, Sascha Bot - viola and Brian O'Kane - cello) are truly dedicated chamber music players (viola and cello are the bottom half of the Navarra Quartet), and they have clearly invested the time to do the work complete justice. The third movement is a very clever piece of work. The dramatic scherzo is brimming with life, something like a Mendelssohn witches-on-the-Brocken outing, while the ideally contrasted trio section is authentic (borrowed) Schubert: a 'Deutscher' from the D. 820 set. There is more borrowing from the piano repertoire in the last movement. Newbould tales the Allegretto for piano in C, D.346, also from the same year, 1816, which, incidentally, Leif Ove Andsnes has recorded it – much faster than here. Newbould takes it down a tone into Bb for the trio. The whole, four-movement work for trio is a remarkable addition to the repertoire, and beautifully recorded too.
The Sakuntala players have also recorded D.581, again in Bb, written one year later, in the later of its two versions. Newbould comments that it "tends to reflect more the Haydn style and the 'stile galant' of Bach's sons, but with fanciful, even quirky touches which suggest something of a diversion from the main path of Schubert's stylistic development." It is again beautifully, thoughtfully and expansively performed throughout. I have one quibble: the recording of the four-minute third movement minuet and trio is sadly marred by some audible sniffing, and that is a shame. The disc is completed by Warlock arrangements of Purcell fantasies, which are also beautifully played and recorded. The name of the trio made me curious. As far as I can see, it is unexplained anywhere. Sakuntala….So... could it be that the pages of Deutsch hold the answer there too? Deutsch's D.701 is the uncompleted fragment of a Schubertian monster: "Sakuntala. Opera in three acts. Sketches only for the first and second Acts. October 1820". I,m tempted to keep in mind the inscription by Grillparzer on Schubert's grave - "The art of music buried a rich treasure here, but even more beautiful hopes." Here's hoping the Sakuntalas will uncover more. Sebastian Scotney
Strauss: Horn Concertos 1 and 2, Schumann: Concertstück, Weber: Concertino Martin Owen (horn), BBC Philharmonic/John Wilson (Chandos)
If you've already got a recording of Mozart's horn concertos, supplement it with this disc and you'll have, basically, all the horn concertos you'll need. Shrewdly, Chandos have placed Schumann's Concertstück first, the opening fanfare just the thing to blow away the cobwebs after night on the tiles. This extraordinary work, a three-movement concerto for four horns, used to be a real rarity on disc; that it's now relatively well-known demonstrates how far horn technique has advanced in recent decades. Written very quickly in 1849, Schumann considered the Concertstück to be one of his best pieces, despite describing it as "rather strange". Unlike Brahms, he was keen to exploit the potential of the newly invented valve horn, hence the unusually chromatic writing in the lower parts. This performance is marvellous, principal player Martin Owen teamed up with Christopher Parkes, Alec Frank-Gemmill and Sarah Willis. We're talking horn royalty here, and while Owen's ability to hit concert A's above the stave is impressive in itself, the engineering lets us hear the other parts clearly too. There's a great photo in the booklet of the four players and conductor John Wilson huddled together, grinning. Sample the slow movement's beautiful major-key interlude and you'll understand why. The finale's athletic final pages are exhilarating, Wilson's BBC Philharmonic lending fulsome support.
Owen is out on his own for the rest of the programme, the earliest work being Weber's 1806 Concertino. Written for natural horn, Weber's extreme technical demands are gleefully surmounted by Owen. Weber asks for multiphonics in the central "Recitativo", an ear-popping effect achieved when the soloist sings and plays simultaneously. Strauss's two horn concertos are better known. Written in 1883 and 1942 respectively, they bookend the composer's long career. Dennis Brain's classic 1957 recording suffers from constricted mono sound - here, Chandos's engineers brilliantly capture Owen's bighearted, lyrical playing. He really nails each concerto's character: No. 1 is all fresh-faced exuberance, while No. 2 is more wistful and nostalgic. Both end with rollicking 6/8 rondos, Strauss's affection for Mozart made clear. A life-enhancing anthology, and one of my discs of the year.
Kinan Azmeh and Brooklyn Rider: Starlighter (In a Circle Records)
Brooklyn Rider's collaboration with Syrian clarinettist and composer Kinan Azmeh is edgy but mellifluous, violinist Colin Jacobsen describing their collaboration as "the discourse between similar instruments elevated by the addition of a singular voice." Azmeh's three-movement In the Element opens this album, its first two parts inspired by the composer caught in the New Hampshire rain whilst running. Mathias Kunzli's percussion flurries help convey a sense of exasperation and excitement; it's as if we're willing Azmeh to find shelter before he's totally drenched. The third section, "Grounded" was added later, after Azmeh had returned to his Damascus home in 2018, his first visit since the start of the Syrian conflict. Hearing the three very distinct voices mesh together is absorbing, especially when Azmeh's clarinet takes flight near the work's close.
Jacobsen's title track was inspired by his father-in-law's research on photosynthesis, a glittering, uplifting depiction of sunlight's transformation into energy. Azmeh's quartet-only Dabke on Martense Street depicts a Syrian folk dance taking place outside the composer's Brooklyn home, composed during the early stages of lockdown. Fadolin virtuoso Ljova (Lev Zhurbin) provides an upbeat closer, Everywhere is Falling Everywhere, here arranged for clarinet and strings. Taking inspiration from a poem by the 13th century mystic Rumi, a defiant exhortation to "break the wineglass, and fall towards the glassblower's breath." You'd swear you were listening to a full string orchestra as the work builds up steam, the clarinet becoming more assertive as the piece proceeds. Thrilling stuff, and well worth investigating. You can catch Brooklyn Rider playing at the Wigmore Hall on September 13th, their diverse programme including music by Dutilleux, Golijov and Shostakovich.
Wang's soft chords sound like a wry musical smile
Share this article