Classical CDs: Symmetrical storms, basset horns and a happy workshop |

reviews, news & interviews
Classical CDs: Symmetrical storms, basset horns and a happy workshop
Classical CDs: Symmetrical storms, basset horns and a happy workshop
20th century Swiss vocal music, a trumpet recital and a pair of important box sets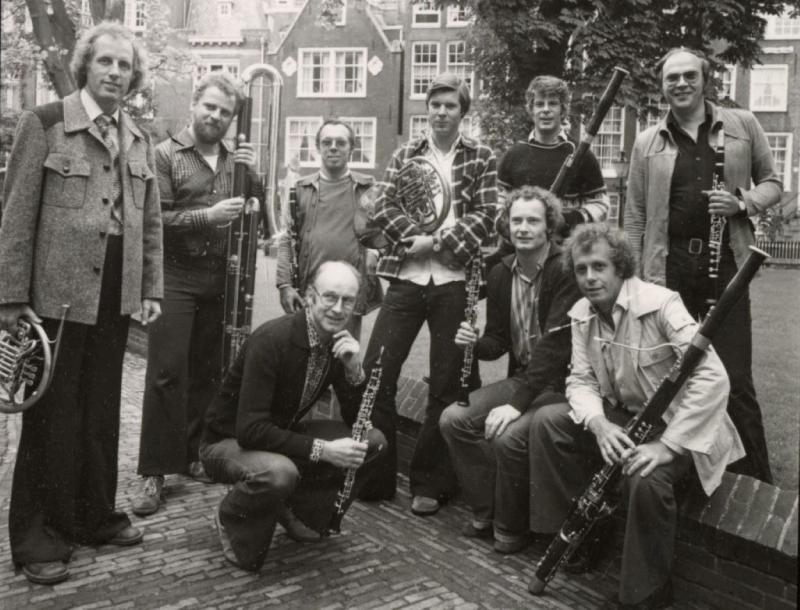 The Netherlands Wind Ensemble in the 1970s: "It was a brotherhood!"
Jacqueline du Pré: The Complete Warner Recordings (Warner Classics)
There's something both humbling and miraculous that a great musician's recorded output can be squeezed into a neat box. Most of the material in Warner Classics' latest Jacqueline du Pré collection has been reissued before, but one suspects that this will be its final appearance in CD format. Multiple sclerosis ended du Pré's playing career in 1973; 50 years on, one wonders whether her stellar reputation was justified, and whether these recordings stand up. Asking a couple of string playing contacts and trawling through contemporary reviews suggests that she was the real deal, one colleague explaining that "the technique was there, and she was also herself, which these days is becoming something of a lost art." There's a touching YouTube clip where violinist Pinchas Zukerman recalls working with du Pré, describing her as "the most wonderfully instinctive musician" he'd ever met, and suggesting that she emerged as a player fully-formed ("I think she was done before she was born!"). Du Pré's big, full-throated sound was frequently exaggerated by her recording engineers; compare, say, the balance on her deservedly famous 1965 recording of the Elgar concerto to that on Stephen Isserlis's 1989 disc.
If you didn't know du Pré's biography and listened to these discs blind, you'd be bowled over by the exuberance and energy of the playing. A shame, then, that Warner Classics have opted for such sepulchral packaging and design, du Pré's image on the back of the booklet fading into a black, inky void. One suspects that she'd have preferred something brighter and more uplifting. Accentuate the positive by wallowing in a 1964 recording of Delius's neglected Cello Concerto, du Pré and conductor Malcolm Sargent giving the piece shape and charm. Why isn't this work played more often? Try this composite version of Strauss's Don Quixote from 1968, most of it conducted by Sir Adrian Boult, a few bars salvaged from unsuccessful sessions recorded with an unenthused Otto Klemperer in charge. You won't spot the joins, and the performance is witty and involving.
A 1970 Dvořák concerto, taped in Chicago with du Pré's husband Daniel Barenboim conducting, sounds fresher and better balanced in this new remastering, though my favourite concertante discs are a pairing of the Schumann and Saint-Saens concertos (again conducted by Barenboim), and big-boned readings of Haydn's D major concerto and the Monn G minor with the LSO under Barbirolli.
The rest is chamber music. Two discs of 1961 BBC radio recordings are in good mono sound; gems include du Pré teamed with her teacher and "cello daddy" William Pleeth in one of Couperin's Les Goûts réunis suites and a pair of Bach suites. Cycles of Beethoven piano trios and cello sonatas are deservedly well-known, du Pré's sparkiness matched by Zukerman and Barenboim in the trios. Her last studio recording, a coupling of the Chopin and Franck sonatas, was taped in 1971 after du Pré had not touched the cello for six months. You'd never know. It's the same with a live 1972 recording of Tchaikovsky's large-scale Op.50 Piano Trio, the funereal coda quietly devastating. Self-recommending, then; the original EMI sleeve designs are reproduced and there's a useful booklet essay from Tully Potter.
Netherlands Wind Ensemble: Complete Philips Recordings (Decca Eloquence)
Though the world may be heading for hell in a handcart, collectors of classical box sets have never had it so good. Here's a choice example, the 17 CDs in this beautifully designed package containing every note recorded by the Netherlands Wind Ensemble on the now defunct Philips label, most of the original LPs released in the 1970s. Oboist (and later conductor) Edo De Waart played with the group from its first concerts in 1961, effectively a double wind quintet perfect for tackling Mozart divertimenti. The demands made by members' flourishing orchestral careers caused problems, and only in 1966 did a second group of musicians coalesce into the group's second incarnation. In De Waart's words, "people were chosen first of all on what sort of a guy they were, and then as a musician – it was a brotherhood!". That you'll only find three female musicians listed here (one of them soprano Elly Ameling) reflects the times, De Waart recalling that "at that point, women in orchestras nearly all played strings; it took another 10 years for that ceiling to be broken."
Mozart's complete music for winds fills seven CDs; for many years, the NWE's recordings were the only ones readily available. De Waart recalls the group spending a fortnight in isolation, "just rehearsing… working hard on unanimity of intonation and tone as well as ensemble." Ensemble and intonation are as close to perfection as you'd expect, and the group make a distinctive, unhomogenised sound. If you're a fan of Haitink's first Mahler cycle with the Concertgebouw, you'll know what to expect, sonority-wise. Big works like the KV361 Serenade in B flat (with double bass instead of contrabassoon) are predictably good, and there's plenty more to enjoy. A brace of divertimenti, plus some fiendish horn duets, (allegedly written while Mozart was playing billiards), and works for basset horns – all are marvellous. There's also a disc of wind arrangements of numbers from Don Giovanni and Il Seraglio, and a delightful album of Rossini opera excerpts.
Dvořák's gorgeous Serenade and Gounod's Petite Symphonie were coupled on the NWE's first LP. The former's slow movement really moves, and the finale is riotous. Little Marches by Great Composers, released in 1972, is full of earworms, as is a disc collecting three large scale octets by Franz Krommer. Two discs of Strauss place the early Serenade and Suite alongside the late Sonatina "From an Invalid's Workshop" and the Symphony "The Happy Workshop", both, in my limited experience, more fun to play than to listen to. They're all conducted by De Waart, whose dry, pungent accounts of Stravinsky's Ebony Concerto, Octet and Symphonies of Wind Instruments are still among the best available. The final disc is a curio: newly remastered live recordings of George Antheil's Ballet Mécanique and Jazz Symphony, the former including wooshy "aeroplane noises". Exactly how they were realised here isn't revealed; an internet search will reveal some scary-looking propellers positioned in various orchestral percussion sections. Peter Quantrill's entertaining booklet notes usefully explain the historical and cultural context behind the group's foundation, and Decca Eloquence reproduce the original LPs' quirky sleeve art. The analogue Philips engineering has aged well. You need this box.
Othmar Schoeck: Elegie Christian Gerhaher I(baritone, Kammerorchester Basel/Heinz Holliger (Sony)
This recording of Othmar Schoeck's Elegie for voice and chamber orchestra from 1923 puts together a dream team: Christian Gerhaher and Heinz Holliger must have had this work in their sights for a good while. Schoeck was the greatest 20th century composer from the German-speaking part of Switzerland, with Holliger himself, from a much later generation and in a very different style, not far behind in that ranking. Gerhaher has recorded another, later cycle for voice and string quartet, the Notturno with string quartet, in an ECM recording released in 2009. There is a linking thread here: the majority of the poems in both cycles are by the nineteenth century poet Nikolaus Lenau, who is also is the main protagonist in the "opera" Lunea by Heinz Holliger, with central roles for Gerhaher, premiered in 2018, also released by ECM earlier this year.
For this recording of the Elegie, recorded in the weeks before the first lockdown in early March 2020, and released now just ahead of the centenary of the work's completion and premiere, Holliger has the role of conductor of the 15 instrumentalists of the Kammerorchester Basel. Their orchestral contribution – their Boulez-like clarity and balance presumably coming from Holliger's influence – is just fabulous. Solo instruments often have the role of delicately shadowing the vocal melody, like the gorgeous solo viola line in No.4, "Frage nicht" (ask not), or the clarinet and then flute in No. 10, "Kommen und Scheiden" (coming and departing). There is also a frequent and subtle role in the orchestral texture, cleverly underscoring, punctuating and commenting, for a piano.
Elegie is what it says on the tin: just about all the "Wehmut" (sadness), moonlight, churchyards, autumn winds and lost happiness we could ever want, and just under an hour of it. Whereas the Notturno often keeps a sense of wonder in nature (particularly in the Olaf Bär recording), in the Elegie, the gaze tends to be inward, with the external environment as a reinforcer of mood. So there is a lot of autumn, many of the markings at the top of several of the songs are simply 'ruhig' (quiet). Love might be sincerely felt, as in "Zweifelnder Wunsch", No.6 (surely 'doubting wish', rather than 'despairing' as appears in the booklet translation) but it brings uncertainty rather than any sense of resolve or fulfilment. There are two symmetrically placed loud storms, the seventh song from the beginning and the seventh song from the end, in which Gerhaher inevitably gets a bit more shouty, and clips his consonants à la Fischer-Dieskau, but that serves as a reminder of how superb he is when he has a lyrical line to express and to explain, as is mostly the case. A perfect example is No.12, "Herbstklage" (autumn lament). The text is yet another of Lenau's mournful and self-pitying poems of regret. All hopes of spring have now given way to disappointment (aw...), but the song with its melodic idée fixe, Gerhaher's interpretation of it and Holliger's pacing and the Baslers' gently luminous accompaniment are simply gorgeous.
Sebastian Scotney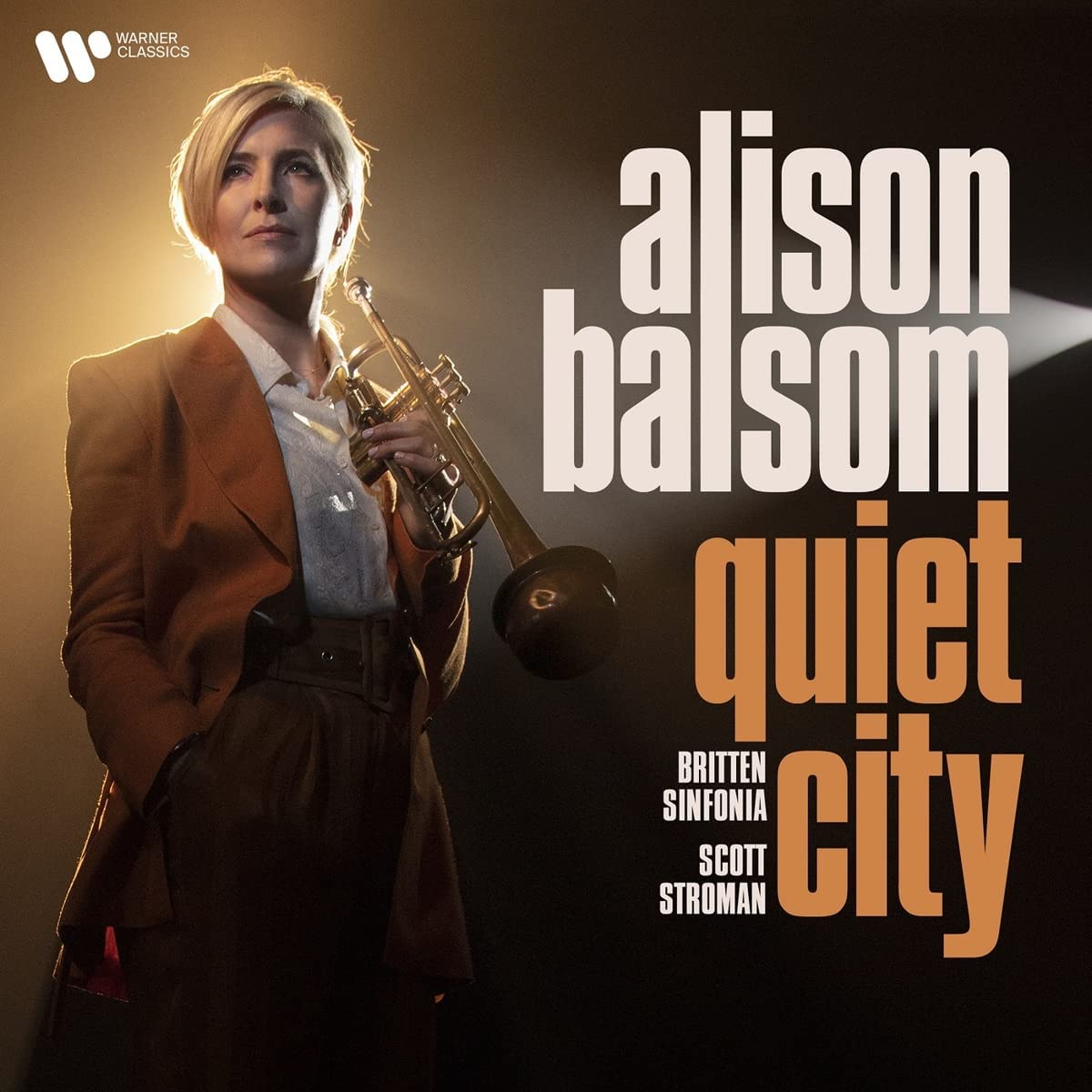 Quiet City Alison Balsom (trumpet), Britten Sinfonia/Scott Stroman (Warner Classics)
Just two of the pieces on this disc are originals. Which is fine; wind and brass players get used to playing transcriptions and arrangements, and if they're well done, who's complaining? Gershwin's Rhapsody in Blue is heard here in a version by Simon Wright for solo trumpet, piano and orchestra; a few misjudged splashes of tuned percussion aside, it's a blast. Alison Balsom's audacious opening swoop is jaw-dropping and very funny. You know you're in safe hands. Pianist Tom Poster and Scott Stroman's punchy Britten Sinfonia wisely keep Gershwin's faster passages moving, Balsom knowing instinctively when to linger and when to push things forward. Her arrangement of the "Pas de deux" from Bernstein's On the Town is another triumph, Balsom soaring above Stroman's high-class pit band. Recording Gil Evans' version of Rodrigo's Concierto de Aranjuez takes some courage. Balsom admits in the booklet notes that she's playing a transcription of Miles Davis' improvised solo line, but she does it beautifully, her tone reduced to a breathy whisper. Evans was a great arranger and orchestrator; Stroman's players show us how and why. Every detail registers: soft harp flurries, clicking castanets and sonorous blocks of muted brass. It's good.
Copland's sublime Quiet City sees Balsom teamed with Nicholas Daniel on cor anglais, this unshowy but technically tricky work played with finesse and heart. Ives's The Unanswered Question features one of the most unshowy but fiendish trumpet solos in the repertoire. This immaculately balanced performance is incredibly affecting, every note of Balsom's gently dissonant question pregnant with meaning. If you've ever doubted Ives's genius, try this, and marvel as the strings' G major chord fades into silence. A small, perfectly-formed masterpiece, and worth the disc price alone.
People were chosen first of all on what sort of a guy they were
Share this article