Classical CDs Round-Up 14 |

reviews, news & interviews
Classical CDs Round-Up 14
Classical CDs Round-Up 14
From Tudor music to Einaudi, the new releases reviewed
Saturday, 20 November 2010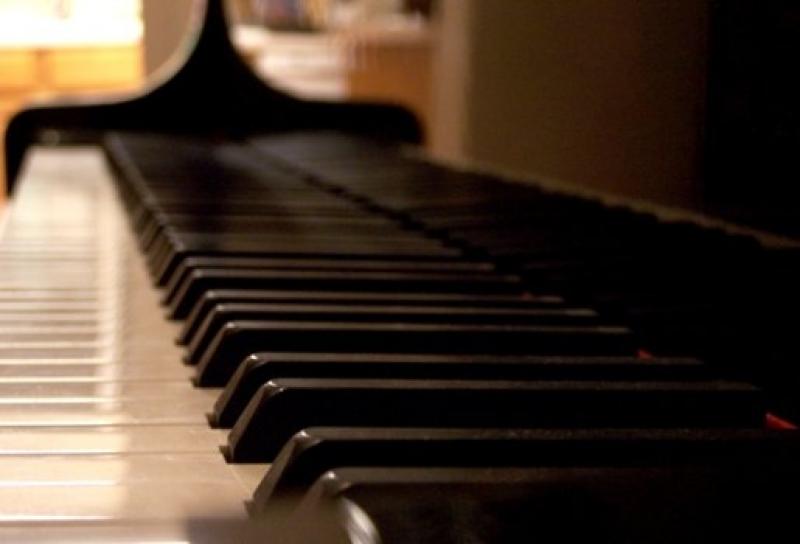 Piano music by Debussy and Ravel, Mozart, Schubert and Einaudi is reviewed this month
This month's selection includes two seasonal releases – one a selection of Tudor choral music and the other a popular Christmas ballet. There's yet more ballet in a new disc from Russian forces, and late-Romantic orchestral music is represented by two live performances from London orchestras. We've piano concertos by Mozart and Ravel, and piano duets by Schubert played by two of Britain's best younger musicians.
An underrated American pianist gives an intelligently planned recital, and a recorder virtuoso teams up with a master lutenist. The curiosities include a live recording by one of the world's most popular living composers, and some intriguing film music.
CD of the Month
Tchaikovsky: The Nutcracker (complete ballet) Berlin Philharmonic/Rattle (EMI)

Shrewdly released in the run-up to Christmas, EMI's latest Simon Rattle release hits the mark. He's always at his best in works which allow him to shine a light on the tiny orchestral details, and this new version of Tchaikovsky's final ballet is a delight. It's luxury casting having the Berlin Philharmonic instead of a hard-pressed and anaemic pit band, and there's a palpable sense of discovery here; instead of a heavily cut orchestral suite we get 85 minutes of mature, idiomatic Tchaikovsky. Rhythms are sharply but subtly pointed and the orchestral playing is incredibly fleet-footed. The highlights are many – the rippling harp swirls underpinning Act One's Scene in the Pine Forest followed by a glorious Waltz of the Snowflakes replete with children's chorus showing where film composer Danny Elfman borrowed most of his ideas. Sample the cornet solo in the Spanish Dance, or the high flute paired with cackling bassoons in the Chinese Dance – a touch of orchestral wizardry that wouldn't sound out of place in Stravinsky's Petrushka.

All superb, and given much clearer, tightly focused sound than some of Rattle's previous Berlin recordings. The slightly more expensive EXPERIENCE EDITION comes as a nifty miniature hardback book, handsomely annotated and illustrated and with a few fun extras – sections of the score to download and interviews with the orchestral musicians, including horn player Sarah Willis. Magnificent, heart-warming stuff, and required listening for Rattle-phobes everywhere.
Simon Rattle discusses The Nutcracker:
Other Releases
Bruckner: Symphony No 6 London Philharmonic Orchestra/Eschenbach (LPO)

The Sixth must be unique among Bruckner symphonies in beginning with a degree of assertiveness. Instead of the usual string tremolandi and shapeless fumbling, there's a distinct dotted rhythm in violins and a bold cello motto. Then the heavy brass pile in, and it's business as usual – something here reminded me of John Williams's score to the Superman films, though Bruckner would presumably have envisaged a short, fat, balding superhero wearing leather shorts. Eschenbach's big-boned live recording is deeply impressive – the orchestral response is outstanding, and the all-important brass writing is projected with an assertive nobility that's pretty spectacular. Those immune to Bruckner's charms should start with this work – it's relatively fast moving, concise and bright in tone, and I defy anyone not to marvel at the first movement's coda, gently unfolding through a series of quirky modulations.

Eschenbach sustains the Adagio steadily but successfully, and has fun with the Scherzo's delightful trio with its soloistic horn writing. And in typical Bruckner fashion, the last movement manages to close the symphony in style, bringing back material from previous movements before a brassy close. Excellent recorded sound too.
Debussy and Ravel: Works for Piano and Orchestra Jean-Efflam Bavouzet, BBC SO/Tortelier (Chandos)

It's tempting to switch to autopilot and churn out some waffle about idiomatic interpretations sparkling with Gallic refinement. But there is something special about these performances, and my expectations were high after hearing Bavouzet's recent Bartók recording. The stuttering, bluesy first theme of Ravel's Concerto in G sounds so seductive and smoky, followed by a superb, very French-sounding bassoon solo. It's a unique work, and one of the best orchestral responses to jazz ever composed. Bavouzet's slow movement is cool but tender, and the Presto has abundant zip without sounding hectoring. The darker Concerto for the Left Hand, one of several notable works commissioned by the one-armed German pianist Paul Wittgenstein, also receives an exemplary reading; the orchestral introduction here carefully shaped by Tortelier and sounding like real music instead of subterranean scrapings. This concerto brilliantly display's Ravel's darker side and I enjoyed the touches of black humour, notably a brilliantly sleazy trombone solo.

Debussy's substantial three-movement Fantasie is a perfect coupling, and I can never tire of the rapturous, floating opening, quickly invaded by scurrying piano figurations. It's early Debussy, not groundbreaking but highly attractive; sample the calm reverie at the heart of the last movement. And there's even more – a generous selection of short piano pieces by Massenet which end the disc in some style. Wonderful playing and excellent orchestral accompaniments.
Find Debussy and Ravel: Works for Piano and Orchestra on Amazon
Einaudi: The Royal Albert Hall Concert Ludovico Einaudi (piano) (Ponderosa)

There's a welcome hint of live ambience at the start of each track which betrays the origins of this handsomely presented double album, recorded in London last March. I'd never knowingly listened to anything by Ludovico Einaudi previously and wasn't sure what to expect, especially after coming to this recording immediately after having listened to several hours of cerebral Modernism. And I began to ponder on the differences between Einaudi's music as presented here and some of the tracks on the wonderful disc of Giya Kancheli film themes also reviewed this month – and got very confused, apart from jotting down that both are pretty accessible, that one of the composers was on Classic FM a lot, and the other one was on the highbrow ECM label.

This is music almost completely devoid of pretension; the most successful pieces displaying a knowing simplicity that's ultimately highly endearing. It's easy to dismiss someone who's so successful and mainstream, but it takes real skill to compose with this much restraint. Echoes of Glass and Nyman are heard, but Einaudi seems to know exactly when to stop, though I suspect that some of his shorter pieces have been inflated and extended for these live performances. The best moments are when it's just the composer on solo piano – as with the simple chord progressions heard at the start of "In principio" or "Berlin Song".
Watch Einaudi at the Royal Albert Hall:
Giya Kancheli: Themes from the Songbook Dino Saluzzi (bandoneon), Gidon Kremer (violin) and Andrey Pushkarev (vibraphone) (ECM)

This is mesmerising, offbeat stuff, even by ECM's standards – an album of themes drawn from scores written for Georgian films, played variously on violin, bandoneon and vibraphone. Issued to celebrate Giya Kancheli's 75th birthday, this music is far more accessible than the work featured on last month's Hymns and Prayers.
It's all to do with the arrangements; when the Argentinian Dino Saluzzi's bandoneon, recorded close-up so that every gasp and click is vividly audible, collides with Andrey Pushkarev's vibraphone, the effect is heartstopping. This music has a distinctively unsettling yet seductive flavour – bittersweet and evocative, most especially when Gidon Kremer occasionally joins in; listen to what he does during Kancheli's theme for a film of Miller's The Crucible, acerbically commenting on the music without disturbing its flow.

The pace is stately, the mood gently melancholy and the dynamic never rises above mezzo piano. At several points Kancheli's tunes border on the kitsch – the opening theme from King Lear a case in point, but I surrendered and quickly found this recording irresistible. The final, full orchestra and vocalist rendition of a song from Earth, This is Your Son is a pleasant bonus, but I found myself preferring the bandoneon and vibes arrangement which opens the disc. Fascinating.
Watch Andrey Pushkarev have fun with Khachachurian's Sabre Dance:
Mahler: Symphony No 4 Philharmonia Orchestra/Mackerras, Sarah Fox (soprano) (Signum)

You'd expect Mahler from this partnership to be avuncular, affectionate and big-hearted. Which is why it's a surprise to experience such a bristling and intense performance – energetic, incisive, dark and captured in close-up sound which leaves no room for any uncertainties. Mahler's Fourth is often misrepresented as a genial, relaxed work, shorter and less heavily orchestrated than the others. It's much more than that, and the much missed Mackerras has enormous fun with the dark shadows which billow nervously across the music's surface, his fast speeds leading to an Expressionist nightmare of a climax in the first movement, just as the first trumpet blasts out a precursor of the Fifth Symphony's funeral march. It's thrilling, and means that the happier recapitulation of the jingling opening feels deserved instead of perfunctory.

Mahler's virtuosic wind writing is fearlessly delivered by his Philharmonia principals, with horns and clarinets especially impressive. And Mackerras's use of string portamenti is wonderful – completely unselfconscious, and controlled with such skill, as in the rapt major-key second movement trio. The Adagio has rarely sounded as touching as this; the swooning string melody five minutes in is my favourite Mahler moment, along with a spectacular, heart-stopping key change in the same movement's harp and string-filled close. It feels like an afterthought to mention soprano Sarah Fox's contribution to the last movement; suffice to say that she sings with just the right combination of bright innocence combined with absolute technical security. This is exceptionally good; I thought I'd manage to finish 2010 without mentioning another Mahler release, but this live recording, recorded in London's Queen Elizabeth Hall in 2006, is a stunner.
Mozart: Piano Concertos Nos 18 and 22 Northern Sinfonia/Imogen Cooper (piano/director) (Avie)

It's the grandeur, the sheer scale of Mozart's K482 Piano Concerto No 2 that makes it so appealing – and it's in the key of E flat, which usually means that the all-important wind writing will be something special. And here, it is – after the opening tutti flourish we hear a simple descending phrase played on two horns, punctuated by bassoon. And when the first subject begins to unfold on orchestral strings, solo flute and clarinets add their voices, questioning and commenting on the musical material. It's profound but also immensely accessible, qualities which Imogen Cooper and the Northern Sinfonia express with ease. The minor-key Andante is breathtakingly intense, and precedes an effervescent 6/8 Allegro last movement - again, it's the woodwind writing that really stands out here. Cooper is such a generous musician, willing to share the limelight with her orchestral musicians.

Cooper's account of the earlier K456 concerto is also a delight – delicate, affectionate and witty. Another work constructed on a grand scale, there's a similar prominence given to the orchestral wind writing, adding an irresistible plangent timbre to the sonorities. Magnificently played, generously accompanied and taped in the near-perfect acoustic of The Sage, Gateshead – what's not to like?
Prokofiev: Suites from Cinderella and Romeo and Juliet St Petersburg Philharmonic Orchestra, Yuri Temirkanov (Signum Classics)

More quality Russian ballet music from a reliable source. Cinderella is still not as familiar as it should be; a full-length, three-act score which ranks as one of its composers most successful creations. There's a delectable streak of dark melancholy running through this score, unsurprising for a work created during wartime. I've long been haunted by the angular opening string melody, intensely memorable and poignant but almost impossible to sing or whistle accurately. Fortunately, Temirkanov's St Petersburg strings are unfazed by Prokofiev's chromatic side shifts and his piercing woodwind players sound completely at ease. Once you've heard the full score, no selection from the composer's suites will quite satisfy, though this disc provides a good introduction for any Cinderella novices out there. I was frustrated though by Temirkanov's dramatically clumsy decision to play the ballet's closing Amoroso two-thirds in, finishing his suite with the noisier and flashier Midnight.

The numbers from the earlier Romeo and Juliet work well here, again aided by excellent orchestral playing. I liked the heavy, ponderous gait of Temirkanov's Montagues and Capulets, and the love music has a satisfying oomph. If you fancy dipping your toes into these two seminal 20th-century ballets, do purchase with confidence, as playing and recording are superlative.
Schubert: Piano Duets Paul Lewis and Steven Osborne (Hyperion)
You sense that everything is going to be good before you've even pressed the start button; two of the best young British pianists sitting side by side in front of a Steinway in rural Suffolk. The sound, the feel of this recording is so rich, so right, and musically it's pretty perfect. There's a lovely anecdote in the sleeve notes suggesting that Schubert may have composed some of this music to play with a pupil he'd fallen in love with, allowing him the intimacy he craved. There's plenty of intimacy here, but also a satisfying expansiveness too – the Allegro in A minor thunders into vivid life here, relaxing magically when the gentle second subject comes into view, decorated beautifully by the second pianist.

Who plays what part is not made clear; the notes tell us that Lewis and Osborne alternate the first and second roles. The short Fugue in E minor, composed in a few hours, is carefully voiced, reaching a magnificent, sonorous climax. Best of all is the Fantasie in F minor, and the ease with which Lewis and Osborne match the hesitant, melancholy opening theme with its more flowing accompaniment.
5 Variations: Piano music by Haydn, Bizet, Nielsen, Brahms and Schubert Andrew Rangell (piano) (Bridge)
American pianist Andrew Rangell has recorded some impressive discs for the Bridge label, including a magnificent Goldberg Variations and several quirky anthologies based around a single idea. Here we have five very different sets of keyboard variations, composed between 1793 to 1916. Haydn's Variations in F Minor are based on two contrasting themes, one solemn and minor key, the other sunnier and dance-like, and the ensuing variants alternate between the two. Haydn's genius shows itself in the mileage he extracts from his limited material, and the notion that he was a composer of sunny, lightweight music is belied by the dark close. Bizet's Variations Chromatiques are enormously entertaining, with a melodramatic, grand guignol opening mistreated and varied to striking effect. Rangell's notes describe the mood of Gothic craziness as "high art meets Disneyland" and reassures us that these variations should be taken as tongue in cheek.

I've long enjoyed Carl Nielsen's slightly gawky Chaconne, and Rangell's reading is suitably seismic in impact. Brahms's Variations on an Original Theme plunges us into warmer waters, though the more anguished later variations are impressively stormy. The recital closes with Schubert's Rosamunde Variations, its bittersweet opening material imaginatively developed to sound alternately serene and heartbroken. Imaginatively planned, nicely recorded, wonderfully played and superbly annotated, this is a rewarding issue which deserves to win new converts to the Rangell cause.
The Nightingale and the Butterfly Pamela Thorby (recorders) and Elizabeth Kenny (lutes) (Linn Records)

A generous selection of French Baroque music, played on recorder and accompanied by lute, theorbo and Baroque guitar instead of keyboard. This works well, as the two instruments are better matched acoustically. French composers appreciated the recorder's expressive quality and used it to suggest pastoral moods as well as deep sadness, and the works on this disc display these extremes. Try the slow opening movement of Anne-Danican Philidor's D minor sonata for an outstanding display of the instrument's melancholy side. Pamela Thorby's playing is pitched perfectly – she never over-emotes and doesn't overdo the vibrato - I listened to this recording from start to finish without ever growing fidgety.

There's a lot of dash and sparkle in the faster numbers; Louis Caix d'Hervelois's minature Papillon floats as it should, and there's a delightful Gigue at the close of Charles Dieupart's F minor suite. And so good to have Robert de Visée's Suite in D minor for theorbo played with such consummate skill by Elizabeth Kenny – 12 minutes of glorious, velvety darkness, and completely new to me. This is a superb issue, stunningly produced and recorded.
Find The Nightingale and the Butterfly on Amazon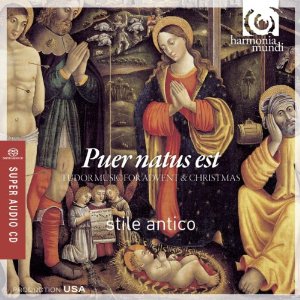 Puer natus est: Tudor Music for Advent and Christmas Stile Antico (Harmonia Mundi)

"Puer natus est (A Boy is Born)" is the title of a one-minute plainchant which Thomas Tallis used as the basis of his Christmas mass, sadly incomplete. Three complete movements survive and are programmed in this exquisitely sung recital, interspersed with music by Tallis's contemporaries. Tallis wrote the work for a seven-part vocal ensemble, giving the textures an incomparable richness and warmth. This is about as far away from conventional seasonal fare as you can get, but it's mesmerising, with the voices of young choir Stile Antico immaculately tuned and bathed in a radiant church acoustic.

The Tallis pieces have a rhapsodic, improvisatory feel, and they contrast well with William Byrd's four works composed for Advent – each much more tightly structured and marvels of elegance and concision. John Taverner's "Audivi vocem de caelo" stands out for its narrow vocal range – sung here by women's voices alone. Your ears quickly become accustomed to the lack of bass, until you contrast it with Robert White's "Magnificat", with a low plainchant opening which thrillingly broadens out into six-part choral writing. Any discussion of these works' technical aspects runs the risk of making this recording sound academic and austere. Nothing could be further from the truth – this is exquisite music, performed with a sense of wondrous discovery, and perfect spiritual comfort for the troubled soul.
Explore topics
Share this article