Classical CDs: Horses, hats and Hardanger fiddles |

reviews, news & interviews
Classical CDs: Horses, hats and Hardanger fiddles
Classical CDs: Horses, hats and Hardanger fiddles
Swiss symphonies, forgotten Russian piano music, and a British cellist celebrates his 70th birthday
Otherworldly sounds from Žibuoklė Martinaitytė
Joseph Lauber: Symphonies 1 and 2 Sinfonie Orchester Biel Solothurn/Kaspar Zehnder (Schweizer Fonogramm)
Two CDs from boutique Swiss label Schweizer Fonogramm have recently caught my ear. One presents a pair of symphonies by the long-lived Joseph Lauber (1864-1952), remembered, if at all, as Frank Martin's composition teacher. Lauber wrote six symphonies, the scores of nos. 1 and 2 rescued from a Lausanne university library by Kaspar Zehnder and recorded last summer in Berne. As long as you're not expecting Mahler or Bruckner, you'll be delighted. Both symphonies are exactly as you'd expect Swiss music to sound, and the label's website suggests a blend of "German meaningfulness and French perfume", which is about right. Impeccably constructed and deftly scored, these are lovely works. No. 1's opening minutes are all horn-rich Alpine mystery, before a frothy fast main section. It's difficult not to smile at Lauber's jaunty scherzo, and at the finale, its sonorous brass chorales fighting a losing battle against jauntiness. No. 2's beginning broods, but the shadows don't last. For all the echoes of Schumann, Brahms, Mendelssohn and Dvorak, Lauber's music has a unique flavour, and I'm eager to hear what he wrote next. Lovely playing from the Sinfonie Orchester Biel Solothurn under Zehnder, and drily witty sleeve notes from Manuel Bartsch. Superb presentation too – buy the CD and see for yourself.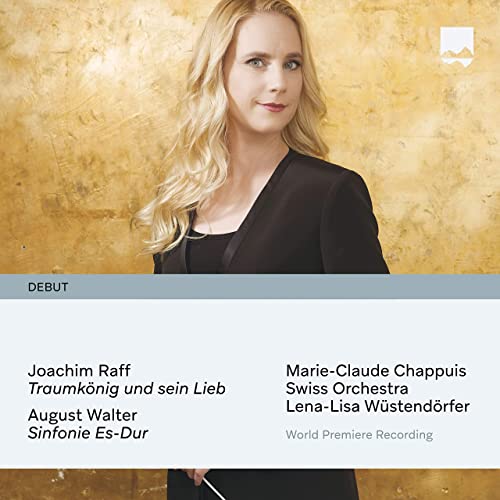 Also out is a disc coupling music by Joachim Raff and August Walter, the Swiss Orchestra conducted by Lena-Lisa Wüstendörfer. Raff's Traumkonig und sein Lieb was conceived for voice and orchestra, instead of being arranged from a piano original, with Emanuel Geibel's sensuous text sensitively sung here by mezzo Marie-Claude Chappuis. Wüstendörfer makes a persuasive case for Raff as an orchestrator and follows it with music by Raff's contemporary August Walter. Walter was the son of a wealthy baker who generously allowed August to pursue music instead of pastry, and the Symphony in E flat was written in 1843. The first movement's swinging 3/4 metre and key signature recall Schumann's Rhenish, though Walter's music is breezier and more transparent. Wüstendörfer secures pin-sharp, enthusiastic playing from her youthful orchestra, and the disc is beautifully presented.
Žibuoklė Martinaitytė: Saudade Lithuanian National Symphony Orchestra, Lithuanian Chamber Orchestra/Giedrė Šlekytė, with Gabrielus Alekna (piano) (Ondine)
I've a huge weakness for strange and wonderful noises. Žibuoklė Martinaitytė's 2019 orchestral work Saudade features some high-class effects, deployed with real sensitivity. Harp strings are struck with the player's palm, and cymbals are placed on top of the timpani. Low brass sing and blow simultaneously, an otherworldly, disconcerting sound, entirely appropriate for a work concerned with feelings of loss, regret and emptiness – in Martinaitytė's instance, a nostalgic glance back from New York at her Lithuanian homeland and musings on the death of her father. I'm desperate to see the score, wondering how Martinaitytė conveys the impression of different tempi unfolding at the same time, and how her deep, richly coloured chords are built up. The four works on this disc were written between 2013 and 2019, each succinct title the starting point for its creation: in the composer's words, "it's uncanny how one single word can trigger one's creative imagination."
Millefleur's smooth surfaces conceal a wealth of movement, successfully depicting myriads of shimmering flowers. Horizons' ideas shift in and out of focus over its 21-minute span, a flamboyant brass interruption near the close coming as a surprise. The Chiaroscuro Trilogy is more sparingly scored; strings and a solo piano integrated into the texture. The final section's piano ostinato is the closest thing to a conventional musical gesture you'll find on the disc, slowly overcome by shimmering strings. Intelligent, attractive music with a very distinctive personality. That we have this anthology at all is a cause for celebration, a permit issued by Lithuania's minister of culture granting conductor Giedrė Šlekytė and pianist Gabrielus Alekna permission to fly to Vilnius last July for the recording sessions. Ondine's sound is spectacular.
Robert Simpson: Symphonies 5 and 6 London Symphony Orchestra/Andrew Davis, London Philharmonic Orchestra/Charles Groves (Lyrita)
I'm more familiar with Robert Simpson's writings than his music, having unsuccessfully tried to get to grips with the Hyperion boxset of his 11 symphonies a few years ago. This release has sent me running back to have a second shot. These are recordings of BBC broadcasts from 1973 and 1980 respectively, both relays from the Royal Festival Hall. The sound is decent, and you can sense the audience's shock when the London Symphony Orchestra brass suddenly make their presence felt a few minutes into Symphony No. 5. A 38-minute single movement subdivided into five sections, the work's energy and fire are startling, Simpson's shrewd pacing making for a bumpy, exhilarating ride. Passages like the first section's close are so effective, brass and percussion blasting out over an imperceptible string chord. Or the chattering winds over sustained string chords in the following movement, Simpson's fondness for Nielsen clear. The finale's violence eventually ebbs away, leaving a just a barely audible string note. Completed shortly after Simpson had been hospitalised with a brain haemorrhage, it's an impressive work, the young Andrew Davis securing razor sharp playing from an audibly enthused orchestra.
Symphony No. 6 dates from 1977, the first performance given by the London Philharmonic Orchestra under Charles Groves. Less abrasive and containing yet more echoes of Nielsen, Simpson compared the musical processes to "the growth of a living creature from a fertilised germ". The symphony grows before our ears, the music becoming increasingly animated and confident over its 33-minute span. Simpson wasn't entirely happy with this premiere performance, complaining that it wasn't allotted enough rehearsal time, the players "just hanging on for grim death and reading and counting like mad." He was being unfair, I think; Groves's LPO sound pretty confident, and the BBC recording is good. These are big, important pieces, handsomely served.
Alexey Stanchinsky: Piano Works Peter Jablonski (Ondine)
You want to like Alexey Stanchinsky's piano music before hearing a note. One anecdote in Anastasia Belina's fascinating booklet essay has the composer taking his hat off to a horse he encountered during a walk, on the grounds that "one cannot possibly know what goes on in the mind of a horse, and therefore it would be prudent to be careful with such an animal." Then there's his tragic, premature death from heart paralysis, Stanchinsky having crossed a freezing river in 1914 to meet the woman who had borne his child and whom Stanchinsky's mother had forbidden him to marry four years earlier. A 1905 Sonata in E flat minor is an imposing, attractive single movement, a harmonic and structural step up from three Songs Without Words composed two years earlier. Stanchinsky's gifts as a melodist are immediately apparent; I love the tiny flourish heard at the end of the second song's main theme, affectionately played here by Peter Jablonsky.
There are moments of striking individuality that have you lamenting the fact that this music is so little known. The last of the Five Preludes is incredibly austere, and there's a passionate outburst at the centre of a 1907 nocturne which contrasts starkly with the music surrounding it. We get an irresistible, short sequence of variations with nods to Russian folk music, and a set of Twelve Sketches, the first four of which were reviewed by Prokofiev during his brief spell as a music critic. Harmonically and rhythmically inventive, they're beautifully performed here. Lovely sound, good notes, plus a picture of Jablonski, a hat and a horse in the booklet – what's not to like?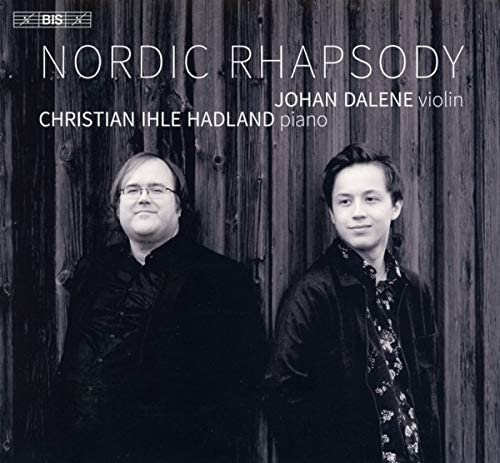 Nordic Rhapsody Johan Dalene (violin), Christian Ihle Hadland (piano) (BIS)
Winner of the 2019 Carl Nielsen Competition, violinist Johan Dalene saw most of his 2020 live engagements cancelled. This recital disc, taped last September with pianist Christian Ihle Hadland, gives us a flavour of just how good he is. I like the breeziness and energy that the pair bring to the opening of Grieg's early F major violin sonata, the first theme really swinging, and the care lavished on Grieg's second subject. We really hear the Hardanger fiddle in the second movement's trio and the sonata's joyous finale is a delight. The rest of the disc is less familiar. Nielsen's little Romance in D was probably written in his teens, a glorious miniature with plenty of hints of the mature composer. Sinding's Suite in the Old Style is almost a sonata, filled with baroque allusions. The fiendish opening movement is flawless here, Hadland's piano line giving Dalene's frenzied figurations meaning. It's terrific.
Two Sentimental Romances by Stenhammer are appealing, as are three of Sibelius's Six Pieces. Composed while Symphony No. 5 was being sketched, they occupy a very different world. High class salon music written by Sibelius for economic reasons, they're sweet but uncharacteristic, Dalene making a compelling case for the little "Berceuse". Rautavarra's Notturno e danza is marvellous, the first section's long-breathed melody unfolding over soft piano chords before an infectiously quirky dance in 11/8 time.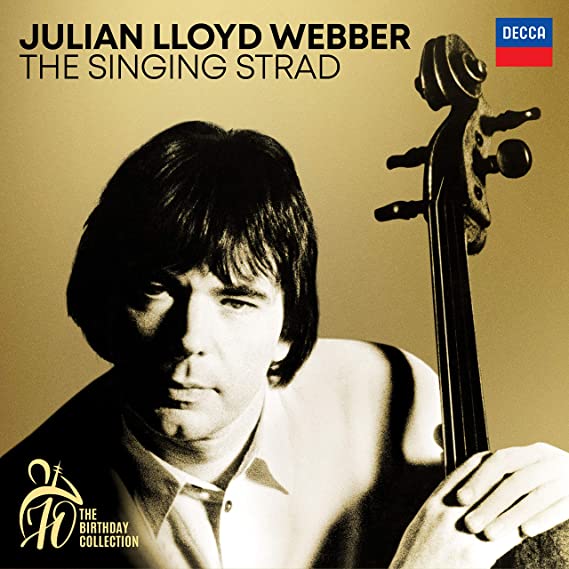 Julian Lloyd Webber: The Singing Strad (Decca)
Cellist Julian Lloyd Webber's playing career was curtailed in 2014, a herniated disc in his neck causing a loss of strength in his right arm. He's been busy since then, heading the Royal Birmingham Conservatoire until 2020 and more recently a member of the advisory panel which recently produced the UK government's Model Music Curriculum. This set has been released to celebrate Lloyd Webber's 70th birthday, its three discs collecting recordings made for Philips in the 1980s and 90s. You might have dismissed him as a lightweight thanks to a series of bestselling crossover discs stuffed with miniatures, but there are some marvellous things here, the range of repertoire testament to Lloyd Webber's versatility. A 1986 recording of the Elgar concerto directed by Yehudi Menuhin is a treat, as much for Menuhin's sensitive conducting as for Lloyd Webber's pure-toned playing. And Holst's Invocation is a real find, the two works the weightiest items on a disc containing British music. The shorter items are enjoyable, notably an arrangement of the slow movement of Vaughan Williams' Tuba Concerto. The French disc opens with a convincing version of Saint-Saëns's A minor Concerto before a selection of shorter pieces, including "Le Cygne" and Fauré's affecting Élégie. Bizet's "Habanera as cello solo", with added guitar, is cheesy fun, other transcriptions including Debussy's Clair de lune and a snippet of Fauré's Dolly Suite. That the performances convince is as much to do with engineering as playing technique, Philips' producers securing a consistently credible balance between soloist and orchestra.
A selection of Russian music includes the original version of Tchaikovsky's Rococo Variations conducted by Maxim Shostakovich, and an excellent version of the Shostakovich Cello Sonata with Lloyd Webber partnered by composer and pianist John McCabe. They're superb in the ruminative "Largo", and the sonata's curt, throwaway ending is nicely done. Rimsky-Korsakov's Flight of the Bumblebee as cello solo? That's here too – fluff, but spectacular. A winning compilation, released at budget price.
Harp strings are struck with the player's palm, and cymbals are placed on top of the timpani
Explore topics
Share this article