CBSO 100th Birthday Celebration online review - top musicians let down by sound and visuals |

reviews, news & interviews
CBSO 100th Birthday Celebration online review - top musicians let down by sound and visuals
CBSO 100th Birthday Celebration online review - top musicians let down by sound and visuals
An ambitious centenary presentation firing on too many cylinders
Tuesday, 08 September 2020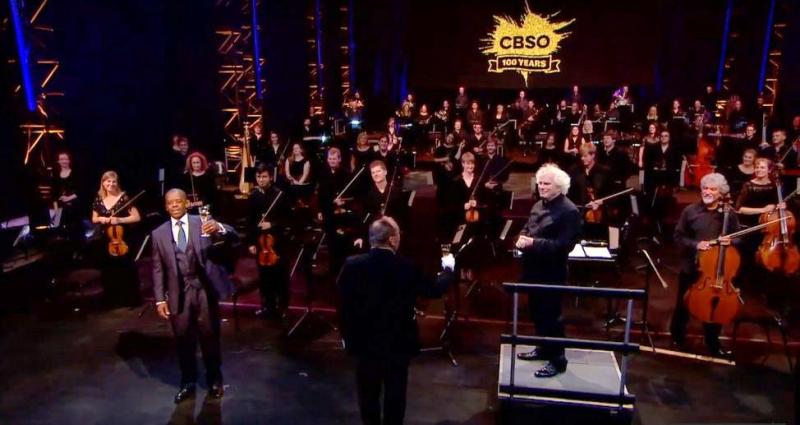 Presenter Adrian Lester, CBSO General Manager Stephen Maddock, Simon Rattle, the CBSO and that logo
Let's start by echoing Simon Rattle's sense of "how lucky we are", in our case to be able to share with a 75-piece City of Birmingham Symphony Orchestra its centenary to the very day, and celebrate the programme, the performers, the front man too (that superlative actor Adrian Lester, born in Birmingham to Jamaican immigrants).
The overall presentation, alas, not so much. The welcome presence of Midlander Sheku Kanneh-Mason as soloist in
Saint-Saëns
' First Cello Concerto (
pictured below
) only reminded some of us how he was filmed playing the same work (don't orchestras compare notes?), just as brilliantly, but in much better sound and vision, courtesy of the Philharmonia's first Summer Session with conductor John Wilson.
What went so wrong here? The acoustic clearly wasn't good, and why the CBSO couldn't play in its home, the best concert hall in the country – constructed in 1991 with a promise that the auditorium would be played down as only part of a conference centre – isn't at all clear. It might have felt as disquieting as the livestreamed Proms to see no audience in such a vast space; but there certainly wasn't any atmosphere about the Longbridge warehouse location, once the lighting folk had finished with it. Still, the sound – constricted, poorly blended and flat as a pancake – needn't have been so bad.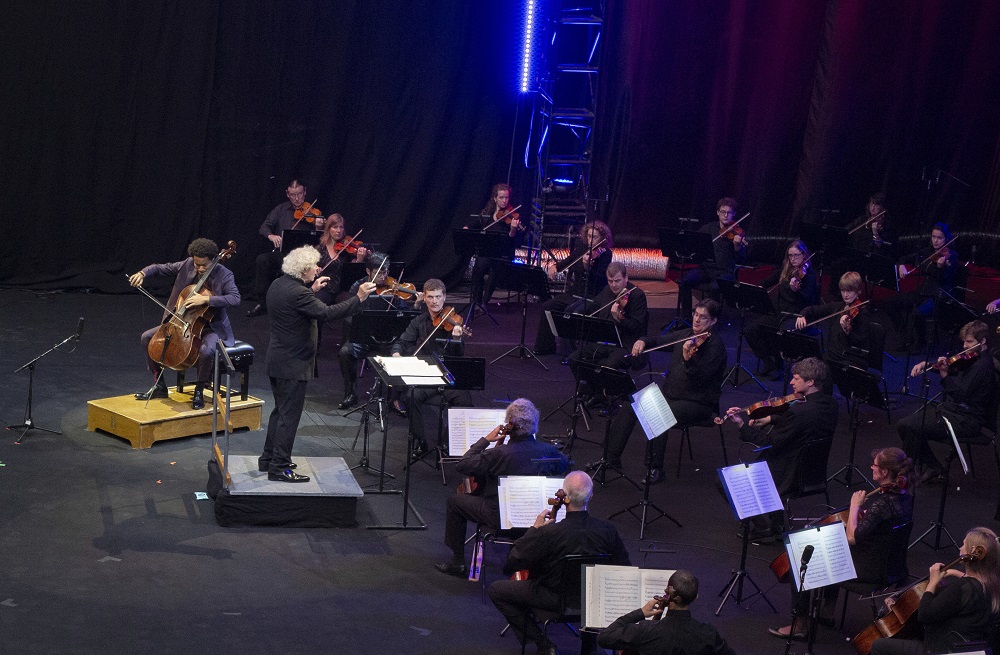 Of course the need to throw visuals at what should ideally just be the spectacle of musicians playing and a very distinguished conductor in action is a common disease. We had a tour of Birmingham, Elgar's birthplace of Broadheath and the Malvern Hills while his Serenade for Strings was airing. Conversely, talking heads had to compete with a soft background of whole stretches from the "Enigma" Variations. But it was mostly worth hearing what they had to say.
The orchestra's current Music Director, the inspirational Mirga Gražinytė-Tyla, is on maternity leave, and spoke vivaciously from Salzburg. Her predecessor Andris Nelsons waxed sincere about the partnership, claiming the 50th anniversary performance of Britten's War Requiem in Coventry Cathedral as a highlight of his conducting life – a shame we couldn't have heard as well as seen a clip or two from that – and Sakari Oramo could just be made out from an unhelpful home acoustic. We learnt about a myriad of pioneering education projects, nurturing young artists like conductor Alpesh Chauhan, the commitment of regulars in the audience, the support of the city. Lester had a natural manner outstripping most of the Proms presenters, and his script, by theartsdesk's Richard Bratby, was a model of concisely-conveyed information about the orchestra's first 100 years.
As for the programme, it covered an admirable gamut. I've no idea why Schumann's Genoveva Overture launched proceedings; without historical links to the orchestra's repertoire, and hardly a celebratory opener, it was lively but not much more. Rattle's animated style must be taken in good faith; Kanneh-Mason's is always the real deal, and he took up his solo lines from orchestral ensembles in the Saint-Saëns with mercurial deftness. Composer Hannah Kendall has been having a field day in Proms old and new; The Spark Catchers, premiered in the Chineke! Orchestra's first Prom in 2017, recently re-screened, is based on a poem by Lemn Sissay about the women working in a match factory. It's rhythically lively in its outer sections but outstays its welcome.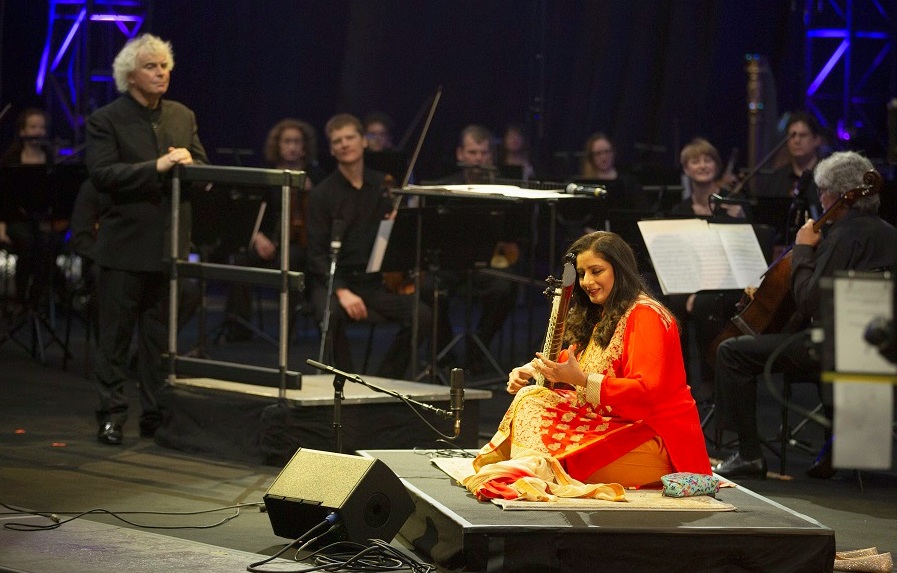 Leicester-born and Birmingham-raised sitar player Roopa Panesar (pictured above) brought her poise and charm to AR Rahman's music for the film Slumdog Millionaire. Rahman is a wondrous composer for the Indian film industry (not just Bollywood but also the Tamil market, not least in Thenali, a terrific score) but the mawkish main theme here is not one of his best.
The grand six-movement finale had great significance for Rattle: Stravinsky's 1919 Suite from The Firebird was the first work ifeatured by him and the CBSO in the newly-completed Symphony Hall in 1991. He prefaced it by noting how back in his time in Birmingham, "we had a group of visionary politicians on both sides of the aisle, something I thought was normal then," to canvas for the orchestra's invaluable home. The Suite needs that space; it was the worst casualty of the sonic constriction in the PGR Live Stage, but still the pianissimos of the Introduction and darkness before the final dawn, a Rattle speciality, had you straining to hear them, as intended. And this, above all, must have been the greatest thrill for players kept apart – and furlough-idle – for so long. The final toast raised by Lester – "to music, community and the next 100 years" – could not have been more felicitous.
Kanneh-Mason took up his solo lines from orchestral ensembles in the Saint-Saëns with mercurial deftness
rating
Share this article