The Brook Street Band, Wigmore Hall |

reviews, news & interviews
The Brook Street Band, Wigmore Hall
The Brook Street Band, Wigmore Hall
An all-Handel celebration for a baroque band marking a big anniversary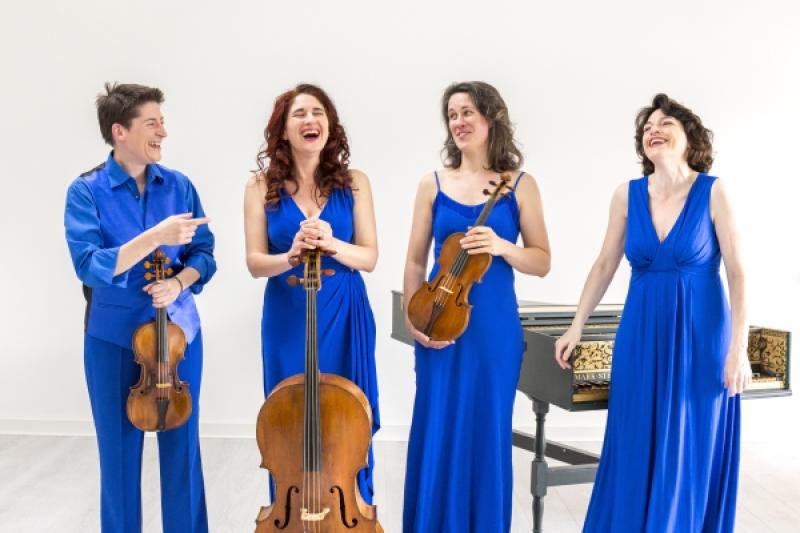 The Brook Street Band (Rachel Harris, Faran Scott, Tatty Theo and Carolyn Gibley) celebrate their 20th anniversary
Happy returns of various kinds last night at the Wigmore Hall, where hall regulars the Brook Street Band (violins Rachel Harris and Farran Scott, cellist Tatty Theo and harpsichordist Carolyn Gibley) took to the stage along with a number of musical friends for a 20th birthday celebration concert.
An all-Handel programme paid tribute to the composer whose London address gives the group its name, expanding outwards from the opening intimacy of trio sonatas and suites to finish with soprano and baritone cantata
Apollo e Dafne
.
The Trio Sonata from Saul offered an overture of sorts, previewing all to come later in the evening in its contrasting sequence of movements. First Violin Rachel Harris was all singing tone and irrepressible, dancing energy – a joy to watch and hear – leading us through the sonata's many moods, shifting as suddenly as those of the oratorio's hero. But with second violin Farran Scott more a supporting player than a duelling partner, both here and in the glorious Trio Sonata Op 5 No 4 in G major Handel's fiery exchanges were dulled, and often soured by intonation issues in the middle of the texture – not a problem on the group's fine recording of this music.
Mafalda Ramos added some welcome extra colour on baroque flute
Handel's Water Music suites may be baroque bread and butter, but heard here in the much less often performed Oxford version they felt startlingly unfamiliar. Possibly written during Handel's time at Cannons, the Duke of Chandos's estate, these suites suffer from the same difficulty as Acis and Galatea, also written during this period. With no violas available in the Duke's resident orchestra, the composer was forced to do without. But while Acis makes a virtue of necessity, the suites struggle. Whole sequences of parallel octaves between violin and cello feel odd, and often leave the texture hollow at its core to ears used to the thicker arrangements. No amount of showmanship could quite fill the gaps, though Harris and her colleagues gave it all they had, with Mafalda Ramos adding some welcome extra colour on baroque flute.
Cantata Apollo e Dafe is a wonderfully concise retelling of the story familiar from Ovid's Metamorphoses. Lusty god Apollo pursues the nymph Dafne who, dedicated to chastity and Apollo's sister goddess Diana, flees him. Her virtue is rewarded when she is transformed into a laurel, freed forever from the touch of man. All this is distilled down into a vivid sequence of music lasting just over half an hour, much of it borrowed from Handel's own operas, and finishing with an exquisite final scena for the bass.
From his thunderous opening sequence, Matthew Brook (pictured right) brought it right back. He held the music tender and close for "Cara pianta", taking us gradually from urgent desire and anger to remorse and acceptance, playing with tempo and finding infinite space for seduction. Mention must also be made of his "Come rosa in su la spina" – enough to weaken all but the sternest of nymphs. Soprano Nicki Kennedy put up a fearsome fight, matching Brook run for run in an explosive "Una Guerra ho dentro il seno", and spinning the delightful "Felicissima quest'alma" with care and control.
With the Brook Street Band augmented by oboes (the excellent Leo Duarte and Joel Raymond) as well as viola, bassoon and flute, the instrumental support was lively and colourful, and how lovely to have so many obbligato arias to spotlight individual performers. A birthday celebration even the dour Herr Handel would surely have approved.
Matthew Brook took us gradually from urgent desire and anger to remorse and acceptance
rating
Explore topics
Share this article