BBC Young Musician 2016 |

reviews, news & interviews
BBC Young Musician 2016
BBC Young Musician 2016
Cellist Sheku Kanneh-Mason triumphs in a final reaching remarkable standards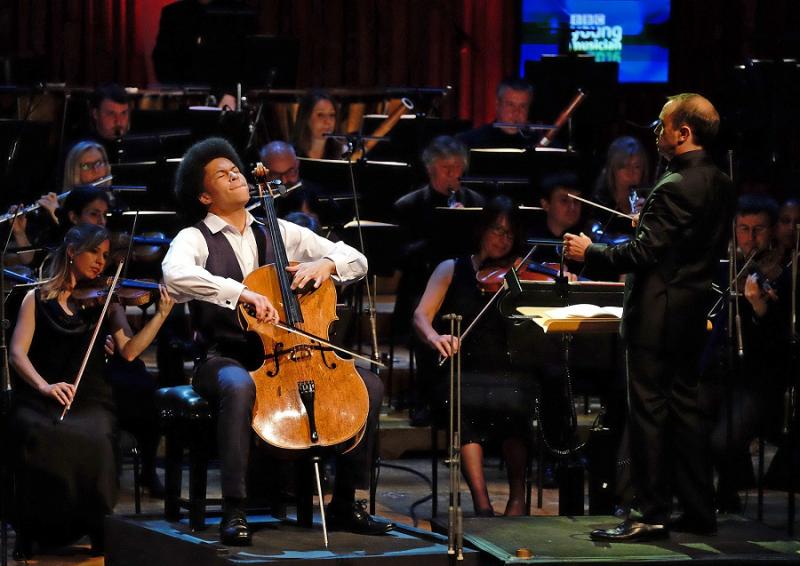 Sheku Kanneh-Mason, winner of BBC Young Musician 2016, with Mark Wigglesworth and the BBC Symphony Orchestra
What makes a musical performance? The final of Young Musician 2016 presented five judges with this philosophical teaser to ponder. For the previous 90 minutes three contestants with three radically contrasting styles of delivery cleared every bar in front of them, with the help of Mark Wigglesworth and the BBC Symphony Orchestra. Giving the nod to one meant the elbow for the others.
In the end it could hardly be disputed that cellist
Sheku Kanneh-Mason
, a young musician of extraordinary charisma, was a deserving winner.
Ben Goldscheider went first with Strauss's Second Horn Concerto, which Strauss composed in the depths of war 60 years after his first, choosing to ignore the carnage of the present in favour of romantic nostalgia. The horn is at a physical disadvantage as a flashy solo instrument. The curves are gorgeous to look at, but the soloist must remain stock still so as not to endanger the embouchure. Goldscheider, decked in formal tails like the reincarnation of Dennis Brain, produced a lordly swooning tone in a sinuous work of immense difficulty – on Facebook afterwards one top French horn professional referred to it as a fiendish first violin part.
There's nothing this overwhelming for saxophone, and horn concertos simply don't go on as long
The Barbican's matt acoustic worked less in his favour than it did for the cut-through sonority of Jess Gillam's saxophone. Her iris-attack outfit of brightly hued blouson and spangled Bacofoil leggings certainly added to the natural vibrancy of her bubbly, infectious stage presence, but in the first few notes of Michael Nyman's Where the Bees Dance she established that she could also communicate in the tenderest whisper. This was the performance of a nascent rock star, whose winning kinetic aura will gain a lot of fans for her and for the instrument.
But how to compare Nyman with Shostakovich, whose haunting First Cello Concerto was delivered by Sheku Kanneh-Mason with a searing intensity that barely makes sense in one so young? Something happens to this chilled young man when he walks through a pass door and transforms into a magus able to communicate depths. It could be contended that the fretful and impacted cadenza first performed by Rostropovich conferred an advantage – there's nothing this overwhelming in the saxophone repertoire, and horn concertos simply don't go on as long.
While the 2014 winner Martin James Bartlett performed a riveting series of Prokofievian pirouettes, the judges retired to work out how to fit Rizla paper between the three contestants. Once they re-emerged, nothing became this competition like the speech given by chairman of the judges, composer Dobrinka Tabakova. She called on the audience – in the hall and at home – to support all three finalists, because they represent standards of attainment that sharply rebuke our prevailing culture's preference for what she called "crazy mediocrity". That got a round of applause shot through with real feeling.
Other talent contests are available on other channels: BBC One's much debated US import The Voice and ITV's interminable X Factor and Britain's Got Talent (on which Kanneh-Mason has performed with his siblings). The winners very often vanish without trace. Young Musician's alumni from its first years include oboeist Nicholas Daniel, clarinettist Emma Johnson, horn player David Pyatt, pianist Freddy Kempf and cellist Natalie Clein, whose subsequent careers validate the competition's existence. And then of course there's Nicola Benedetti (pictured above with the finalists), one of a welcome wealth of female contributors to this year's broadcasts. Next time round BBC Young Musician will be 40 years old. This competition still means a lot – to the winners, and to all who value real talent.
Shostakovich's haunting First Cello Concerto was delivered with a searing intensity that barely makes sense in one so young
rating
Share this article